Heroism Awards
Concho Valley Council
The first Scout to ever receive a Honor Medal by the Boy Scouts of America was a Scout from Cuero, Texas. His name was Charles Scruggs and received it in 1911. There were 22 awarded in 1911 but he was the first one.

Over the years many certificates and medals were presented to Scouts for saving a life of doing some other heroic deed. We have been able to find stories of some of the heroic acts performed by Scouts of the Concho Valley Council.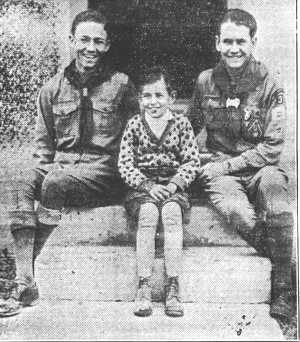 Jack Simmons, Economidis, Allie Wooldridge
On January 20, 1931, Jack Simmons, pictured above left, a fifteen year old Star Scout pulled eight-year-old Harry Economidis, center, from the North Concho River where the young Economidis youngster almost drowned. Allie Wooldridge, above right, age twenty-one and an Eagle Scout applied Boy Scout resuscitation to the boy.
As a result of this action, both Scouts were awarded a "certificate of heroism" by the American Red Cross. The father of the boy, John Economidis, bought Jack Simmons a new suit of clothes and a pair of new shoes. Inside the pocket of the suit was a 10 dollar gold piece. Simmons was also presented with a life-time meal ticket at the Riverside Cafe.
Allie Wooldridge was presented with a meal ticket with a shorter time in which to get the meal at the Riverside Cafe. Both Scouts were honored at the council banquet held in 1932.
In January of 1931, William (Jack) Curry of Texon plunged into Spring Creek and saved a girl who was sinking for the third time after a boat in which several girls were riding capsized. He carried the 8 year old girl to the bank, where resuscitation was applied successfully.
For saving her life, Curry received a medal by the National Council of the Boy Scouts of America and also a Texas Department Medal for Valor by the Veterans of Foreign Wars.
On July 5, 1932, Jack Scales, Troop 30 of Ballinger, rescued a girl who was swept into deep water and went under. Scales, a 13 year old, weighing under 100 pounds, pulled the 15 year old 130 pound semi-conscious girl to the bank and resuscitated her.
During the same summer, Red Faverman, Troop 49 of Iraan, rescued a grown woman from the Pecos River. In April of 1938, Scout A. Awalt, Jr. of Sonora was credited by F. T. Jones, Superintendent of the Sonora schools, with saving the life of Jones' three year old daughter. The child had fallen into a fish pond and had stopped breathing when the Scout pulled her out. He gave artificial respiration and brought her back to consciousness. He received a special certificate of appreciation presented by the Executive Board of the Council.
We know of two other Scouts who received the Gold medal in the Council prior to 1938, Jack Simmons, whom we have mentioned above, and Jack Woolraven of Sterling City, whom we have no information but his name.
Richard Wall Winters, an Eagle Scout from Brady, received the Gold Medal for Life Saving, the highest award offered by the National Court of Honor, BSA, for saving the life of H. A. Simmons, Jr., age 17, at Daingerfield State Park Lake, near Daingefield, Texas, on June 3, 1939. Simmons and a friend started to swim to shore from a raft - a distance of about 50 yards. When half way there, Simmons was seized with cramps and went under. His friend cried for help. Scout Winters, who was on the raft when he heard the call for help, dived several times in water of 12-feet deep to recover an apparently lifeless body and carry it some 75 yards to shore. Artificial respiration was given for about 45 minutes and Simmons had been revived by the time a doctor arrived. The medal was accompanied by a letter from Daniel Carter Beard, chairman of the National Court of Honor.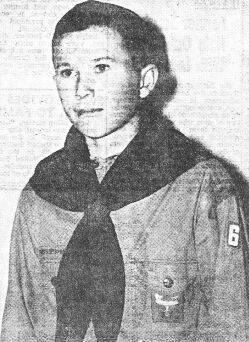 Wayne Cliff, Troop 6, San Angelo, (pictured at right) received the Gold Metal for Heroism for his work in fighting a fire on New Year's Eve in 1949. Cliff entered the smoke-filled room of a neighbor when the fire originating from a Christmas tree threatened the home. He led a small child and a hysterical maid from the house and had the flames well under control when the fire department trucks arrived.
Danny Lee Rodgers, age 15, Troop 14 of San Angelo, received the Medal of Merit . On April 20, 1977 he was coaching a softball game at Edison Jr. High when the batter striking at a pitched ball accidentally lost control of the baseball bat when flew through the air striking Miss Lori Rascoe in the head above the eye. She was knocked unconscious and sustained severe facial lacerations and skull fracture. Rodgers rushed to her aid and, while directing the crowd of youth and teachers to stay back and keep calm, he applied direct pressure to the wound stopping the rapid and dangerous flow of blood and also treated her for shock until an ambulance could arrive.
The Medal of Merit for Lifesaving was presented to Scout Billy Aycock, Troop 153 of Ozona by James M. Young, Council Commissioner at the March 5, 1983 Council Annual Banquet in San Angelo.
Certificates of Merit were presented at the Amangi Trail District Banquet on December 3, 1988, to Chris McLucas, Clayton McLucas and Pat Donnell of Troop 36, San Angelo. The award was made for meritorious actions. The three of them were returning from working on an Eagle Scout project. They came upon a down power line that was sparking and causing arcs of electricity to shoot off in every direction. The power line had also caused a huge grass fire that was burning quickly towards some residential apartments. They drove to the apartments and warned the residents and got them to call 911. They then went into action trenching the apartments from the blaze and fighting the fire with water hoses and hand tools. They stopped the fire within 15 feet of the wooden apartments and it was obvious these apartments would have burned quickly risking life to the residents.
Jason Allison, Second Class Scout in Troop 9, San Angelo, was presented with a Certificate of Merit in recognition of his meritorious action on February 8, 1989. Through his quick thinking in recognizing that his friend needed treatment for shock, he prevented his friend from having a seizure as a result of an accident. Jason was 14 at the time it happened. He and his teammates from the track team were doing their weightlifting workout. The teen that he helped was doing the bench press with about 150 pounds when the bar slipped out of his hands and landed on his lower jaw, crushing it and causing a severe amount of blood loss. Jason sent one of the others to get the coach and call 911. Knowing not to apply pressure to a severe head wound, he treated his friend for shock and gently applied towels to the young man's face, keeping his head still as there might have been an injury to his neck as well. The EMT's who answered the call said that Jason had likely saved his friend's life since the shock of an injury that severe can cause death quickly, especially if the victim is moved.
Todd Smith, First Class Scout of Troop 31, McCamey, was awarded a Certificate of Merit by Carl Cummins, Scout Executive, at the Permian Basin District banquet held in January of 1990. He was presented the award for his involvement in a life threatening situation at the community pool in McCamey.

---

Material for this story was taken from "Panjandrum A History of Scouting in the Concho Valley Council 1911-1941," by Frank T. Hilton, 1990

Last Updated: January 6, 2003
Return to Home Page