Special Troop Awards
Concho Valley Council
His Majesty King Totem
Troop 3 referred to themselves as King Totem Troop 3 after having won the totem pole at the end of Camp Geronimo I. The King Totem was dedicated at a Court of Honor on Wednesday night, June 9, 1926.

The totem pole was presented to the Troop that had obtained the most points during a contest held in the Spring of 1926. The totem was stored at headquarters.

The contest was held every three weeks with the team winning the most points becoming the keeper of the totem pole. Troop 1 won the totem pole the first period and Troop 3 won the second three-week period.

To start the contest off, "His Majesty King Totem" was unveiled on Tuesday night, April 20, 1926, at the fire station park. A tribe of wild Indians imported for the occasion danced around His Majesty singing one of their war songs that reverberated down the backbones and caused many acres of goose flesh.

Troop 1 was then awarded the guardianship of the totem pole with appropriate ceremony for the next period of three weeks. After that time another pageant was held and the troop having the highest average in the inter-troop contest would be awarded the guardianship of the totem pole.
Her Majesty Queen Totem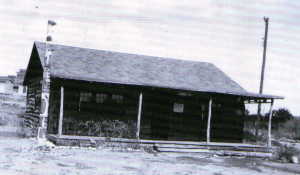 Her Majesty Queen Totem in front of Troop 2's cabin
The Totem Pole contest was held in 1927 for efficiency in Scouting and school work. The contest was held for four periods and the troop that had the highest average for the four periods became the guardian of the totem pole. The contest started March 1 and ended at the June camp held at Camp Pioneer.
Troop 6 had the most points and won the totem pole for the first period, Troop 3 for the second period and Troop 1 for the third period. The scores of the four leading troops for the third period were:
Troop 1 - 114.9
Troop 7 - 110.2
Troop 6 - 101.6
Troop 2 - 93.8
Troop 2, coming from behind, won the contest and was presented the 30 foot totem pole at the County Courthouse in late June. The totem pole was made by Neal Sanders of Sanders of San Angelo Cabinet Shop. The troop was lined up and Brice Draper, after a short speech, told the Scouts of Troop 2 that they were the future owners of Her Majesty Queen Totem. From thereon, they referred to themselves in the Sunday Morning Scout News as the Queen Totem Troop 2. The totem pole was kept at the fire station until the cabins were built at the Scout Village. It was then moved to the Village and placed in front of Troop 2ís cabin.

---
Material for this story was taken from "Panjandrum A History of Scouting in the Concho Valley Council 1911-1941," by Frank T. Hilton, 1990

Last Updated: January 10, 2003
Return to Home Page