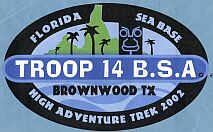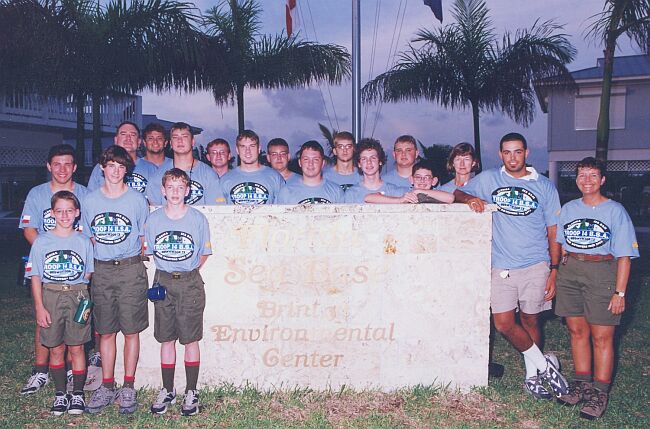 Adult Leaders:
Steve Ellis "Hard Bass"
John Ellis "Wise Bass"
Shirley Teague "Kicking Bass"
Christy Swann "Lard Bass"
Island Mate - E Crew - Nick "Whup Bass"
Island Mate - F Crew - Bass Hole
Crew Members:
Joey Ellis "Fat Bass"
Colton Duffy "Dumb Bass"
Jerome Farmer "Wee Bass"
Chris Garrett "Half Bass"
Seth Griffin "Beach Bass"
Lance Kilpatrick "Red Bass"
Crew Members:
David Mann "Harry Bass"
Kris Morris "Smart Bass"
Zach Swann "Sandy Bass"
Kenda Teague "Bear Bass"
Michael Van Der Pol "Slap Bass"
Quinn Wilson "Scrawny Bass"
The group stayed on a remote 100 acre island off the Florida Keys, snorkeling on pristine coral reefs, trolling for sportfish, kayaking through red mangroves, and exploring the flora and fauna of Big Munson Island. The island which has high hardwood hammock fringed in lush mangroves is much was it was when pirates arrived in the 1800's.

Assistant Scoutmaster John Ellis in front of the
Ernest Hemmingway home, Key West, FL
Colton Duffy, Lance Kilpatrick, John Ellis, Jeromy Farmer, Joey Ellis, Chris Garrett and Seth Griffin in front of Jimmy Buffett's Margaritaville in Key West, FL

Steve Ellis, Colton Duffy, Lance Kilpatrick, Chris Garrett, Jeromy Farmer, Seth Griffin, John Ellis and Joey Ellis at the southernmost point in the continental United States at Key West, FL

Zach Swann and the rest of us getting ready to paddle
our Kayaks over 5 miles to Big Munson Island from the Brinton Environmental Center located on Summerland
Key, 23 miles north of Key West.


Quinn Wilson, Seth Griffin, Chris Garrett, Joey Ellis
and Shirley Teague at the Sea Base Headquarters.
On Thursday, June 27, 2002 the group arrived at the Brinton Center, located about 24 miles north of Key West on the Florida Keys. There they went out to the ocean for their swim check, were issued a mask, fins, snorkel and a Sea Base dive bag. Then they had a snorkel instruction lesson so that they were comfortable with their gear.

The next two and a half days were spent at the Brinton Center and included ocean kayaks, snorkeling, and fishing. They had a chance to spend some time in Key West.

On their third day they traveled to their island, some 5.5 miles over open water, via ocean kayaks. The equipment and food was delivered for unloading by a fleet of 25-foot Dusky powerboats. They stayed in four-man backpacking tents and prepared their own meals.

Food, both at the Sea Base and on the Island was all fresh or frozen i.e. hamburgers, steak, spaghetti, fish for dinner, sandwiches for lunch, and eggs, cereal and pancakes for breakfast.
The week was spent in snorkeling and fishing off the powerboats for dolphin, grouper, barracuda and the like. Their Island Mate, who was with them for their entire adventure, explained what they saw on the island as well as the underwater wilderness that began just a few yards from their tent.
On the seventh day, July 3rd, they returned to the Brinton Center for their evening closing ceremony, patch presentation, and Closing Seafood Luau. They departed for back home on Thursday, July 4, 2002.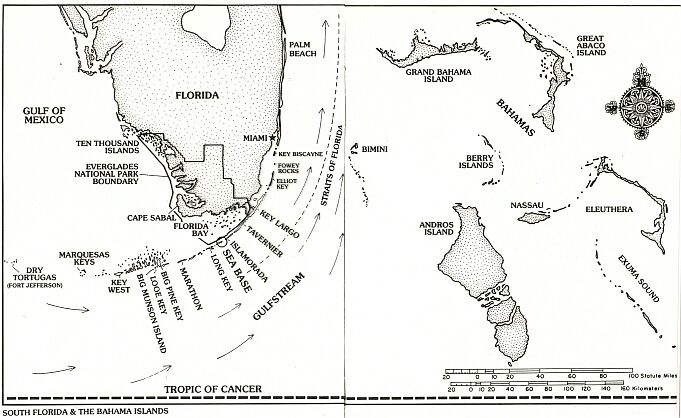 Map of the area shows the location of the headquarters of Sea Base, Brinton Environmental Center on Summerland
Key and Big Munson Island