Buffalo Trail Council
Philmont Scout Ranch
Crew 721 T 1987 - Troop 152 Midland
Helped Me Decide To Become A Philmont Seasonal Staff Member
By Tom Florer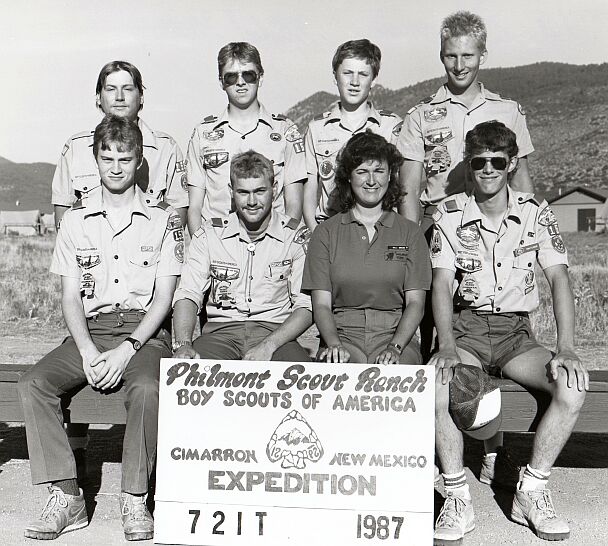 Crew 721 T 1987...Troop 152 from Midland

Front Row, left to right...Mike Slattery, Tom Edwards, Ranger Kelly Green, Tom Florer
Back Row, left to right...Lee Edwards, James Busby, Darrell Smith, Mike Koen


This is the trek that sealed the deal for meÖI knew that I needed to join the Philmont Seasonal Staff at some point in my life. Another great crew of experienced backpackers and young advisors. The crew was: Tom Florer, James Busby, Darrell Smith, and Mike Koen. Michael Slattery and Tom and Lee Edwards were the advisors.

For such an experienced group, we did one of the easiest treks. Just barely over 50 miles. We told other crews that we werenít there to do high mileage- we were just there to have fun. And thatís what we did.

We started at Loverís Leap Camp, and learned that the most underrated sunset on the Ranch is from the top of Loverís Leap. You donít really get to see the sun set (it drops behind Trail Peak pretty early in the evening), but as twilight sets in the basin that includes Loverís Leap, Minerís Park, and Crater Lake looks like a valley out of a fairy tale.

Crater Lake is the next nightís camp, so we get to participate in the Continental Tie and Lumber Company program. The next day take us to BeaubienÖa pretty short hike, so we decide to side hike Trail Peak and visit the plane crash en route. We spend two nights at Beaubien. On our no-hike day, we have a food pickup at Phillips Junction, so we have to do some hiking anyway. From Beaubien itís on to Crooked Creek, where we play football in the meadow with a couple other crews.

From Crooked we proceed to Clear Creek, but instead of taking the standard trail up the canyon, we take the longer route (I think it goes over Wild Horse Mesa?). True to form, we get camp set up just as a huge thunderstorm hits.

Fog greets us the next morning as we prepare to climb Mt. Phillips. Intermittent light drizzle falls, but we press on. Just as we reach the summit, the clouds part and we see a clear view of Baldy Mountain. The clouds continue to clear as we make our way down to Cypherís Mine, for the mine tour and blacksmithing program.

From Cypherís we head to Aspen Springs. The Cimarroncito staff comes over in the afternoon to put on a bouldering program, so we get to do a little climbing in the afternoon. From Aspen Springs itís down to Clarks Fork for the Western Lore program, then our last full day on the trail sees us heading up and over Shaefferís Peak and Tooth Ridge, to the Tooth Ridge Camp. We see the sunset from the top of the Tooth (not really recommended- itís not fun to climb down in the dark). The next morning sees us up early, and we make it down to Base Camp in just under an hour.
---
We want to thank Tom Florer for providing us this story of his fourth trip to Philmont prior to him becoming a Philmont Ranger.