Comanche Trail Council
Philmont Scout Ranch 2000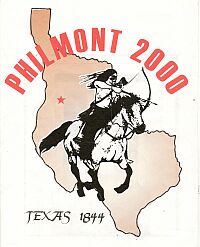 Philmont is a wilderness camping area near Cimarron, New Mexico, located in the Sangre de Cristo (Blood of Christ) range of the Rockies. Philmont has mountains which dominate rough terrain with an elevation ranging from 6,500 to 12,441 feet. The Santa Fe Trail passes near the Scout Ranch and you can still see the ruts carved in the rocks from so many wagons having passed on that trail going west. Waite Phillips gave his beautiful mountain ranch to the Boy Scouts of America in 1941, along with his ranch home, the Villa Philmonte.

Here at Philmont you wll find the Seton Memorial Library and Museum and the Kit Carson Museum. Gold mining museums are located at Cypher's Mine, Baldy Camp and French Henry.

A full Comanche Trail Council contingent and two Scout troops hiked the Philmont Scout Ranch trails in the summer of 2000. Troop 22 of Brownwood and Troop 101 of Cisco each took a contingent of their own to Philmont. This page tells the story of the Comanche Trail Council contingent that was divided into two groups. They left the council on June 23, 2000 and arrived at Philmont on June 24th. They checked in and had a shakedown of their equipment before hitting the trail on June 25th. They returned to base camp on July 5, having spent the 4th of July on the trail.

Crew J-1

Crew J-1 took Itinerary 16 which was a rugged 57 mile hike through Philmont' s south country and offered many varied and interesting programs plus the opportunity to fish in clear mountain streams. A two day layover at Apache Springs provided time to view a replica of a Jicarilla Apache Indian village and learn about their lifestyle. Other programs included a hike to the top of 12,417 foot Mt. Phillips, homesteading, rock climbing, environmental awareness, Continental Tie & Lumber Company, black powder rifle, gold mining and western lore. Their last night was spent at Shaefers Pass before a victory hike in over the Tooth of Time.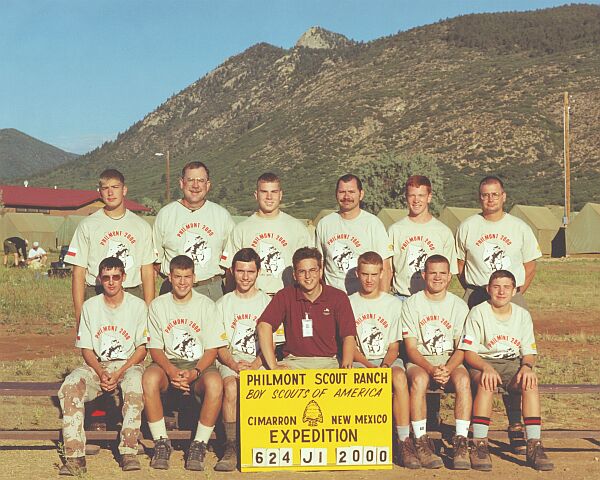 Expedition 624-J-1
Adult Advisor: Steve Ellis, Brookesmith
Adult Asst.: Hugh Collins, Brownwood
Adult Asst.: Bill Schluckebier, Brownwood
Crew Leader: John Ellis, Brookesmith
Chaplain Aide: Kendal Teague, Brownwood
Crew Reporter: Neal Mann, Brownwood
Jon Durand, Brownwood
Charlie Collins, Brownwood
Jon Carroll, Early
Joey Ellis, Brookesmith
Adam Schluckebier, Brownwood
P. J. Shillings, Goldthwaite
Crew J-2

Crew J-2 took Itinerary 11 which was a 54 mile trek following rushing streams and hiked the crew through green mountain meadows and traversed lofty peaks and ridges across Philmont's south and central country. Fly tying and fishing, Jicarilla Apache life, 3 dimensional archery and black powder shooting were the early features of this trek. After they hiked over Mt. Phillips (11,711') they panned for gold and enjoyed the "stomp" at Cyphers Mine. Day 10 found their crew at Cimarroncito for rock climbing and environmental awareness, before they hiked to Base Camp over the Tooth of Time.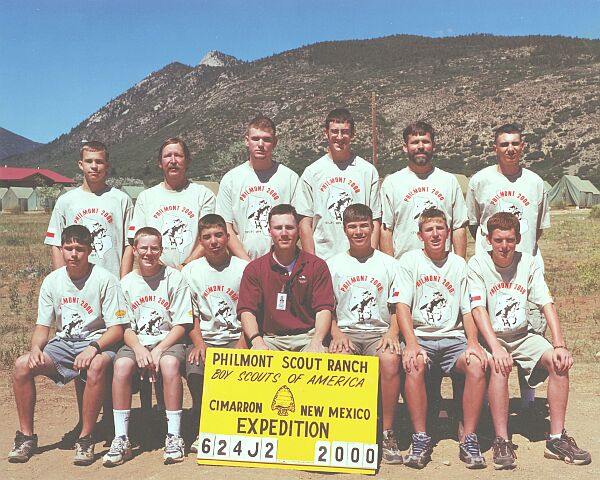 Expedition No. 624-J-2
Adult Advisor: Larry Smith, Eastland
Adult Asst.: Bob Mathews, Eastland
Crew Leader: Ben Mathews, Eastland
Chaplin Aide: David Hatton, Eastland
Crew Reporter: Robert Culverhouse, Eastland
Phillip Bacher, Eastland
Clayton Gist, Goldthwaite
Jared Gist, Goldthwaite
Josh Gourley, Carbon
Kyle Smith, Eastland
Jacob Summy, Goldthwaite
Johnson Wesson, Goldthwaite
---

Philmont Diary 2000
By Neal Mann

Expedition 624 J-1 Official Trek Journal
Day 1 (6-25-2000):
After packing up and leaving base camp, we were dropped off in the backcountry after a rather interesting bus ride/airline flight. Thankfully, we managed to rid our bus of the highly intelligent mini-bears who were duct-taped to the bottom of the bus. This ensured that they would not create a race of super-intelligent mini-bears who would take over the world.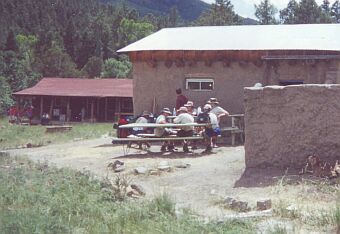 Anyway, after being dropped off, we were taught a few more orienteering skills by our fearless guide Tony Rella from Indiana. After our learning session we set off on our trek and promptly took a wrong turn. We quickly corrected our course and made it quickly to the Rayado River campsite, albeit with a few quick stops. There we spent most of the morning learning the ropes of Philmont-style backpacking, including bear-bag hanging and packing, bear attraction prevention, and a variety of other essential knowledge skills.
After lunch we decided to make a quick trek to the Abreu campsite where we had soft drinks and went through a very informative program called, "The Philmont Story." We learned some background information on the acquisition of the land and about some of the people who lived at Philmont.
After hiking back to camp, we ate supper and learned more essential Philmont knowledge. A short but inspiring chapel service was led by Kendal. It was a very informal service as Mr. Ellis came halfway clean and halfway clothed. Afterwards we hung the bear bags and had a "Thorns and Roses" discussion where we all stated our likes and dislikes about the day. It was a very good day, and you could tell that everyone was looking forward to the rest of the trek.

Day 2 (6-26-2000):
We were rather slow in starting our hike this morning, as we did not leave camp until 8:00 a.m. It was a relatively easy hike up to the Toothache Springs campground at the base of Urraca Mesa. We found that there was not a bear cable in camp, so we had Charlie and John climb trees to feed rope through the branches, to the dismay of Tony.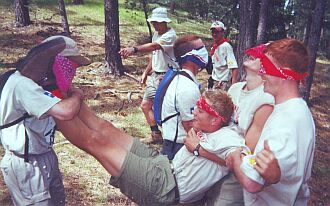 After eating lunch and taking a short siesta, we trekked over the mesa to the Urraca camp, where we did a COPE course under Elise Cannon from San Antonio. The first challenge of putting 13 people on a 2 ft. by 2 ft. box with 6 points of contact was not easy, but we finally managed to fit everyone on and sing "Row, Row, Row, Your Boat." After that we had to see how high we could reach on a board with 3 levels of people.
Of course, our crew being from Texas, we touched the top of the board itself. We then made it to the top of a hill after a few people, who had been blinded, carried Joey, who had become quadriplegic. We then proceeded to put people through a spider web of sorts and get people across a river of squeeze cheese onto Ritz crackers. Finally, we "stormed a castle" by lifting people over a wall 13 ft. high. The course was great fun for everyone including Tony, who fell while halfway up the wall. We then thanked the staff at Urraca camp and went back to our campsite. After supper and setting up the bear bags, we went over to the edge of the cliff and had a nature talk with Tony. We were also told stories of how the mesa was haunted by Native American spirits and inhabited by an imp who guards a gate of some kind. It was a slightly tiring but good day.
Day 3 (6-27-2000):
Our guide Tony left our crew today to start another expedition on their way. In the morning we missed our turn and went halfway up Urraca Mesa before following a seldom-used trail. This trail finally led to the main pack trail up the mesa. We then followed the trail over the mesa back to the trail we wanted to be on. It was quite a detour, but otherwise we would have missed out on watching the valley become enshrouded in a cloud.

After we followed the trail to Miner's Park camp for a while, we realized that the trail we were following was not on the map. We kept going, however, and finally met the road we had been looking for. After looking back at the trail, we saw a sign that said, "Follow New Urraca Trail," which explained why we couldn't find our position on the map. We then hiked a little longer and ate lunch. After a short rest, we set off for Miner's Park camp. After arriving and setting up, we were given an environmental awareness course by Theresa. It was fun to learn about all the indigenous species in the area and how they could be used medicinally. The course ended with two groups building mini-bear homes, which were promptly demolished by Adam and Joey. It taught us respect for the homes of animals. We then proceeded to either take a nap or climb on an artificial climbing wall. When everything was said and done, we ate supper and went to sleep. Besides our little detour, we had a very productive and fun day. It was also refreshing to rinse off in the shower at Miner's Park camp.
Day 4 (6-28-2000):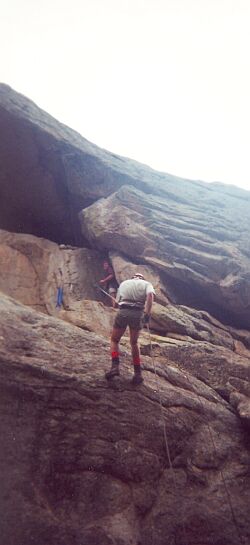 Everyone woke up early that morning so we could get on the trail quickly. After we ate breakfast, we proceeded to pack up our things and get ready to leave. Joey had to take a slam in the Red Roof Inn after breakfast, but his peace was suddenly interrupted when Neal began throwing a few pine cones at the Inn. Everyone else soon followed suit, pelting the Inn with pine cones. Joey even offered his surrender by waving toilet paper in the air, but to no avail. We finally stopped, mostly because we were laughing so hard. After all of our stuff was packed, we were able to go rock climbing on actual rocks. We had our choice of intermediate or difficult climbs.
Not everyone who started either side finished. Also, whenever you were on-belay, you had to complement your belayer (a girl, of course), usually with a corny pick-up line. We showed much wit with our choice of lines. After our climbing escapades were over, we set out to Crater Lake camp and arrived without a hitch just in time to eat lunch.
The campfire ring where we ate gave a breathtaking view of the Tooth of Time and the valley below it. After lunch we began to learn the art of pole-climbing with gaffs, a harness, and a belt. Most everyone had gone up when it began to thunder and lightning. We all sought shelter quickly and waited for a while for the storm to subside.
When we realized that it wasn't going to stop, we strapped on our packs and headed for the Lower Bonito campsite. It finally stopped raining halfway up the mountain, so we had an opportunity to remove our rain gear. We finally arrived at Lower Bonito, set up camp, ate, and went to sleep. The water we had to use came from a creek near cattle, so the water was not very clear or appetizing. Also, instead of a Red Roof Inn we had a Pilot to Bombardier, which consisted of a pit with two seats facing away from each other over it, versus a pit with a concrete base, a red roof, and two parallel toilet seats. The overall day was wet and cold but very fun and challenging.



Day 5 (6-29-2000):
We woke up bright and early that morning in order to make it to Phillips' Junction by 9:00 a.m. to do our 3-hour service project. We finally reached Phillips' Junction around 9:15 a.m. and began our service project under the supervision of Sam and Matt, both from Texas. We basically helped construct a trail from Phillips' Junction to Fish Camp.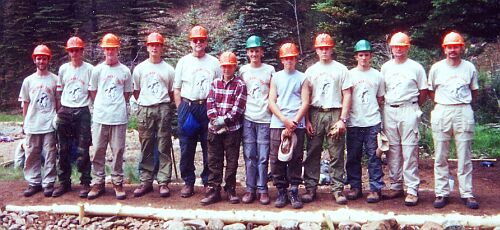 It was designed like a Roman road in that a rock foundation was bordered by logs in trenches, and everything was covered by packed dirt. For the first 1 and one-half hours Joey, Jon Durand, Mr. Ellis, and Neal moved large rocks to line the trail with. Much to our dismay, we were told that the rocks were not necessary and that more dirt was needed on the trail. So, we proceeded to pack dirt on the trail, while in the meantime the rest of the crew was preparing a log to be placed along the trail. It was a pretty fun project for the large amount of work done.
After eating lunch and picking up more food, we set out on the trail for Apache Springs. About one third of the way there, while on the side of a mountain taking a 20-minute break, we were suddenly bombarded by pea-sized hail. It lasted for a good 10 minutes and made everyone very cold. There was a short rain after the hail, and it was dry from then on (the air, that is). A large uphill climb tired the crew out by the time we reached our campsite, and we took awhile making it off the staff porch. After setting everything up and eating supper, Neal sang a rousing rendition of "The Lumberjack Song," with the rest of the crew singing the chorus except for Mr. Ellis, who cracked up after Neal sang, "I put on women's clothing, and hang around in bars." It was a long and tiring day, but at the end of it we were looking forward to the next day.

Day 6 (6-30-2000):
We had a well-deserved rest that morning since we stayed there for two days. After eating a late breakfast, we went through the 3-D archery activity, which consisted of shooting two arrows apiece at fake animal targets. Most of the crew's aiming was at the animal's crotch, also known as "the junk." We managed to be on target with most of the animals. We then proceeded to learn more about Jicarilla Apache life in a large tepee. We looked at war clubs, peace pipes, and scalps (all authentic, even the scalps). After grinding corn with stones and eating lunch, we went down to Fish Camp. We toured Waite Phillips' home along the creek and learned about his life and times. Strangely enough, we didn't fish at Fish Camp because of a lack of time. We did, however, enjoy listening to Mr. Ellis' stories from history, especially about great empires of Europe. After eating supper we went to the boundary of Philmont to watch the sunset, but it was too cloudy to see anything. We were all glad to have a day of rest.
Day 7 (7-1-2000):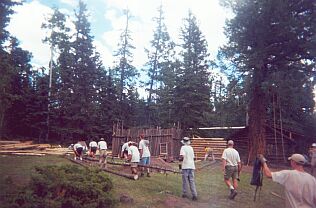 We woke up early this morning so that we could pack up all of our stuff and go to Crooked Creek as soon as possible. It was a nice little hike to Crooked Creek, most of the journey being uphill. After resting for a while, we helped some staff build an addition to the rustic cabin that was there. We were assigned to de-limb trees and haul them from the forest to the cabin. We worked for around two hours, and during that time we discovered that the sap of the Corkbark Pine smells very sweet. After finishing that, we toured the cabin, which turned out to be very interesting. The staff stayed in beds made of posts and robes, and cooked on a wood-burning stove. While our guide was talking, we noticed another staff member cutting up raw chicken, which, by that part of our trek, looked mighty tasty. We then ate supper and were greeted with a beautifully colored sky where the sun was setting. Our program for the evening consisted of chasing chickens and ducks back to the coop and milking a cow, though our crew decided that the line was too long and that we needed sleep. Everyone had a very good day.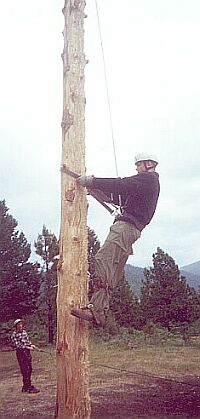 Day 8 (7-2-2000):
Another long hike awaited us that day, but we had the additional challenge of a steep uphill climb all the way from Crooked Creek to Clear Creek. About four crews set out from Crooked Creek to Clear Creek that morning, but we managed to reach our destination first. The other crews were right behind us, however, so we had to wait for a while as the lone staff member at the lower cabin checked everyone in. There are normally four staff members at Clear Creek, but two of them were off-duty, and the other who was on-duty was running black-powder rifle shooting.
In the meantime we threw hawks (tomahawks) at some stacked cross-cut tree sections. If your hawk went over the wood, you had to yell, "I'm sorry Monty," because a very large monster lived behind the target and hates being hit on the head with hawks (or so the story goes). After about half an hour of that, we finally received our campsite and set up.
After lunch, we went to black-powder rifle shooting with Dan as our instructor. He was very knowledgeable and funny. John put his shirt downrange in order to put some holes in it, but the entire crew only put three holes in his shirt.
Right after we finished shooting, it began to rain, so we ran back to our tents. We rested for a while and then ate supper. Dan was passing through our campsite after supper, and we began talking to him.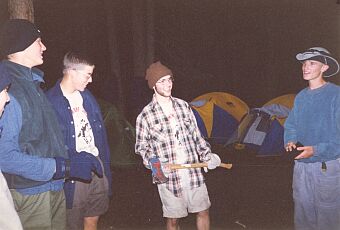 After some funny stories, Neal performed "The Lumberjack Song," while the rest of our crew joined in the chorus. Of course, Neal was decked out in Jon Durand's lumberjack clothes.
After listening to Dan sing "The World Song" from Anamaniacs, we ventured up to the upper cabin doing our best impression of the monks from "The Quest for the Holy Grail." The off-duty staff thought it was hilarious. It was one of our most fun and funniest days.

Day 9 (7-3-2000):
Though we were not looking forward to it, we set out early for the summit of Mount Phillips. It was a very tough ascent, especially since the elevation was between 10 and 12 thousand feet. After many breaks, we finally reached the summit, which gave us a spectacular view of the surrounding countryside. The rest of the journey was downhill, and we stopped off at the summit of Comanche Peak, where we ate lunch and were treated to an even more spectacular view of Philmont, the Tooth of Time, and Old Baldy. From there we hiked many switchbacks to Cypher's Mine. Instead of tents, we slept in a "Muck Shack," which was a concrete slab with a roof. We toured the forge a little bit afterwards.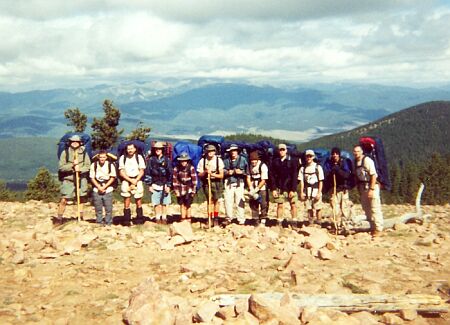 It turned out to be very interesting and smokey. The Cypher's Mine tour followed, and we were taught how the miners extracted ore and a little bit of geology of the area. After going to the end of the tunnel (about 500 feet in), we turned off our lights and had to make our way back to the end of the mine in the dark. Of course, our tour guide Coffee tried to scare us by pulling us off to the side wearing a skeleton mask, but no one got scared. After supper we had a "Toughman Competition". Neal was a lumberjack with an assortment of tough traits. For example:
Use a bed of nails for a toothbrush
Use wet concrete for toothpaste
Use telephone wire for floss
Use a pine tree for a toothpick
Use a wagon wheel for a comb
Use a porcupine for a back-scratcher
Use his beard to sharpen his axe
After the toughman bit Neal burst into "The Lumberjack Song." In the end, he won the competition. His prize was doing a clog dance to a banjo tune at the Stomp that followed. Everyone crammed into a small cabin and sang and listened to as the staff told stories and sang songs. It turned out to be a very fun night.
Day 10 (7-4-2000):
Since we didn't have any tents to take down, we were able to break camp early this morning and set off towards Shaeffer's Pass. On our way we stopped at Clark's Fork, where we met our sister crew, got showers, and ate lunch. After filling all of our water bottles, we set off through a beautifully wooded section of the Central country and arrived at Shaeffer's Pass in the early afternoon. We had the rest of the day to do whatever we liked. Most of us took multiple siestas until supper/breakfast time. We didn't actually eat a supper meal because of a lack of water, so instead we ate a lunch meal.
The sunset around camp was gorgeous. All the youth were involved in a game of ultimate frisbee, which we won on a determining drive. We had tried to convince the players on the other team to play football, but they insisted on frisbee, which they excelled at. That night John, Adam, Charlie, Joey, and Neal slept out under the stars. We were greeted with a spectacular view and at least one Iridium satellite flare. The whole group seemed to be itching to get back to base camp that day. It was a day of rest, and even though we didn't get to shoot off fireworks or see a show, we all thought about the United States and our heritage that day.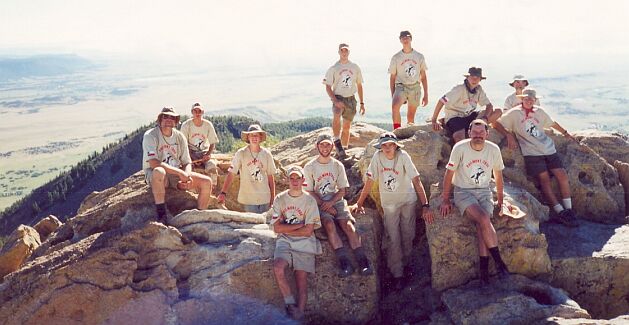 Day 11 (7-5-2000):
Our final day on the trail was pretty exhausting as far as days go. It was a good ways to the Tooth of Time, where we stopped and took pictures, but the last leg was a killer. Dan at Clear Creek had told us that the way down the Tooth was full of switchbacks, contrary to what the map said, and he was right. It really took a toll on our knees and feet, but we stopped very few times, most likely because of the promise of hot showers at base camp.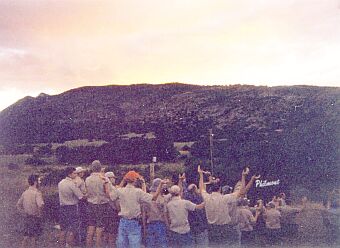 We finally arrived at noon, and we promptly received our tent assignments, took showers, and went out to eat pizza. Most all of the crew will attest that they have never had a better shower or better pizza than that day. After coming back and taking care of a few things, we headed off to the Kit Carson Museum. Our guides were very informative, even in the short time we had there. After that we took a tour of the Villa Philmonte, Waite Phillips' vacation home. The size and intricacy of the home were staggering. We returned to base camp and fiddled around at the trading post until supper. After supper, we had a closing campfire, where we received our Arrowhead Awards and had an overall good time. The rest we received in our cots was great that night. Our trek probably could not have been any better. We all grew physically, mentally, emotionally, and spiritually from our experience. Philmont is a truly special place, and now we can relate to everyone who tells us how great Philmont is.
Neal Mann
Expedition 624 J-1 Reporter
---

We want to thank Judge Steve Ellis and Neal Mann for providing the information and photos for this trek.