Concho Valley Council
Philmont Trek 1955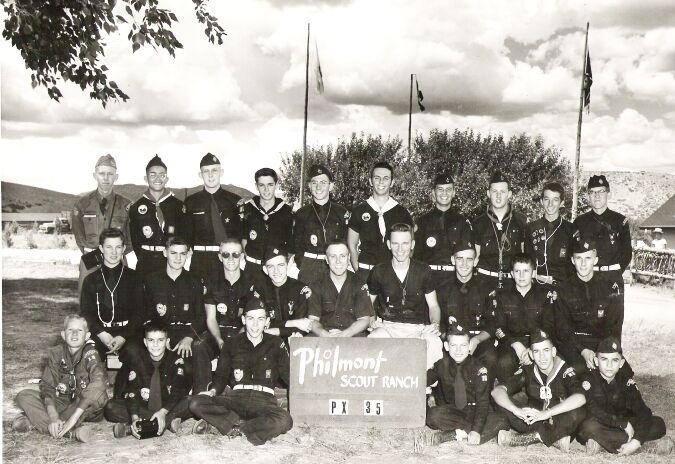 Not in order: Jerry Eoff, Ballinger; Kennedy Whitely, Ballinger; Allan Dart, San Angelo; Ernest Nimitz, Christoval; Jerry McKeller, McCamey; Dewaine Eubanks, McCamey; Perry Walden, McCamey; David Crawford, McCamey; Dale Reynolds, McCamey; Pat Henry, San Angelo; James Richardson, San Angelo; Glen Smith, Ballinger; Bruce Edwards, Barnhart; James L Parry, Barnhart
The two adults are: Sgt. Dudley Woodbury and Lt. Richard L. Harris.
Note: Not all names are listed.

This from one of the participants:

"USAF flew us in C47s to Amarillo AFB, one from Goodfellow Air Force Base and one from Laughlin, where scouts from each area had spent the night in barracks. After a night there, we were taken to Philmont in USAF school buses. They were short one C47 on the return trip so some had to ride the bus all the way home. This was not too long after Korea so I suppose they were still recruiting.

"We did night hikes on two or three occasions. The second day, on the trail from Pueblano we stopped for a rest at Dean, then we went on after dark, passing trees with supposed bullet holes associated with a Black Jack Ketchum shoot-out. I assume we stopped at what is now Turkey Canyon Camp, although it does not show on my maps that were current at that time, otherwise we made a trail-side camp before reaching the Cimarron-Eagle Nest highway. I suppose that we may have been scheduled to stop over at Beubien after staying a day at Crooked Creek, but we went on to Crater Lake, maybe in the dark. Not sure about that. A buddy of mine later went to Marine Platoon Leader's Training Camp and said it was a cakewalk - he had been to Philmont. I learned a lot about how to make a good camp, but only used it one time afterward."

Below you will find two maps of the trek plus the Itinerary. "Trail and camp information on the map was transferred from a Philmont Trail Map of low detail, with route penciled in, found by a participant in 2016.  The route was traced on 15 minute USGS Topographic Maps Surveyed in 1955, then transferred using Google Earth Program to 7.5 Minute USGS maps surveyed about 1984.  The inferior accuracy of 15' map detail is demonstrated when the route is transferred to the 7.5' versions.  Travel days are shown in alternate colors.  Other apparent errors are often a result of trail and camp location having been relocated to prevent excessive erosion."
Philmont PX-35 Aerial Route Map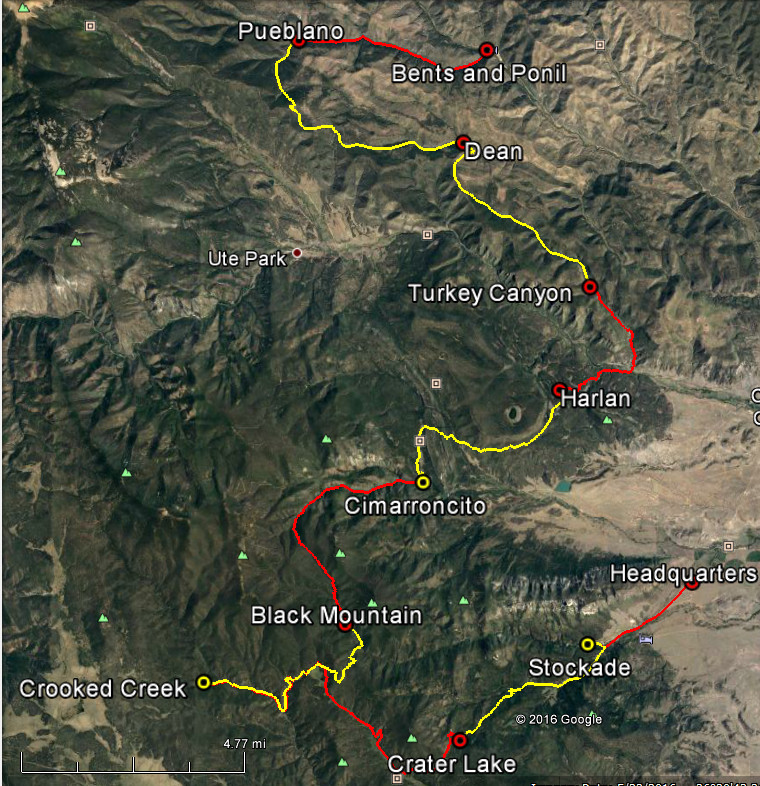 Philmont PX-35 Route Map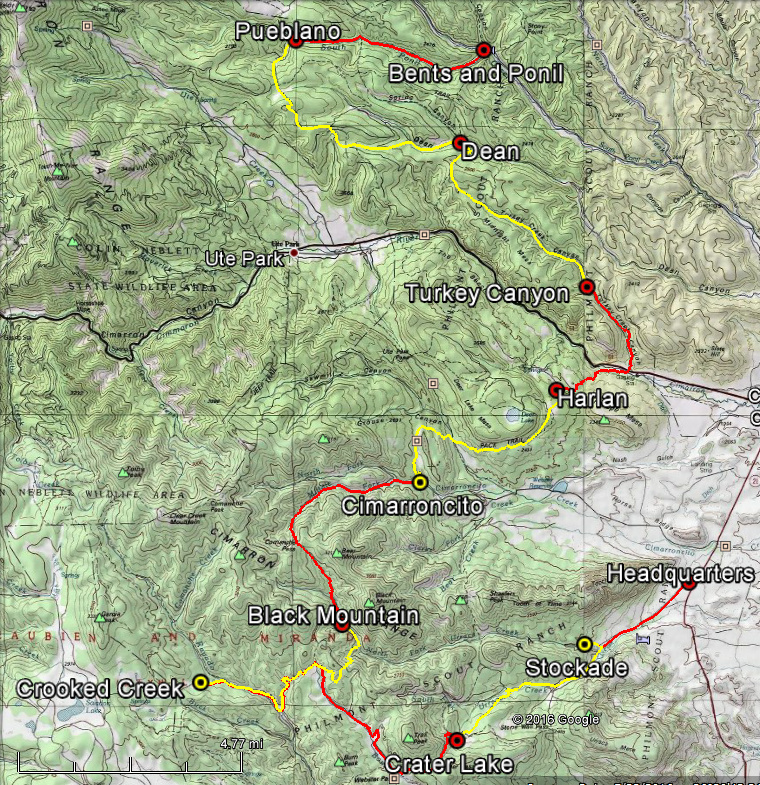 Record of Philmont Expedition PX-35, 1955
Concho Valley Council

July 23, 1955:  Met at Goodfellow and Laughlin Air Force Bases.  Spent night in barracks.
July 24:  Flew to Amarillo Air Force Base in USAF C-47s.  Spent night in barracks.
July 25:  Traveled to Philmont Ranch Headquarters via USAF bus.  
July 26, 27, and 28:  Orientation, training and shakedown hikes at Bents/Ponil Base Camp.
July 29:  Hiked to Pueblano Camp.  4.5 Miles.
July 30:  Hiked through scheduled camp at Dean and proceded to Turkey Creek(?) at night. 11.6 Miles. (No camp on Turkey Creek in 1955 USGS maps.)
July 31:  Hiked to Harlan Camp.  4.34 Miles.
August 1:  Hiked to Cimarroncito Camp.  5.75 Miles. (Located down the creek from the modern "Cito".)
August 2:  Hiked to Black Mountain Camp.  6.04 Miles.
August 3:  Hiked to Crooked Creek Camp.  6.59 Miles.  (A section of this trail, indicated on the Philmont Trail Map was not found on USGS maps and guessed in.)
August 4:  Laid over at Crooked Creek.
August 5:  Hiked to Crater Lake Camp.  10.3 Miles. (Possibly another night hike?)
August 6:  Hiked to the Stockade.  4.7 Miles.
August 7:  Hiked to Headquarters. 2.85 Miles.

TOTAL EXPEDITION:  56.67 Miles

"The finish and return trip dates are not remembered exactly.  We returned to Amarillo AFB in the same bus previously used and thought to have spent another night in the barracks.  Only one C-47 was available.  Half of the participants were flown back to the base(s) and the remainder were taken back to home base in the bus."
Return to Philmont
Return to Home Page