The four summers I spent as part of Philmont's seasonal staff were some of the most enjoyable summers I ever had. I was there in 90, 91, 92, and 93, while going through college. There's no better way to get through final exams than with the knowledge that I'd be spending the next three months hiking through the mountains in northern New Mexico.

I was a Ranger during the summers of 90 and 91. It was during these two summers that I really got to know the Ranch. Every time I dropped a crew off in the backcountry and headed back to Base Camp, I made it a point to take a route that would take me through a part of the Ranch I'd never seen before. I was a Training Ranger in 92, and was responsible for my own group of Rangers. I trained them at the beginning of the summer, and then mentored them over the rest of the summer. I did a lot of hiking this summer as well, though most of it was just to starting camps.

I thoroughly enjoyed Rangering- I was basically getting paid (though not very much) to go backpacking. I was outside all the time- sometimes hiking with a crew and sometimes by myself. Sometimes on trail and sometimes off. I reached the point where city noises bothered me. I didn't mind waking up to find it was already raining. I knew every type of flower that existed at Philmont, and could tell you which ones would be in bloom during which parts of the summer.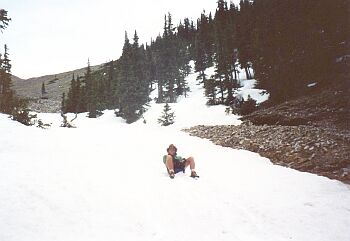 Sledding on a backpack…the only way to descend Baldy Mountain!
After three summers of Rangering, I knew I would spend one last, fourth summer at Philmont before graduation. I was all set to be a Training Ranger again. I had never even though about doing any other position at the Ranch. Then, one evening in Lubbock while studying for finals, Doug Palmer called.
Doug was (still is, actually) one of Philmont's Program Directors. He had a proposition for me. Philmont had already offered me a position as Training Ranger for the summer (and I had accepted), but there's always some last minute shuffling around. Doug asked me if I'd like to be a Camp Director at Dan Beard Camp.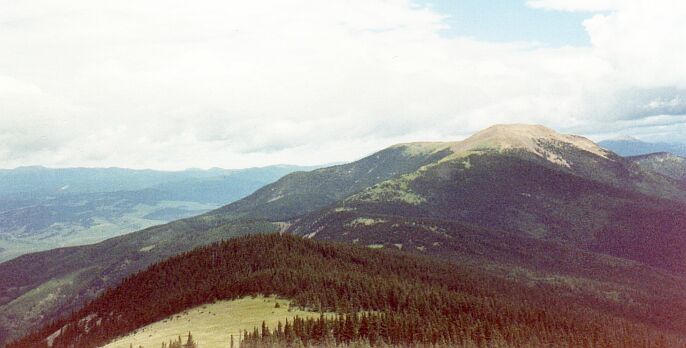 Baldy Mountain as seen from the summit of Touch Me Not Mountain
This caught me off guard…as a Ranger I was always on the go, and would see much of the Ranch over the course of the summer. As Backcountry Staff, I'd be more or less stationary! Backcountry Staff (Camp Directors especially) are famous for not liking to hike. Long story short, I took Doug up on the offer, and signed on to spend the summer at Dan Beard. This is a pretty isolated camp- probably closer to the Colorado border than Base Camp. It's at the end of a long dirt road in an isolated corner, and doesn't get many visitors.
As it turned out, I loved the summer I spent at the Beard. There's much to be said about sitting on a porch swing on a cool morning, waiting for the first crews to arrive. While I didn't see as much of the Ranch that summer as I did while Rangering (though I did do some hiking), I got to know my little corner better than I knew any other part of the backcountry.
In retrospect, I can say that the four summers I spent at Philmont were some of the most influential times of my life. It solidified an appreciation for the outdoors, and has given me a different take on what the "real world" really is. I remember one advisor asking me what I would do after graduation, when I was sitting in some big office building in New York City. We both decided that I'd go crazy.
Rangers at Phillips Junction…with the necessities strapped to the back of the pack - it's a Pizza Hut box.
The crews we passed didn't know it was empty!
Spending a summer at Philmont is to do without some things. No television, radio stations only if you're lucky (I picked up a Lubbock station once), and no newspaper. You don't get a lot of news about the outside world, but to be honest, you really don't care. Most of the time I didn't even know what day of the week it was. It was always interesting to return home at the end of the summer, and see what had happened during the past three months.
Spending a summer at Philmont also means memories that will last a lifetime. A few of mine:
Talking to an advisor who grew up in Dallas. Turns out my father was his scoutmaster way back in the 1960's (he noticed my last name, and that's what started the conversation).
Working with an inner city kid from Philadelphia, and watching him experience nature for the first time, as he'd never even been out of the city before.
Rounding a bend in the trail and startling a bear, which then ran straight uphill faster than I can safely run downhill.
Receiving a box of Spam courtesy of the Abreu staff. We returned the favor by sending them (our "distant southern brethren) a box of small sticks.
Celebrating my sister's 21st birthday in the backcountry (complete with cake), even though she was 800 miles away and had no idea we were doing it.
Going to Philmont as a participant is a great experience. Going as a staff member is just as great, but instead of lasting 10 days, it lasts three months!