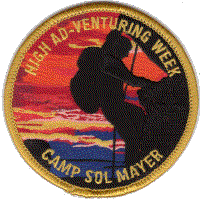 For the first time, the council held a Venture Camp, following Summer camp in 2008, with some 40 youth plus Advisors involved. This was held June 29 - July 2 and was one of the only Venture Camps held in Texas. Venture Crews came from Dayton, Texas and San Antonio, Texas in addtion to those from the Concho Valley Council.
Although the weather was wet at times, the camp included Scuba training, skeet shooting, canoeing, kayaking, snorkeling, astronomy, black powder, shotgun, rifle, pistol, climbing, rappelling, games, a horseback ride, golf, frisbee golf, leadership classes, and a visit to Fort McKavett and the Caverns of Sonora.
Their fee of $125 for youth and $50 per adult, covered nine meals, Discover Scuba Training costs, program materials and a custom High Ad-Venturing Camp patch.