Tornado at Camp Sol Mayer
Summer 2005
The following story appeared in the San Angelo Standard Times, San Angelo, about a tornado that hit Camp Sol Mayer at the beginning of staff training week May 31, 2005. This story is by Joel Fox and appeared in the paper on June 1, 2005.

Workers are scrambling to repair storm damage at Camp Sol Mayer in Menard County. Camp staff members believe it was a tornado which damaged buildings and uprooted trees.

"Menard EMS called us and said we needed to take cover," says Lisa Mahler, operator of the camp trading post. "So we gathered all the kids up, and some had already gone to bed."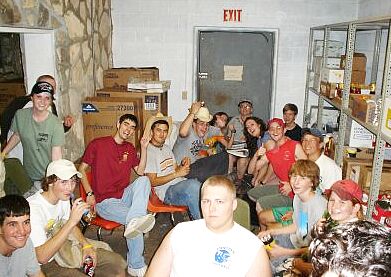 While camp itself has not started yet, more than two dozen staff members already have arrived at the camp ground about 20 miles west of Menard. As threatening weather approached, staffers were rushed into the pantry inside the dining hall.
"They sang songs and played guitars, and never even knew the tornado went over," says camp director Dennis Luellen.
Mahler says the group realized just how serious the situation was when the camp chef opened an outside door during the storm.
"You couldn't even see outside, the rain was so bad."
At the trading post Wednesday morning, shirts were hung out to dry, after heavy rains came in through a damaged skylight and a broken window. A stack of canoes on a trailer lay upside down, around the corner from the place where they had been parked. Rowboats were slung several hundred feet.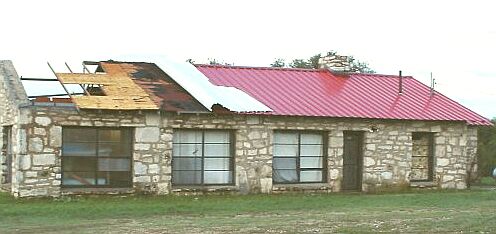 The metal rooftops of several buildings were ripped away. A housing unit for staff members received some of the heaviest damage, losing about a third of its roof.
Coincidentally, Luellen says the same building received similar damage nine years ago to the day, when a tornado hit the camp back in 1996.
But in spite of the damage, Luellen says, "The show will go on. Scouts, be prepared. We weren't quite prepared for this. We're hoping with the help of some volunteers and some folks coming forward that we can continue and make camp happen."
Concho Valley Boy Scout officials estimate the damage at Camp Sol Mayer at close to $3,000.
By: Joel Fox

---

This story was reported by Met. Chris Whited of KLST-TV, San Angelo, on Tuesday, June 1, 2005 Newscast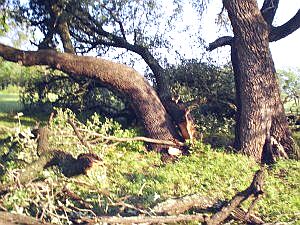 The National Weather Service has confirmed it was a small tornado that touched down in Menard County causing damage to the Sol Mayer Camp Tuesday evening.
The tornado was rated an F-0, which according to the Fujita tornado classification scale produces winds up to seventy-three miles per hour. The survey team with the National Weather Service found a damage path 25 yards wide and half a mile long. This is believed to be the first recorded tornado in Menard County in the last 55 years.
By: Met. Chris Whited
---

The Following conversation was carried on by Wynn Alston, Waterfront Director at Camp Sol Mayer, and Frank T. Hilton, Brownwood, on Instant Messenger on Saturday, June 4, 2005:

Hilton: Glad to see you made it through Staff Training Week!
Alston: It was interesting, for sure.
Hilton: I bet it was. Did you truck receive any damage?
Alston: Not at all.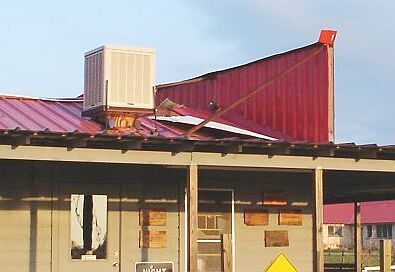 Hilton: I was worried about that. Did you get to camp before or after the storm?
Alston: Long before it
Hilton: Just what damage did it do? They only mentioned in the paper about the commodes blowing off their base.
Alston: Here is a story from the TV Station KLST (Note: Link to story given here).
Hilton: OK
Alston: They actually came out.
Alston: As did the National Weather Service and the Texas Railroad Commission.
Hilton: Gee, you all had a lot of visitors.
Alston: Yes we did.
Hilton: I guess you all were able to get all the rowboats and canoes back in shape to use this coming week.
Alston: More or less.
Hilton: Did you all get the damage repaired this week?
Alston: They did get the Lonesome Pine Latrine rebuilt as well as the roof back on the OA Lodge, the bunkhouse repaired and the Trading Post roof fixed.
Hilton: The Lonesome Pine Latrine was destroyed away back when I was Camp Director and Troop 1 was in that campsite. All four sides were laid on their side.
Alston: It was gone this time.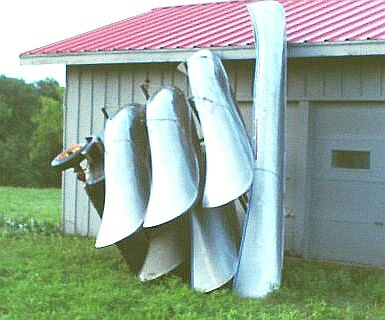 Alston: Goodfellow came out today. Prisoners were out on Wednesday or Thursday clearing debris, and cutting trees.
Hilton: Good. Sounds like you all had some good help.
Alston: We've had a steady stream on volunteers out there since the storm too.
Hilton: How was the swimming pool, showers and pump house there?
Alston: Besides all the stuff of mine, no damage whatsoever.
Hilton: Did you find it all?
Alston: Books and papers and electronics don't fair well when they get drenched.
Hilton: Ouch
Hilton: What electronics did you lose?
Hilton: Not your laptop I hope.
Alston: No, just my CD player.
Hilton: Is it ruined?
Alston: I don't know. I haven't tried it
Hilton: You all had another storm on Thursday according to radar.
[Alston: We did. We had 2 inches of rain Thursday morning, bringing the 3 week total precipitation over 11 inches (not including the straight line rain that can't be recorded).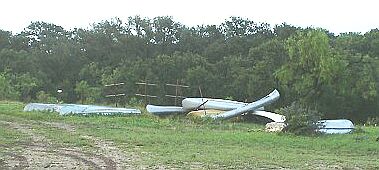 Hilton: And the river did not flood?
Alston: The river flowed over it's bank yesterday afternoon
Hilton: Good for the canoeing area. Nice and muddy too.
Hilton: Hopefully the camp will have dried out by the time the campers get there.
Alston: We'll see.
Hilton: Is the pump system at the pool OK?
Alston: All is well at the pool.
Hilton: You all did not lose any staff who got scared and went home did you?
Alston: No we didn't. Not even the girl from Chicago.
Alston: The flagpole even got bent.
Hilton: Gee that was a strong wind. I guess the dining hall made it through the storm.
Alston: It's a good thing we got everyone into the dining hall well before it all hit. It was a STRONG wind.
Hilton: Yes it is or some of the staff would have been hurt. That is a strong building in the back.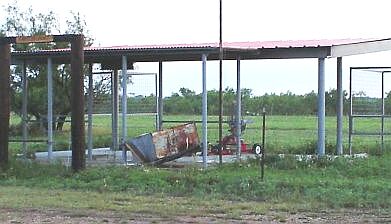 Alston: It blew the 2 derricks down that are part of the entrance too.
Alston: The (staff) were all in the pantry except a "few" of us brave souls who were monitoring the storm, and Mike Erickson who went out to turn the power off at the pole so the compressors wouldn't blow if the power surged. He almost didn't make it back in It was like a scene from the Wizard of Oz. I was holding the door open to the breezeway when the wind surged and blew him down. He decided to use the door to the store room instead, and they had to pull him in and had a hard time shutting the door behind him.
Hilton: Did you all lose power anywhere in camp?
Alston: Yes for most of the night. Power lines were down in camp too. The power company was on the ball though. They were out fixing things right away.
Hilton: I copied his conversation so I can later put some of it on the history web site along with your photos. Talk with you later. Thanks for telling me about the tornado at camp.
Alston: OK Talk with you next weekend.
End of buffer: Sat Jun 04 19:26:08 2005

---
Return to Camp Sol Mayer
Return to Home Page