Comanche Trail Council
Don Rogert Canoe Base - Atikokan, Ontario
2001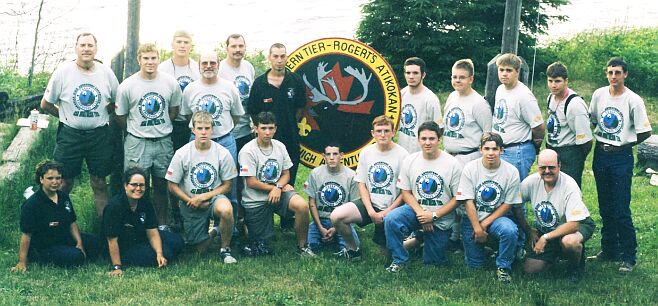 Crews A062301A,B,C
Adult Leaders:
Steve Ellis, Brooksmith
Hugh Collins, Brownwood
Frank Griffin, Brownwood
Mark Bradshaw, Brownwood
Crew's Interpreter:
"A" Mike Stroppa, Alberta Canada
"B" Natasha
"C" Lisa
Scouts:
John Ellis, Brooksmith
Joey Ellis, Brooksmith
Charlie Collins, Brownwood
Kendal Teague, Brownwood
Taylor Bradshaw, Brownwood
Seth Griffin, Early
Jon Durand, Brownwood
P. J. Shilling, Goldthwaite
Lance Kilpatrick, Brownwood
Colton Duffy, Brownwood
Michael Bretzke, Brownwood
James Martin, Brownwood
Walt Howard, Early
The group encountered wildlife, canoeing, fishing, plenty of fun and adventure on an excursion to the Canadian wilderness.
They left Brownwood on June 20, 2001 and returned home on July 2, 2001. For five days, they canoed for more than 50 miles across lakes and rivers, camping and fishing and navigating along the way and transporting their equipment and canoes between waterways on portages. Members sank into marshes carrying their canoes across some of the portage trails

They were in a vast forested area 12 miles west of Atikokan, Ontario, not far across the border from Minnesota. This is part of the Northern Tier BSA National High Adventure Bases. The Rogert base is on the Hudson Bay Company's historic fur route between Old Fort William and Rainey Lake. Here the are millions of acres of pine forests, glacier lakes, meandering rivers and thundering waterfalls..

The crews encountered beavers, bald eagles and loons. they saw bald eagles just swoop down and fight gulls for fish. Speaking of fish, they caught plenty of them. Walleye, northern lake trout and small mouth bass were just a few of the fish available for the catching.