Charles L. Sommers Canoe Base
Ely, Minnesota
August 12 - 27, 1968
Explorer Post 78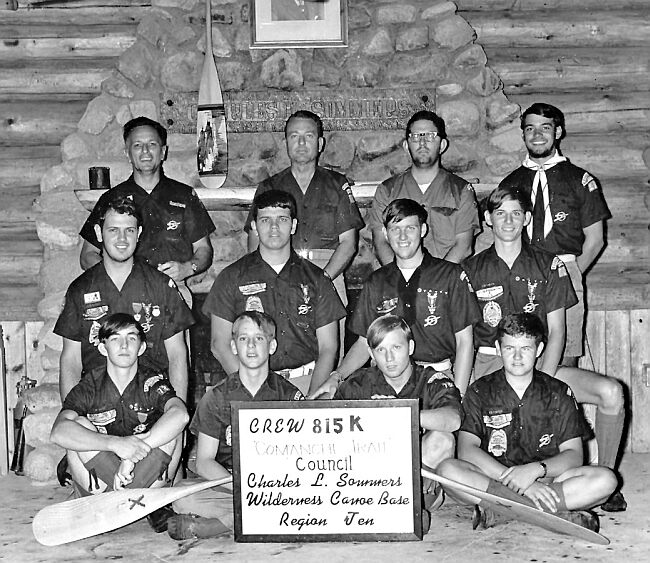 Back Row - Left to Right: Walter Walske, Bill Black, Bryan Healer, Carl Close (Guide)
Middle Row - Left to Right: Don Walske, Gary Walske, Dan DeHay, Jim Sheppard
Front Row - Left To Right: Clay Pouncy, Gary Black, Ken Hill, Jeff DeHay
"A Quetico Canoe Trip - Post 78 of Brownwood"
By Don Walske
After two and a half days of traveling over a distance of 1,550 miles, three cars rolled into the parking area of the Charles L. Sommers Wilderness Canoe Base in northern Minnesota. We had spent two nights on the way up at some Army/Air Force bases. It was now Thursday afternoon of August 15, 1968, and we had arrived later than originally planned at the Scout Base. It was close to three in the afternoon and rain had started to fall.
When the cars had been parked, a small young blond headed boy greeted us and informed us where we were to stay. Was this a prelude to who would be our guide, hopefully not? While the equipment was being taken to the 'Silver' camping area; our post advisors; Walter Walske, Bryan Healer, and Bill Black, headed for the main building to check in our crew. The crew consisted of eight boys and three adults who had been training for this trip for a year. Once we were settled into our four man tents, we had to dress in our complete uniforms to have our picture taken. The rain had started to fall again. So when we got to the main building, we had to go inside for the picture. Here we were all introduced to our guide, Carl Close, who was to remain with us the entire trip.
Nineteen miles from Ely, Minnesota, stuck into what was once a complete wilderness, resides a Scout camp that offers a canoeing paradise to any of its eager counterparts, here on the edge of the Quetico/Superior Park. This park is a joint undertaking on the part of the United States and Canada with the Quetico Provincial Park on one side and the Superior National Forest on the other. This constitutes one of the largest canoeing areas on the North American continent. Although any type of boating craft is allowed on the American side, the Canadians allow only canoes. Also, no planes other than their own or "search and rescue" are allowed over the Quetico Provincial Park. Even though this country is in its second growth, these are some of the thickest forest I had ever seen. So on these glacier formed hills, it provided us with the opportunity to explore for ourselves a reclaimed area of nature's re-growth while canoeing through a pristine wilderness, on the Canadian side.
We finished taking our group mug shot and headed out for the building that contained the material we were to use on the trip. Here we bought our paddles that were to last the entire trip. We then headed for the tents to put on our swim suits, wool jackets, and boots. We were now to undertake one of the hardest parts of this trip, or so we thought at this point. The only thought crossing anyone's mind presently was the thought of having to enter the cold waters of Moose Lake. It didn't help much when we were going down the hill to the waterfront to meet those on the way up. Just to look at their blue bodies made just everyone that much colder.
We were to take these two tests to prove to the base that we were capable of taking care of ourselves in a canoe. Our first test was to swim out and back over a distance of twenty yards that felt more like forty. Secondly, we were to take three people out in a canoe and swamp it. Here we were to prove that we were capable of bringing a swamped canoe correctly back to shore. All eleven of us passed. So with the guide, we formed crew 815K that was to be known now as the "Dirty Dozen".
We then headed up to the tenting area to change into some warm clothing. Here we learned that we had to supply crew members to help with KP in the Mess Hall. So when some crew members very joyously volunteered, we sent them on up the Mess Hall so we could eat. There was not much to be done before we ate supper, so we all went to the Mess Hall to stand around and look very hungry. After we all had finished supper, the crew went down to the storage house to get our food packs to pack the food that night before we left. There were three food packs and one kettle pack which held our cooking utensils. Later that same night we attended a campfire put on by the staff in the main building. Afterwards we met with our guide to discuss and plan our trip into the Quetico Provincial Park.
With a well deserved nights rest, we awoke bright and early to complete our packing. Breakfast was short and sweet for those who didn't have to stay for KP. The rest of the crew went to the area in which the canoes were stored. Here we were taught the proper way to portage a canoe. We also picked out the three canoes which were to serve as transportation for nine days. Once the guide was satisfied that the area in which we slept was clean, we proceeded to the waterfront for loading. There were two packs and one tent to each canoe except for the guide's, which held the kettle pack instead of a tent. To hold down on excess gear, three crew members were to pack all their personal gear in one huge Duluth pack. We now boarded our appointed canoe. In canoe #11, there were Don Walske (Head Cook), Ken Hill and Jeff DeHay. In canoe #224, there were Clay Pouncey, Danny DeHay and Bill Black. In canoe #249, there were Gary Walske (Crew Chief), Jim Sheppard and Walter Walske. In the guide's canoe, there were Carl Close (Guide), Gary Black (Quartermaster), and Bryan Healer.
The first day, Friday August 16th, we canoed up Moose Lake and had to portage about ten yards into New Found
Lake, which was down about six feet from its normal level. We continued on around into Sucker Lake, which brought us to Prairie Portage. Here we crossed through Canadian customs after a short wait to pay our non-resident fishing licenses and fees. After this was done, we paddled out to a point to have our first lunch of peanut butter and jelly sandwiches, which were washed down with kool-aid. After the packs were repacked, we continued on our way. We had lost some time at the Ranger's cabin in obtaining our licenses for fishing and fees for traveling into the park. The wind had also been blowing ever since we left the base. We now had to cross part of Basswood Lake to reach our first long portage. North Portage was approximately 120 rods in length which connected us with Sunday Lake. It is now becoming quite late and we wanted to set up camp and finish supper before night set in. So, a point was picked on the northwest side of Sunday Lake for our first camp site. Here the permanent head cook began to fix his first main meal on the trail. Don was shown some of the cooking techniques used in this part of the country; reflector ovens instead of Dutch ovens. Bryan and Bill went out to do some fishing and came back with a small black bass.
During the night, the north wind had begun to blow, which made it rough canoeing on the second day, Saturday August 17th, up Sunday Lake to the 160 rod portage into Meadows Lake. We located the portage easy enough, but crossing it was another story. After we had reached Meadows Lake, it was a short canoe around the corner to our second portage of the day. This portage was a bit shorter, at 140 rods in length. Now a bit tired of waves and portage trails, we were a bit happy to have reached Lake Agnes which was a bit calmer. Here we proceeded to Louisa Falls which feed out of Louisa Lake into Agnes. Here we ate our second lunch of the identical lunch as the day before. From here Bill Black changed canoes with Bryan. His son, Gary Black, tried to troll from here up to our next camping area. We were lucky to have still water on Agnes because of its size. Because of calm winds, we were able to make around 14 miles that day before we decided to pull in for the night. After camp was set up, a few boys took baths, and Carl and Don went to locate some Indian paintings which were supposed to be nearby on some cliffs hanging over the lake.
The next morning proved to be better than the last. The wind wasn't blowing and Agnes Lake was smooth as glass with a blue mirror like finish. Today was Sunday the 18th, which called for church services, held by Don aboard the canoes. After the services, the crew headed for the East Branch of the Agnes River which leads into Bird Lake and Anubis Lake. There were small portages into each, ranging from 64 to 80 rods. We ate lunch here, which was different from the others. Instead of peanut butler and jelly sandwiches, we had Hudson Bay bread with jelly, and of course the reliable kool-aid. Our plan now was to cross two small portages into McVicar Lake, which feed into Lake Kawnipi. By now the wind was blowing first from the starboard side and then from the stem. It seemed as hard to maneuver the canoe when the wind was behind you as it was when it was coming straight on. The waves were now getting high and they were moving faster than the canoes. By now canoe #11 and #249 were out in front of the other two. So, when the guide decided to pullover for the night, these two canoes had to come back into the wind. The wind was so high now that these canoes had to find shelter in some small inlets to make any progress at all. Even through all of this, Bill had managed to catch some Walleye as he passed by a rock island on the way to the camp. This small island was named Gull Island because of the many gulls which were roosting there. Our camping area also became known as Windy Point, of which all thought very appropriate.
Rain, nor sleet, nor black of night, nor the large waves that were now crashing onto Windy Point would stop our fishermen from trolling around Gull Island. Dedicated to their cause, they braved the elements to bring back fresh food to the starch fed crew of 815K in the form of fresh fish. This began the happiest days of the trip. That night the wind blew even harder.
It was now Monday, August 19th, a windy day in Canada. The wind had quieted down a bit, but not enough to satisfy the guide or the crew. Our original plan was to continue into Russell Lake, which meant for all, another 10 miles. From there, if we had time, we were to go into Sturgeon Lake. But the thought now was that if we continued on and the wind did the same, we would become wind bound on Russell. This was a large decision to be made because if the wind did not continue to blow and we had not continued our trip, we all would have felt terrible about it. The decision was finally make that we would remain at Windy Point. There was one thought that helped to make this decision other than the wind, and that was fish. This was one of the main purposes of this entire trip, to catch fish. The entire day was spent cleaning up and fishing. Quite a few fish were caught. They were the type called Walleye and Northern Pike, full of teeth. These Texas boys had never encountered such fish. The scraps which weren't eaten for supper and of course for lunch were thrown out to the sea gulls. So for once, everyone ate and then slept well. We were glad that we hadn't pushed into Russell Lake that day or we would have been wind bound there, for sure.
The next morning, Tuesday August 20th, the wind was blowing as hard as ever. But we had to leave because we were afraid if the wind kept up in the same direction, we would be heading straight into the wind as we traveled down Lake Agnes. So leaving now would give us an extra day in case we could not make any distance on Agnes. It seems our guide was more worried about the wind on Agnes than any other lake. When the crew had put everything together, we headed straight across Kawnipi to Rose Island which would protect us from the high wind. Here we continued down the lake to Murdock Lake which would put us in the West Branch of the Agnes River.
The wind was even worse on Murdock. The bow or stern of the canoes, at times, would stick some 12 to 15 inches out of the water. Then when we had thought we had gone through the worst part, no one had told us about the five portages into Agnes. This area, at one time, had been burned out which destroyed the portage trails. The first trail was easy to find and cross. The second was up the river and was found to go only some five yards. From here we were on our own to find our way to Agnes. Trees had fallen into the stream which barred our progress in the water. So, carrying canoes and packs over, around and through the trees that were at times only a foot and a half apart, we made it to an ash, mud mixture on the river bank. From here canoe #11 went upstream to see if there was a way out from there. Luckily for the crew, there was. This called for a few portages which went back and forth across a stream, to those that had to be paddled to over a distance of fifteen yards to begin again our pilgrimage to Lake Agnes. By the time this point was reached, everyone was at nerves end. Here Don and Jeff obtained leeches on their legs which came off very easy, but caused bleeding for up to three hours.
We then pulled over after we had gotten out of this stink to have lunch, which consisted of another surprise food called bannock. Again the marvelous jelly and kool-aid was at our side. We had one more small portage to cross before Agnes was under our keel. We camped for the night on a small island in Agnes that was protected from the wind. That night pizza was made for supper along with an apple strudel for dessert. It was here that we spotted a huge bald eagle on the bank of an island across from us. Many had never seen such a majestic bird first hand. The night was spent in diligent sleep, but not until we had experienced three tremors/earthquakes at supper.
The next morning, the 21st, the wind had now calmed down a bit, but Agnes was not as quiet it was on the way up. We only went some five miles before we ate lunch. If it wasn't for the pancake breakfasts, there was no telling how we would have made it. By now the peanut butter and jelly sandwiches were again in hand along with the kool-aid. We pulled near a small, clear spot to eat lunch. From here we didn't stop until we arrived at Louisa Falls, or that is what we though we were going to do. Canoe #249 had raced to this spot in hopes to hold a camping area for the crew, but there were others there. By the time canoe #11 arrived there and then canoe #224, it was getting fairly late. Some wanted to continue over the two long portages into Sunday Lake and then spend the night. It was definite that there were no camp sites on Agnes that we could use.
We now portaged over into Meadows Lake and waited for the guide's canoe. Needless to say, everyone's nerves were on edge. Some were complaining that we hadn't remained on Agnes for the night. It didn't help the situation any when they found that some actually wanted to continue into Sunday Lake. Many of us would have slept in our canoes at this point. Needless to say, no one really wanted to cross that hard portage into Meadows, and we definitely weren't crossing into Sunday Lake. So, the guide headed out to find a camp site on Meadows, and lucky for us all he found one. The camp site wasn't bad. Someone had taken the time to build a small dock. By the time morning was upon us, everyone was in better spirits than the night before. We now stuck it out, working together through the rest of the trip.
Thursday, August 22nd, we went through Sunday Lake and across North Portage. We ended up camping on an island on Basswood Lake, which was directly across from Prairie Portage, the USA and Canadian border. That night we arose to see the Northern Lights. They appeared as search lights that would beam up across the sky. Because we had a day to spare because we didn't need it on Lake Agnes, we took our time getting back to the Scout Base. We took short trips each day which helped everyone. The crew was becoming more relaxed and rested, and was working together once again.
At the Basswood Lake camp site, there was a benchmark for the United States and Canada boundary. Also, we were a bit surprised to find that we weren't the only ones on this island. We had company in the form of a doe and her two fawns. It didn't seem to bother them a bit to come walking through our campsite. This is also where Clay almost found out whether a chipmunk's bark was as bad as his bite when one treed him.
The Friday morning, on Basswood, brought rain during breakfast, but it stopped before we left to cross Prairie Portage. We crossed Prairie Portage into Sucker Lake and then around into New Found. By now, the people were getting thicker and thicker. We found a site on a point next to a group of boys and girls camping together after they experienced a long night's race from a bear at three in the morning. Here we cooked as much food that was allowed so as we wouldn't have to carry it in, which included making a huge bucket of rice pudding. Our guide did his best to eat most of it. Here, the guide, Gary Walske, Don, Ken and sometimes Clay found out how it would feel to go swimming in this cold water. Needless to say it was very cold. After diving down some eight feet, the water turned into a numbing cold black. Not even the top of the water would be considered comfortable. One of the girls in the camp next to us had cracked a bone in her leg. She was taken into a doctor. Later, they came back with her and some ice cream for everyone. They came up and offered us some. Would you believe peppermint?
The next morning, Saturday 24th, seemed to be another nice day. But by the time we were packed to leave, a storm hit us. We had to go through a small bottle neck on the lake, directly into the wind. Many times it was difficult to make any progress at all or even hold your own ground. It was Murdock Lake all over again. We finally reached the 10 yard portage into Moose Lake which signified the last leg of the trip. We were not allowed to return to the base until after two o'clock that afternoon, because they would not be ready for us. So, the only thing to do was to head to the point across from the base and make our final stand there until two o'clock. At two, we proceeded to the base to find that three other crews had planned on doing the same thing.
Once at the base, the canoes had to be cleaned and the portage yokes had to be oiled. The Duluth packs had to be emptied and carried back to the storage building. All the gear was checked out before it could be checked in. When this was finished, we headed for the sauna. The day could have ended there for all we cared with us soaking in the heat. We had just spent nine days canoeing in a wilderness area dealing with heat, cold, rain, flies, mosquitoes, and wind. Our pores needed a cleansing. Later that afternoon, we went to town for a huge supper before returning to the base for the presentation of the awards achieved and the stunts to be put on by each crew. While in town, we had bought a large knife for our guide, Carl, and presented it to him along with out sincere thanks for a great trip. He had lost his knife on the trip. We all then headed for bed before the early breakfast and the long trip home was upon us.
The forest could have burned down around us that night before anyone would have gotten up. Although the trip at times was rough, nerves worn to a frail at times, mosquitoes which buzzed the nights away, biting black flies, and the food indigestible at times; it was a trip worth remembering. Be it the fish that were caught, the beautiful country, or the canoe ride; it was worth the experience. Many new things were learned that will never be forgotten. Leaving for home on Sunday the 25th, the two and half day trip home was long a quiet. We spent the night at another Army base on the way home and a Scout Camp. With longer hair, scruffy beards, and better physiques than when we left; we all made it home with our trip worn paddles, safe and sound.
---
Return to Pages
Return to Home Page