Troop 43 Canoe Trip
Brownwood to Camp Billy Gibbons
June 10-13, 1965
By Ray Lindsey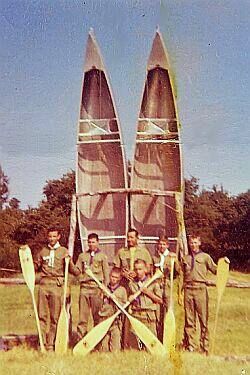 In December of 1964 the older boys of Troop 43 decided to plan a canoe trip for the summer. We planned the story you will read for a promotion and challenge to all Scouts figuring this would pick up a lot of drop outs who would be active if they could expect a trip as ours in the future. We decided to go to summer camp by canoe.
As time went on and summer camp came closer things begin to shape up. We worked out with the canoes on weekends. We started off with several boys but vacations and other things cut us down to six boys. We were still content to complete what we were set to do as you will read.
We wound up with the following boys:
Coy Fuston 14 yrs. Second Class
Jimmy Curry 16 yrs. Star Scout
Allen Carriger 17 yrs Star Scout
Charles Lindsey 15 yrs 1st Class
Gary Twiford 15 yrs Star Scout
Danna Barnett 14 yrs Tenderfoot
Ray Lindsey Assistant Scoutmaster

This is the group of boys that planned and conquered four streams to their 145 mile destination through all types of hardships and sickness. We may not be able to give complete data on account of the time element. We know that time is our largest enemy before we leave but the names of the six game boys you have just read has made the challenge and as true Scouts will not back down.
Here is the story and data on one of the most adventurous trips in the county in which it takes in.
June 10, 1965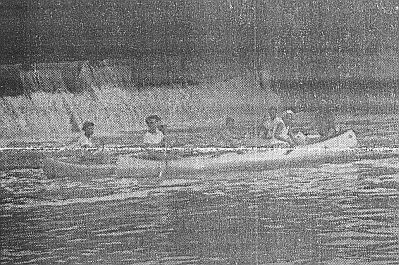 Shoved off at Roadside Park at 6:10 am, June 10, 1965. (This photo appreared in the Brownwood Bulletin on Friday, June 11, 1965 as the Scouts left the retention dam on Pecan Bayou near U.S. Highway 67-377 in Brownwood.)
First canoe flip by Allen Carriger, Coy Fuston and Gary Twiford at 7:05 am. Lost one lunch, 1 Bowie Knife and 30 minutes time. Crossed 6-Mile Low Water Crossing at 8:10 am.
Hit some heavy rapids at 8:40 am.
Crossed 10 Mile Cross at designated time 9:00 a.m. Run into some still water for about 2 miles and then some good rapids where Charles Lindsey and Danna Barrett flipped the second time. Lost 1 pair of shoes and about 30 minutes time.
Stopped at FM Road 573 at 3:00 p.m. Boys dickered for some drinking water from some fisherman. Left same location at 3:15 p.m.
Boys showed signs of fatigue but the water perked them up. We missed Carrigers Ukulele because he lost it in the first spill. We won't need singing tonight anyway. Seemed as though the FM Road 574 bridge would never come in sight but we got there at 6:20 p.m. This was our second choice stop for the night.
Boys were real glad to see Bill Wilson and family when he visited us tonight. We had supper and boys sit around joked as if not tired at all. Bill brought extra blankets as if he knew all bedclothes were wet.
We got a newspaper from him and boys got big kick out of pictures. We hope tomorrow to have better luck as we need it. All boys are still A OK and ready to go for goal.
June 11, 1965
We arose and had breakfast at 5:30 a.m. and had camp ground all cleaned up and was packed up and ready to shove off at 6:00 a.m. as we did.
The first jump out of camp we hit some rapids which we knew was there as we could hear their roar of challenge to us all night long the night before.
We shot the rapids and as we proceeded on down stream their roar seemed to fade in shame because they lost their duel, we never lost a canoe. About a mile down the Bayou we were in still water and everyone was paddling along quietly just thinking to himself. Probably about his picture in the paper, what the day could have in store for us or just maybe just any thing a boy thinks about.
(The map below shows their route down the Pecan Bayou, then the Colorado River, the San Saba River and up Brady Creek to Camp Billy Gibbons.)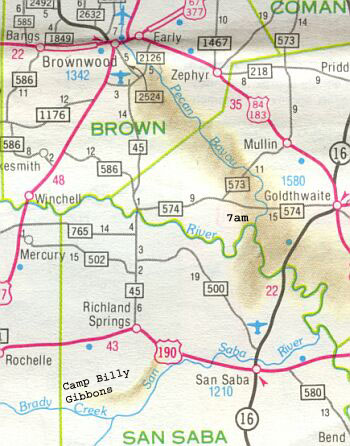 All of a sudden a wild turkey gobbler back off out on the back cut loose with a loud gobble to break the morning stillness. He seemed to be letting us know that we were entering his wild domain and we were not welcome. As we paddled on down it seemed as we could faintly hear him telling the hens to come on to the water he had run the intruders on.
We made the Colorado River by 7:00 a.m. The water was a nasty red color and seemed the canoes were even harder to paddle, we had lots of paddling to do too. We had been shooting a rapid now and then on the Bayou but the Colorado was larger and had some long holes with still water.
The wind current seems to follow the water and gets an extra boost as it follows the water. This would be fine for sails but sailing against the wind in a narrow river is impossible. All you can do is paddle as hard as you can, or you will go back up stream.
We paddled down the rapids as well as we do in still water. We need all the extra time that can make up as we have a deadline to make Sunday Evening. If there was any place we could leave the 15 ft. canoe we would do so and pick it up later after the trip. It won't take the water like the 17 ft. will and it is tiring the boys out. I am running the supply canoe as I am larger and it takes a little more effort and you may say skill. Don't get me wrong I still have my flip coming.
We can hear a roar down stream and we know we will get a little support and help from the rapids that are there waiting for us. Don't get me wrong, you don't just sit up and grin, and rest while shooting a rapid but they do help.
We passed an oil well pump that was sitting on a high bank and running like mad. All these things that we see like this help to pass time and is sort of adventurous to the boys as the trip was planned. We made Highway Bridge 16 at 10:00 a.m. This was our goal for the first day but we did not make it. Maps do not show all the extra miles old man river can put on you. But we were well pleased as it was. We stopped at the bridge and had a coke and the boys joked and punched a little and we moved on.
We ran into three good rapids before we got to the San Saba River and didn't have a spill in either one.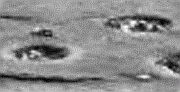 We saw where the Indians had holes in the rocks to ground their grain at one of the rapids. We didn't stop as we would like to have because we were about to give up ever finding the San Saba River.
We finally came to a large bend in the river and there it was. The pretty clean water mixing with the muddy Colorado looked like a storm cloud boiling and mixing. We had a drink of water, an apple and some cookies and headed up the San Saba River. It was still water for about a mile and then it happened. We hit our first rapids going up stream. This time I pulled the boys over and had a position shake up. I gave up my supply canoe and put three boys in each 17 ft. canoe and I took the joker (15 ft. canoe). The battle was on and the river had the odds. We were a bunch of tired men. I say men because even the smallest in the bunch had produced like a men for the last two days and I believe in giving credit where it's due.
I forgot to mention but back before we got to the San Saba Jimmy Curry got out his radio and was doing fine paddling and keeping time to the tunes of old Tex Ritter. You guessed it I bet the Yellow Cats had a dance of their kind with music to (Jimmy Curry's) radio last night. We ate dinner shortly after this happened and laughed and jade jokes of subject (Currys Cat Fish Buggy Dance).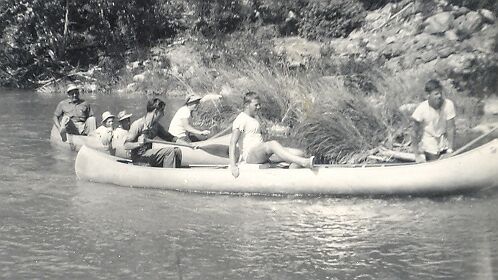 Getting back to where we were. It was a rapid a hole and a shoal the way it looks from here the old San Saba may conquer us and cut this trip short. I figured this for yearly trip every year but if the old San Saba is up like it is now I won't advise it.
Hard luck seems to be coming in bunches. Today because we just had our supply canoe to flip. We have most of the supplies in wooden boxes and are tied to the canoe but some of the bed clothes and other things are wet by night.
It is not very pleasant to have to dry your bed out at night before going to bed. But all of the boys seemed to have adopted the old slogan (Do the best you can, wherever you are at, with whatever you have to do with.) And on a trip such as we are it comes naturally.
I guess a reader would wonder where I get the time to keep and write all the information that we gather on this trip but the secret is, I carry a piece of notebook paper and jot down the interesting moments and time and fill in at night around the campfire.
Here we are and night has overtook us on the upper end of the meanest waters of the long trip, the San Saba River. The reason I say this is because in order to catch the Bayou and Colorado in good condition to travel we had to take what the San Saba had to offer and as I repeat. It is up a foot too high and is mean to travel.
Of all the odds and hardships that have plagued us now we have the worse of all. Allen Carriger has come down with the chills and vomiting. I have had a feeling that something like that was going to happen. All the rest of the boys denied being sick. They said they were just tired and sleepy. Everybody bedded down and went to sleep. We got transportation and made Allen go home. After seeing a doctor we sure hope he will be able to come back and finish the trip.
I didn't sleep much last night but what Scoutmaster could that has some mother's boy out in the wild and somewhere and had the feeling he was lying to you in order to be able to finish the last 20 miles of an adventure of his young life. That will follow him in memories until he is at a ripe old age.
We all hoped that Allen could make it and continue the trip because we all wanted to finish what we started. We are going to drop the killer as we call it (15 ft canoe) this morning whatever happens. We will if all is well continue up stream in the two 17 ft. ones as they handle so much better.
This will put 3 men to a canoe and we will need an extra paddle and someone to help and push.
June 12, 1965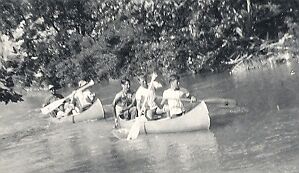 We loaded up and took off after questioning each boy about his health. I know I didn't get all truth but you can't tell a boy he is sick and take away his privilege of doing what he has his head set on doing, the most in his life.
We traveled on through the morning and I kept close observation on all the boys but all seemed to perk up because we were closing out our last few miles of our long journey.
We were traveling along nearing the mouth of Brady Creek when a voice on the bank rang out. "Hey there." That was like a shot of vitamin B1 to everyone. It was Allen Carriger. I was like the boys. I was down in the dumps because I wanted everyone who started to finish together.
This put the spirit and moral from zero to sky high because there is not a dull moment wherever this boy is. And to whom it may concern I still consider his part a full and complete trip along with the rest of us.
We pushed and pulled the rest of the evening not having a lot of paddling water and it looks as if it will get less. Four men in one canoe and what few supplies we have left make a load. We don't seem to mind though. Wading and watching for the big fish that would run out from under the rocks take our mind off all of our fatigue.
It was nearly 9:00 p.m. before we made camp. There is not many places on Brady Creek to camp. We found a small clean place in the rocks and made camp. We had canned beef stew for supper. Se sat around the waters edge, talked and watched for satellite Echo before going to bed.
It was a beautiful location with the moon coming up full. We were 75 to 100 ft. down from the top ledge of creek bank. For once every thing seemed to be on our side. All of the crickets and frogs joined in one chorus and sang us to sleep. I woke during the night and built up the fire for a warning to maybe some slick friend who may be crawling around and would give us fangs to mess up an almost positive completion of an experience and adventurous trip.
An old owl on the far creek wall voiced out with what I understood in owl talk was Good Luck to You as the sparks went up in the smoke as I added on wood.
The boys twisted and turned all night and I know why. We have never slept on solid rock until tonight. They don't mind because they know that they will be envied by all other Scouts who would like to make a trip such as they will end with luck at 3:30 p.m. tomorrow.
June 13, 1965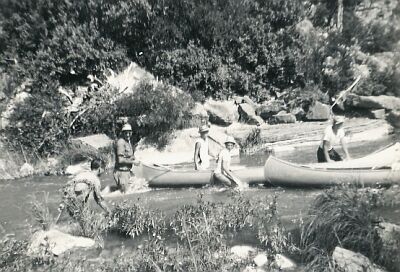 We laid around until late this morning because we are not to get to camp before 3:30 and without any real bad luck we have a cinch to be on time.
We loaded up what few supplies that we had left after the boys snacked for breakfast and headed out on the last lap of our conquest by heart and strength.
We are in bugle hearing distance of Camp Billy Gibbons now our destination. I won't have anymore time to write our trip because it is over when we get there although we will stay there a week.
As an Assistant Scoutmaster I am proud to say that I have enjoyed every minute of the trip and urge every father to assist in any scout activities which might occur in his community. Someday there may be a chance for a President of our free and glorious nation and I hope one of the boys that comes up through Scouting will win it over the long haired boy who had nothing to do while growing up but stand around a pool hall cleaning his finger nails with a switch blade knife.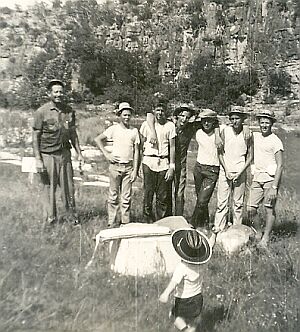 As we move in to camp you will never know the good it will do this old boy to see the bank lined with small boys where we get there envying the boys of their trip and looking forward to staying in Scouting in hopes they will get to go one equivalent or better someday. If all men had the privilege to spend the last four days and see and do the things together as me and these brave boys have done there would be no vacancies in the Scout troop and maters list.
As you read this you will see that I am not a writer by trade and will assure you all is not mentioned because time has gone by too fast. But there it is as I lived it, as I seen it, and experienced it. This is the way the heart put the words in the mouth of a country boy to tell you.
Here we are in the photo at the left at the finish line. Inspection of the group being made by Scotty, my boy too (Ray Lindsey's son), who is 18 months old. (They were served fried chicken and cake with milk by their proud mothers after this photo was taken.)


Ray Lindsey
Assistant Scoutmaster
Troop 43
Comanche Trail Council, BSA
Brownwood, Texas

---
Return to Camp Billy Gibbons
Return to Home Page