A newspaper story in the Brownwood Bulletin, dated October 29, 1929, talks about two patrols of Cub Scouts being organized.
"Boy Scouts of Troop Eight organized two patrols of Cub Scouts at their regular weekly meeting Friday evening in the First Baptist church gymnasium. Forty boys attended the session.
There were 16 boys under the required scout age of 12 years present and two patrols were formed. Joe Drake was elected patrol leader of the Cub patrol and Clinton Sanders was chosen leader of the second division, to be known as the Wolf patrol."
Lone Cub Scout
Curits A. Wilkerson of Bangs was a Lone Cub registered in the Comanche Trail Council in 1935, but we have been unable to locate any informatoin on who he was. See
"Lone Cub Scouts of Comanche Trail Council"
for more information.
First Cub Pack
The first Cub Pack, Pack 1, was organized on March 31, 1936, in Breckenridge, Texas, as part of the Comanche Trail Council. The charter organization was the Methodist Church and the Cubmaster was James C. Ferguson. We do not know how many kids were chartered with the Pack, but we do know that eight additional Cubs were added on April 17th and five more were added in October.
Pack 2, the second Cub pack in the Council, was chartered the following fall on August 10, 1936, to "A Group Of Citizens" in Richland Springs, Texas. Joe E. Rogers was registered as Cubmaster and J. N. Templeton as his assistant. Nine Cubs were registered and received their Bobcat rank. The Pack met at the school on Thursday night.
By the end of 1936, the council had two Cub packs and forty-six Cubs. Neither of the Packs survived, and by the end of 1937 the council was back to one registered Lone Cub!
Four men attended "Cubbing School for Leaders of Leaders" in November 22, 1937, which was held in San Antonio. They came back to Brownwood with a determination to do a better job with Cubbing during the coming year.
Reorganized in 1938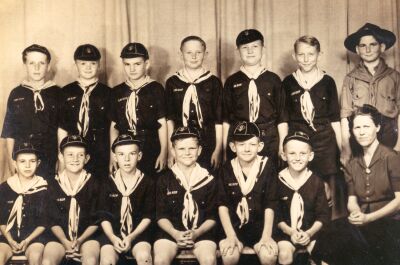 Pack 1 in Breckenridge was reorganized and had twenty-four boys in it at the end of 1938. This time the pack stayed organized and continued to serve the boys in Breckenridge for many years. By February 10, 1939, they were finally able to get a Cub pack organized in Brownwood, Pack 2, sponsored by the First Baptist Church. According to A. Clayton William, a member of one of the dens, they had no pack meetings, never saw the Cubmaster or his Assistant, nor did they participate in the Scout Circus. They were one of three packs active during that year.
In 1940 the council had four packs organized with ninety-seven Cubs registered. This included Pack 1 in Breckenridge, Pack 2 in Brownwood and Pack 3 at Eliasville. We do not have a record of the fourth pack organized.
By the start of World War II in December of 1941, the Council had seven packs with 171 Cubs including new Pack 5 in Desdemona and Pack 7 in Eastland. During 1949 the age for Cub Scouts was lowered to 8 through 10 when they dropped the age of Boy Scout to 11. National later changed Cub Scouts to include boys in the second through fourth grades.
Tiger Cubs
Tiger Cubs was introduced into the Cub Scout program in the fall of 1982. It was slow to develop in the first year as some Cubbers were reluctant to have First Grade boys in their Pack and the program was so much different than what they were used.
Five Cub packs took the initiative and included Tiger Cubs in their pack. They were Pack 7, Stephenville; Pack 35, Dublin; Pack 37, DeLeon; Pack 78, Brownwood; and Pack 88, Gustine. Now almost every Pack in the Council has at least one Tiger Cub group and some have two.
Webelos Scouts Lion Scout was the program for the eleven year old Cub Scout for many years. The Webelos Den was created in 1954 to provide a means of maintaining the interest of Cub Scouts 10 1/2 years of age in Scouting and to provide a bridge between Cub Scouts and Boy Scouts. In 1967 the Webelos program was changed again so that a Cub could be in a Webelos Den for a year. Webelos Scouts could earn Activity badges toward the new Webelos badge.
The new two-year Webelos program became a part of Cubbing in 1988. With it came five new activity badges and a strengthening of the requirements for the Webelos badge and the Arrow of Light award. The new activity badges were Communicator, Family Member, Fitness, Handyman and Readyman.
Cub Scout Events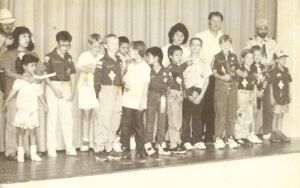 Originnally, councils were not encouraged to have district and council Cub Scout events for packs. The national office felt that the program needed to be in the individual Cub Pack. The big event for a Cub Pack was the monthly Cub Pack meeting which was usually held at the sponsoring organization's school or church. At this monthly event, the various dens performed a skit or stunt and the pack awaded advancement to the cubs who had earned them and passed by their parents Usually the parents stood behind the cubs and presented them with their award during a ceremony. In addition, there were an opening and closing ceremony along with singing by the whole group. It was a family night and all dens participated someway in the event.
But that soon changed as Cubbing became more popular in America. Events like Pushmobiles, Pinewood Derbies, Cub Day Camps, Webelos-Day Overnights, Webelos Woods, Fun and Son developed rapidly during the 70's.
Pushmobiles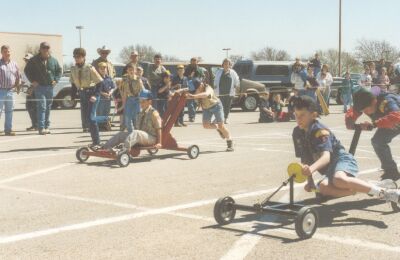 The first Cub Scout Pushmobile in Comanche Trail Council was held in 1975 and was such a success that they have been held every year after that. Prizes were given for the fastest cars in each age group, the best made cars and the best looking cars. As the name indicated, Cubs in teams of two, had to push their home made vehicles across a parking lot, staying within certain lines. About half way through the lot, they had to change driver and pusher and keep going until they crossed the finish line. It usually took eight Cubs or Webelos to enter a car in the competition.
Many dens passed their cars on from one group to another over the years, with each new den trying to improve on the design of the other. There were cars built on old lawn mower chassis, or an old baby buggy or anything else they could make a cart out of. They usually steered the front wheels and had a T-bar in the back so one Cub Scout could sit in the cart and steer, or try to, while the other one pushed from the rear.
The first Pushmobiles were held in the parking lot at Commerce Square in Brownwood and were later moved to Heartland Mall in Early.
| Photos of Pushmobiles |
Cub Fun Days
Before Cubs had Day Camps, they had a Cub Fun Day in every community. These started in 1954 and were held in August to get the kids geared up for the fall Cub Scout program. They were held in a local park and were just a day of fun events for the Cubs.
Day Camp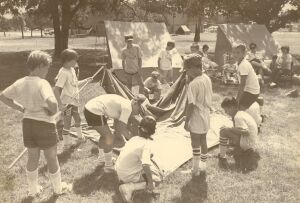 Cub Scout Day camp became popular outdoor activities for Cub Scouts as they were not allowed to camp overnight as Boy Scouts did. In 1985, the first Cub Day Camp was held at Mills County Park in Goldthwaite on July 9, 10 and 11 starting at 9 am and ending at 3:30 p.m. The camp was under the direction of Mrs. Sheralyn Nobles, Camp Director and Mildred Sullivan, Program Director. The staff for this first camp included Tom Cody Graves of Goldthwaite and Neal Pepper, A. J. Pepper and Bill Lynn of Brownwood. Some 100 Cubs attended this first camp where archery, Cub Crafts, games and swimming were offered.
The following year (1986) Cub Day Camps were held in Goldthwaite and Stephenville. One hundred Cubs attended the one in Goldthwaite and seventy-five Cubs attended the one in Stephenville at the Chamberlain Elementary School. Melanie Belding and Linda Burns served as Program Coordinators for the one in Stephenville and Mildred Sullivan served as Program Director for the one in Goldthwaite. This was repeated in 1987.
In 1988 Cub Day Camp was moved to Eastland and by 1990 Cub Day Camp was moved to Comanche City Park where it remained until 1997. The basic Day Camp program included swimming twice a day, archery, BB Gun shooting, games and crafts. On the last night they would have all the parents come and participate in a hot dog supper and program before taking their kids home.
Webelos Overnight
In the Webelos program National allowed Webelos to have one overnight camping activity as a Webelos Den as long as the father of each boy was present. So the Council decided to start having a Father and Son Webelos Overnighter at Camp Billy Gibbons. It is not known what year the first overnight took place but it was on May 14-15 at the Camp Billy Gibbons.
The Webelos cooked breakfast and lunch on the second day and participated in Scout like events in the morning. For many fathers, this was the first time that they had been on a camping trip with their son. Needless to say, some did quite well and others, well, you know the story.
Webelos were allowed to attend the Boy Scout Camporee in 1991 at Camp Billy Gibbons and spend one night with their fathers. Over 100 showed up and all of them were put in one campsite at camp. It was wall to wall tents in that area, but the Webelos and their fathers had a great time. Special events were held for them supported by the Alpha Phi Omega Chapter of Tarleton State University.
Because the campsite was so crowded, and the event so popular, they had their own separate Webelos Camporee the following year.
Webelos Residence Camp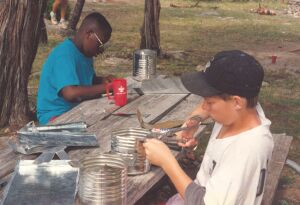 Cub and Webelos Scout Residence Camps became popular events in Scouting. In the summer of 1991, the first Webelos Residence Camp was held at Camp Billy Gibbons with Larry Peabody as Camp Director. Some 66 Webelos and 35 adults participated in the four-day camp.
The program consisted of working on Webelos Activity Badges, swimming, BB gun shooting, archery cook-out, campfires and handicraft. The summer camp staff served as the staff the camp and Tom Ponder served as Program Director.
The camp was held from June 21 through June 24, 1991, and cost $50. All Cub Scouts who graduated from the third grade by June 1 of that year were eligible to attend the camp as they were officially Webelos Scouts.
Cathy Knoll of Stephenville became the Program Director for Webelos Residence Camp when it was moved from July to the first part of June in 1993. This popular four-day camp is still being held at Camp Billy Gibbons and has been moved back to July for the summer of 1999.
Fun and Son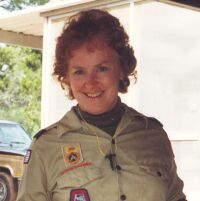 Webelos Camp became so popular with the Webelos that the Cub Scouts asked that something be provided for them. In the fall of 1994 the first Fun and Son was held at Camp Billy Gibbons for Cubs and Webelos.
The Cubs and Webelos came with one of their parents on Saturday and spent the night in tents. They participated in activities on Saturday afternoon, ate supper in the dining hall and attended an outdoor campfire that evening. On Sunday morning they had campwide fun contests, attended church and went home around noon.
Cathy Knoll of Stephenville served as Program Director and Larry Peabody as Camp Director. The first Fun and Son was so popular that they had another one the following spring. Some 250 to 300 boys and parents regularly attended these events which were run twice a year. The last Fun and Son was held in the Council in the fall of 2002.
The Cub Scout activity program of the council had really grown to include: Webelos Woods (the old Father and Son Webelos Overnighter with new Boy Scout features added); Pushmobile and Fun and Son in the spring; Webelos Residence Camp and Cub Scout Day Camp in the summer; and another Fun and Son in the fall. Cubbing began to have more outdoor events than the council provided for Boy Scouts. They also had three times the membership too.

---
Return to Home Page