Scouts Honored Deceased Eagle Scout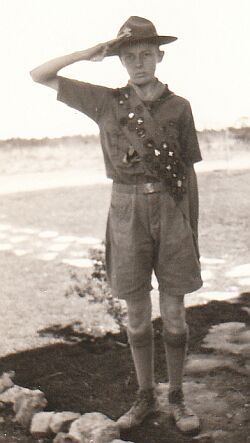 Eagle Scout Gordon Buttery, 16, of San Angelo, died of double pneumonia at his home on Thursday, April 17, 1930. Buttery, a well liked Scout of Troop 2, was the first Eagle Scout to die in this section of Texas. He was a Scout in the Concho Valley Council, BSA.
Buttery was buried in his Scout uniform wearing an Eagle Scout badge. So that the family could keep their son's badge, J. T. Henderson gave them his own Eagle badge to pin on Buttery's shirt.
In keeping with the high rank of Eagle Scout, the Scouts stood guard with a "candle watch" at the Johnson Funeral Home. Twenty-two Boy Scouts, in pairs, stood guard on each side of the head of the casket starting at 6 o'clock that Thursday afternoon. Each pair served a two-hour shift and kept alight three red, white and blue candles until the funeral services were held Friday afternoon. The Scouts were all members of Troop 2.
They were Frank Swift, Royall Smith, J. T. Henderson, Stanley Sutton, Bill Erwin, Richard Elwell, Bobby Myers, Charles Courtion, Marion Brown, Woodrow Jackson, Bob Balsh, Merle Eddleman, Norman Hoffman, Pete Thomas, Lewis Hardgrave, Joel Barton, Orville Sessums, Henry Friebele, J. L. Wright, Elliott Shutt, Dan Bolding and John Logan. The services were conducted at the First Christian Church with the Rev. Howard Peters officiating.
Following the services all the Scouts marched behind the processional to the Fairmount Cemetery. There Bill Erwin, a fellow Scout, blew taps. Troop 2 Scribe Bill Erwin expressed the feeling of his fellow Troop 2 Scouts when he wrote the following in the Sunday Scout column:
"It is a needless waste of newspaper space to go into a detailed analysis of the influence that Gordon had upon our troop alone, to say nothing of the council and city as a whole. Gordon was loyal to our summer camp seasons, having attended every one of them since 1926. The Exhibition troop claimed him as one of its star signalers. In the Kunieh Camp Society Gordon caught the spirit of Indian lore admirably, and in 1929 he was awarded the Holland Award for being the best Scout in Troop 2. As a token of its loyalty to one who was still more loyal, the troop is dedicating a large knot-tying stand to him, built from the plans which he himself submitted to Scoutmaster Cole some twelve months ago. His name, along with the troop resolutions, are to be placed upon the stand in gold letters, which will be seen by all future knot-learning new Scouts."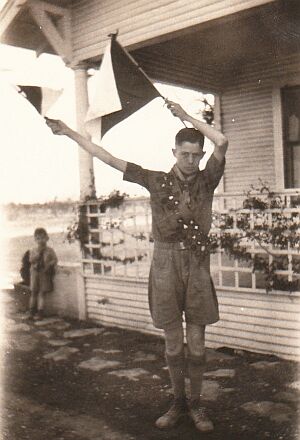 Brice Draper, Scout Executive, wrote the following in the same edition of the paper:
" 'For God so loved the world that He gave his only begotten Son that whosoever believeth in Him shall not perish but shall have everlasting life.' - John 3:16. This was the solemn verse that was lighted by the candles by our first 'Candle Watch' for our deceased friend and brother Scout, Gordon Buttery.
"We knew him well. We knew him as a Scout who could always be depended upon to do the right thing. We knew him as the outstanding leader of his group in patrol and troop activities. We knew him as an Eagle Scout, a Holland Award Scout, a faithful and loyal trooper at all times.
"Let us be reverent in the thought of his passing from our midst. Let us not be poor losers. Let us firmly resolve that we will try just a little harder to live up to the Scout Oath and Scout Law like Gordon did. In memory of him let us fight a little harder for the things that we all know he would want us to fight for -- clean sport; fair play and indomitable determination to win for right.
"And as the lingering notes of Taps sound our last Farewell, 'May the Great Scoutmaster of all good Scouts, be with us all, until we meet again."
B. W. Draper, Scout Executive
At the time of his death, Gordon Buttery was Senior Patrol Leader of Troop 2.

---

Material for this story was taken from "Panjandrum A History of Scouting in the Concho Valley Council 1911-2001," by Frank T. Hilton, 2001. We want to thank Alison Barton, niece of Gordon Buttery, for sending us the two photos of Gordon Buttery.

Last Updated: February 8, 2010
Return to Home Page