Participants in the 1969 National Jamboree
Comanche Trail Council
Troop 22
This first photo shows the 16 Scouts who went to the 1969 National Jamboree from the Comanche Trail Council with the Llano Estacado Council contingent. The Scouts were part of Troop 22 made up of Scouts from Amarillo, Bangs, Breckenridge, Canyon, Dalhart, Dumus, Stephenville, Stratford and Brownwood.
Front Row L to R: Robert Galloway, James Webb, Frank Griffin, Terry Bennie, Stanley Walker, Jad Smith, Dave Spencer, Excell Segrest
Back Row L to R: Bob Arnot, Mark Chastain, Thomas Thompson, Charles Graham, Charles Williams, Phil Watkins, David Ballenger, Mark Peterson (James Rhodes not pictured)
The Entire Members of Troop 22
Front Row L to R: Robert Gallaway, Jad Smith, Frank Griffin, Terry Bennie, Stanley Walker, Dave Spencer
Second Row L to R: Joe Carroll, James Webb, unk, unk, unk, unk, unk, Eddie Jacobs, unk, Excell Segrest
Third Row L to R: Ed Bloomer, Jimmy Pigman, Alfred Pronger, unk, unk, unk, unk, unk, unk, unk, James Rhodes.
Fourth Row L to R: Randy Lyle, Phil Watkins, Mark Chastain, Rob Arnot, Tommy Thompson, Charles Graham, Charles Watkins, David Ballinger, Mark Peterson
Leader from Comanche Trail:

Excell Segrest, Bangs, ASM Activities

Rattlesnake Patrol:

Terry Bennie, Bangs
Frank Griffin, Brownwood
Robert Galloway, Bangs
James Rhodes, Brownwood
Jad Smith, Brownwood
David Spencer, Brownwood
Stanley Walker, Brownwood
James Webb, Brownwood

Crow Patrol:

Rob Arnot, Breckenridge
David Ballenger, Breckenridge
Mark Chastain, Stephenville
Charles Graham, Breckenridge
Martin L. Peterson, Stephenville
Thomas Thompson, Stephenville
Phil Watkins, Breckenridge
Charles Williams, Stephenville

Other Troop Leaders:

Jimmie Pigman, Dalhart, Scoutmaster
Ed Bloomer, Dumas, ASM Arraignments
James A. Webb, Brownwood, Jr. ASM
Alfred Pronger, Statford, Jr. ASM
Joe Carroll, Dumas, Senior Patrol Leader
Randy Lyles, Canyon, Quartermaster
Robert Galloway, Bangs, Scribe

Other Members Of Troop:*

Gary Howell, Dumas
Edward Jacobs, Canyon
Mark Kinney, Dumas
Jay Kuper, Dalhart
Wheeler Marshall Love, Amarillo
Rodney McAnally, Dumas
Scott McCown, Dumas
Peroy J. Pronger, Statford
Danny Rawls, Amarillo
Bobby Sheddor, Dumas
Rex Sladek, Stratford
Jim R. Smith, Dumas
George Reid Stringer, Dumas
Aaron P. Witt, Dumas
*There was also a Beaver Patrol and a Falcon Patrol made up of youth from Amarillo, Canyon, Dalhart, Dumas and Stratford.

The photo below shows three Scouts, along with their Jamboree Assistant Scoutmaster for Activities, Excell Segrest, boarding a chartered bus to go to the Jamboree from Brownwood in the July 9, 1969 issue of the Brownwood Bulletin. (We found the negatives of the photos taken that day in the Brown County Museum of History and used one that also showed the leader.) The caption under the photo read "Sixteen boys from the Comanche Trail Boy Scouts of America left this morning to join 40,000 scouts and leaders at the seventh national jamboree, Boy Scouts of America, at Farragut State Park in Idaho. Here ready to board the chartered bus from left to right are Excell Segrest, Scoutmaster; Terry Bennie, Troop 27, of Bangs, Dave Spencer, Troop 14 and James Webb, Troop 43, both of Brownwood."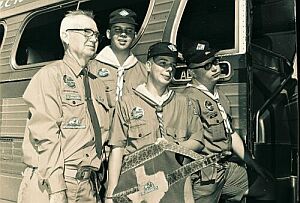 A story in the February 5, 1969 issue of the Brownwood Bulletin stated that "Ten Boy Scouts and explorers have been approved to fill the 16 spaces allocated to the Comanche Trail Council for participation in the 7th National Jamboree of the Boy Scouts of America, Wade Andrews, council jamboree committee chairman announced this week.
"The jamboree will be July 16-22 at Farragut State Park, Idaho.
"Named by the Comanche Trail Council to serve as adult leader for the Council's contingent is Excell Segrest, scoutmaster of the Bang's Lions Club Boy Scout Troop. Mr. Segrest is very well qualified to serve in this capacity, and we feel fortunate to have obtained a man of his ability," Andres said.
"Space is still available on a 'first come - first served' basis for six more qualified boys to attend. Basic qualifications are to have reached his 12th birthday on or before Sept. 1, 1968, and if a Boy Scout, he must be of star rank. Explorers have no rank requirements, but must hare been registered as an explorer before July 1, 1968.'
Other Information
The Jamboree cost $390 which included all bus fares, unit equipment, Jamboree fees, overnight housing enroute, meals enroute, etc. Scouts had to provide their own personal uniforms and equipment. Their itinerary include leaving from Brownwood on Wednesday, July 9, 1969, picking up the Breckenridge Scouts at the Greyhound Bus Station in Abilene at 12:10 p.m. and going on to Amarillo. They spent the night in T-80's Scout House. Troop 80 served breakfast that Thursday morning for $0.65 per person. After breakfast they traveled to Santa Fe, NM, where they had lunch and then stayed at the Strater Hotel in Durango, CO. From there they traveled to Salt Lake City and spent the night in the Temple Square Hotel. Then it was on to Yellowstone National Park and spending the night in the Old Faithful Inn. They visited Yellowstone the next day and traveled on to Butte, Montana and stayed at the Holiday Inn. It was also a laundry stop. On Monday, July 14 they arrived at the Jamboree and stayed in Camp no. 16, Camp Arthur A. Schuck. Llano Estacado Council had one other Jamboree Troop, Troop 21.
They departed the Jamboree on the morning of July 23 and traveled to Helena, Montana and stayed at the Holiday Motel. Next day they went as far as Casper, Wyoming and stated at the Hotel Townsend. And then on to Colorado Springs, CO and the Ponderosa Inn. They dropped off the Philmont Expedition participants in Raton on the 26th before arriving in Amarillo that evening. They left at 9:10 p.m. from Amarillo and arrived in Abilene at 5:30 a.m. the next morning where the Breckenridge group was picked up. By 8:40 a.m. a very tired group of Scouts arrived in Brownwood bus depot.
---
We want to thank Stanley Walker and Fred Davis Spencer, III of Brownwood for providing us additional information on this troop.

Last Updated: December 27, 2006

Return to Jamboree Comanche Trail Council
Return to Home Page