One hundred and eighty Scouts from the council were prepared to attend the first Boy Scout National Jamboree, to be held in Washington, D.C., when word came that the Jamboree had been cancelled due to prevalence of infantile paralysis in Washington. This was the summer of 1935.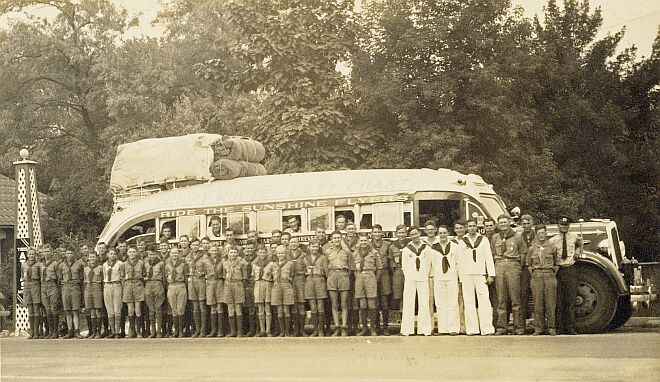 When the trip was cancelled, the council very quickly organized a 4,000 mile trip to Pike's Peak, Yellowstone and the Grand Canyon. The Scouts left that Friday morning, August 16, 1935, in two Greyhound buses. Instead of paying $75 for the Jamboree, they only had to pay $65 for this trip. The Iraan troop, which consisted of a full band, voted to go to the San Diego Exposition. They left a day earlier, on August 15th, and headed out for a 15 day trip to the West coast.
To Rocky Mountain States
The first group of forty-seven Scouts traveled through eight Rocky Mountain states and into old Mexico. Each of the two buses had two flat tires and ran out of gas twice. Most of the boys had never been out of Texas and had never seen a mountain with snow on it or been through a tunnel.
The Scouts slept and ate in the open except when the weather was bad, and then they would use what ever was available. Beds were of the following varied types: concrete at Amarillo, pine needles in Colorado, resort cabins at Yellowstone, grass burrs in New Mexico and sands in West Texas.
Twice during the trip, the Scouts did a "Good Turn." Once they cleared a highway after a construction blast, and again they rescued an automobile just as it was about to topple into a canyon.
Bob Billington, Scout Executive, had compiled this list of thrills on the trip:
No. 1 - Raton Pass, 9,000 feet in altitude.
No. 2 - Tunnel in Wyoming.
No. 3 - First snow seen on a mountain.
No. 4 - Shown Canyon and Dam.
No. 5 - First black bear seen in Yellowstone.
No. 6 - Beach at Salt Lake City
No. 7 - Pet deer with fourteen points that posed for camera shots.
No. 8 - Grand Canyon and its unbelievable distances.
No. 9 - Hot cake breakfast served in an elite Pueblo cafe.
No. 10- World's largest mammoth skeleton seen in museum at Denver.
No. 11- The homecoming reception at the Log Cabin Village.
Second Group
The thirty-four Scouts, who composed the Iraan troop, took along their uniforms and cowboy outfits with them to the San Diego Exposition. After enjoying the Exposition, and having seen the sights along the lower Pacific Coast, they came back to Iraan by way of Zion National Park in Utah and Gallup, NM. They gave a concert in Zion National Park before going on to the Grand Canyon and the Kalbob National Forest. At Gallup they also gave a concert on the plaza preceding the inter-tribal ceremonials in which 25 tribes participated, mostly the Navajos and Hopis. The boys saw the many dances that featured the show of 6,000 blankets there.
Boy Scouts Make Centennial
Tour of State in 1936
Seventy-seven Scouts, in two troops, made an 800 mile tour of the State of Texas as part of the state's 100th birthday Centennial Celebration in 1936. The Scouts gathered in the Log Cabin Village, in San Angelo, the night of August 23, 1936. They left the next morning for San Antonio, their first stop on their tour. Adult leaders of the two troops were Audas R. Smith, Bronte, Scoutmaster, and M. M. Carr, Sherwood, Scoutmaster. Assisting them were D. W. McLin of San Angelo and Hill Ogden of Brady. Senior Patrol Leaders were Hugh White Calvert of Brady and John R. Daugherty of Texon.
Two buses carried the troops to San Antonio, Fort Sam Houston, Austin, Waco, Dallas, Fort Worth, and then back to San Angelo. Enroute, the Scouts visited numerous historical sites, museums, parks, and other places in each community. The group left on a Monday and returned on a Saturday, having experienced a full week of sightseeing, swimming, camping and eating, all for the grand price of $12.50!
---
Return to Concho Valley Council Jamboree
Return to Home Page