Participants in the 2005 National Jamboree
Concho Valley Council
Troop 1835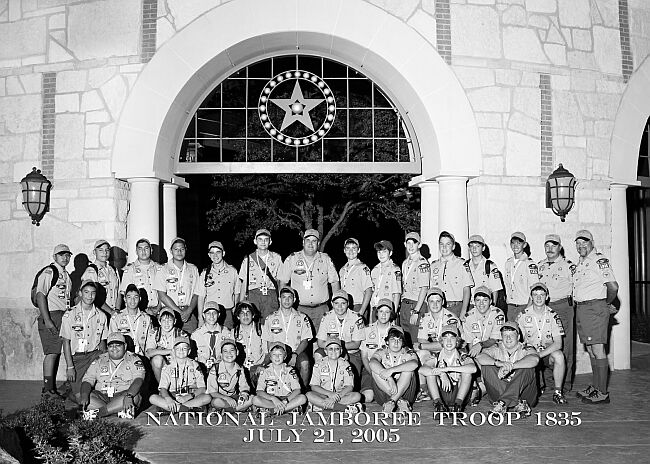 First Row: Rene Mancha, Adam Buck, Connor McKeel, Matthew Miller, Neal Buck, Zachary Vincent, Joshua McGuire, Matthew Dirksen
Second Row: Bryan Sablan, Ethan Flores, Garrett Maxwell, Daniel Lumpkin, Matthew Perez, Marcus Martinez, Westin Zamarippa, Chase Beasley, Nathan Calk, Eric Martinez, Jacob Calk
Third Row: Steven Silva, Mark Zamora, Mario Zamora, Jesse Sandoval, Jakob McKeel, Matthew Mahler, Butch Simpson, Cole Milne, Randy Rountree, William Sims, Cal Hengst, Trevor McKinney, Thomas Nunley, Chris Calk, Pat Ramos.
The Trip
It started off with a late night bus trip to DFW airport for the thirty-plus participants of the 2005 National Jamboree. After a plane ride to Washington DC, these Scouts from across West Texas toured such notable sites as the Washington, Jefferson and Lincoln Memorials and the Smithsonian for three days. They enjoyed hotel rooms with all the amenities during this brief stay in our nationís capital. Then it was time to board another bus and head off to Ft. A.P. Hill Virginia for the 2005 National Scout Jamboree.
At Ft. A.P. Hill the Scouts were able to participate in a myriad of different activities; Scuba, Kayaking, Rock-climbing/rappelling and the Adventure Mine just to name a few. Other popular distractions were the merit badge midway and the always present patch trading. Scouts from our council enjoyed meeting Scouts from all across the globe and trading a memento or two to help remember the experience.
One of the highlights of the Jamboree was the long-awaited arrival of President George W. Bush to the closing ceremony. The Presidentís visit to the Jamboree had been postponed twice due to inclement weather, but once he finally had the opportunity to address the 45,000 plus Scouts and Scouters in attendance, he made sure to stress the importance of Scouting and service to our country.
At the end of the show came the fireworks and a laser show.
After ten days at the Jamboree it was time to go back to Washington DC, visit the Smithsonian Castle and tour the U.S. Naval Museum. A short bus ride to Baltimore. From there they boarded the American Airlines plane for their trip back to Dallas. The movie "Kicking and Screaming" was the movie shown on the plane. From D/FW they rode a bus back to San Angelo.a plane ride back to DFW. a long bus trip to San Angelo and our Scouts were home.
Despite the heat, the thunderstorms and the unfortunate tragedy involving the Jamboree Troop from Alaska, the members of Troop 1835 of the Concho Valley Councilís contingent to the 2005 National Jamboree definitely shared an experience that can best be described as ďonce in a lifetimeĒ. The excitement that will surround this event combined with itsí historic significance will guarantee another lifelong memory.
Other members of the Concho Valley Council who attended or helped staff the 2005 National Jamboree were: Mr. and Mrs. David Buck, Dr. Randy Rountree, Jared Ducote, Dennis Luellen and Ian Luellen.
---
Information for the Jamboree trip and the names of those who went, was taken from a story in the September 18, 2005
San Angelo Standard-Times, by Adam Buck, one of the Scouts that went on the trip. Addtional information about the trip was taken from the Scouter, a publication of the Concho Valley Council.

Last Updated: August 4, 2006

Return to Jamboree Concho Valley
Return to Home Page