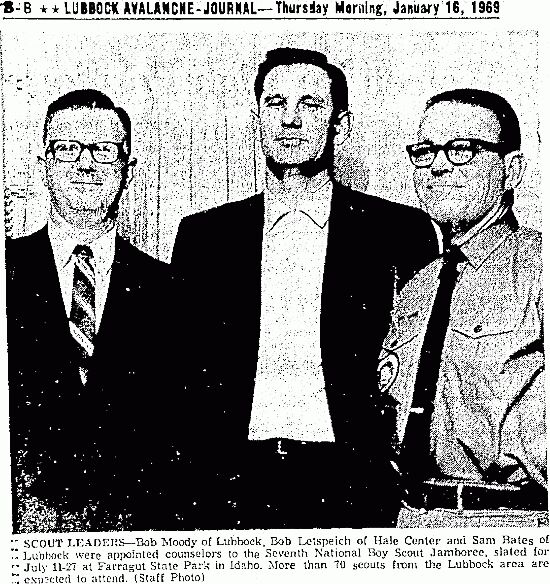 Extra Jamboree Space Available
Space for additional qualified Boy Scouts and Explorers to attend the 7th National Jamboree has been made available to area boys, according to Bobby Moody, Lubbock, one of leaders of the contingent.
The National Jamboree, involving some 40,000 Scouts and Explorers from throughout the United States as well as token delegations from other countries, will be held July 16-22 at Farragut State Park in Idaho.
The contingent of SO Scouts and leaders from the South Plains Council will leave Lubbock by chartered bus on July 11, and will return following the Jamboree on July 27.
Scouts who will hold a minimum of Star rank by July 1are invited to make application for participation in the Jamboree through the Scout Service Center, Box 3055, Lubbock, as soon as possible.
Note: Additional information will be posted as it becomes available. Sene your information by e-mail to the webmaster found at the bottom of the home page.
---

Story for this page obtained from The Lubbock Avalanche-Journal, January 16, 1969 and June 4, 1969.

Last updated: September 4, 2010
Return to South Plains Council Jamboree Page
Return to Home Page