New Ordeal, Brotherhood and Vigil patches, designed by Charlie Moon, were issued. Each registered Arrowman in the lodge could purchase up to five patches each, depending on their honor in the lodge. The restriction applied only during the first six months of 2004. Charlie Moon received the first patch of each new design in appreciate of the work that he did in designing the patches. The Scout Executive, Kent Brown, was presented with the second set of patches. Each newly elected officer received a patch of his current honor in the lodge.

First Officers of Penateka Lodge

First lodge officers, who served until July 30, 2004 were: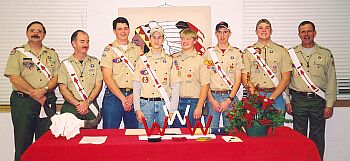 L to R: Aivars Jurkis, Kent Brown, Cole Leatherwood, Chad Iley,
Chris Harris, Robert Orchard, Joey Ellis, Les Zimmerman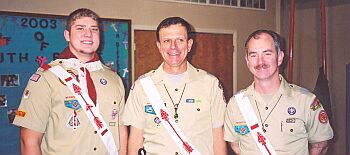 L to R: Lodge Chief Joey Ellis; Les Zimmerman, Staff Adviser;
Kent Brown, Supreme Chief of the Fire
The new officers met and prepared a constitution and by-laws as well as developed a budget and calendar for the new lodge. Each Chapter had selected a name for their chapter other than their former lodge name.

Signing the new charter by Joey Ellis as
Aivars Jurkis, Lodge Adviser looks on.


New Chief cutting the Celebration cake as Cole
Leatherwood and Chris Harris looks on, sorta.
Go HERE for list of Lodge Officers
First Lodge Banquet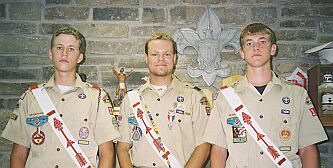 The first official Lodge Banquet was held at Camp Tonkawa on Saturday, July 17, 2004. New officers were elected in the afternoon for a full twelve months. They are Ben McAnally, Lodge Chief (center), Jared Blair, Vice Chief of Service & Activities (left); and Chad Iley, Vice Chief of Chapter Operations (right). Four other positions will be filled at a later time.
The lodge received a plaque from Section SR-2 as a National Quality Lodge for 2003 and a plaque recognizing Penateka Lodge for 2003 "Best Lodge in Promoting Camping." The two former lodges were combined in determining the awards from the new charter but the recognition was for the Penateka Lodge. Each of the former lodges were also presented with a certificate of appreciation from the National Order of the Arrow for their participation in the "One Day of Service" in 2003.
The speaker for the banquet was the Supreme Chief of the Fire Kent Brown. He told the youth and adults that only they could make the lodge great by their leadership, service and hard work.
An auction was held at the end of the banquet with over $600 raised to help the new lodge. Items auctioned ranged from Dublin Dr. Pepper to a coffee table with the lodge flap inlaid into the top of the table. There was lots of friendly bidding from the some 60 people who attended the first banquet. The banquet consisted of barbecue with all the trimmings.
Founder's Award
The Founder's Award was created by the Order of the Arrow to honor and recognize those Arrowmen who have given outstanding service to the Lodge. The bronze medallion bearing the likeness of E. Urner Goodman and Carroll A. Edson is reserved for an Arrowman who demonstrates to his fellow Arrowmen that he memorializes in his everyday life the spirit of achievement as described by our founder. At least one award must be to a youth under 21 years of age.
The award was first presented in the Penateka Lodge at the first Banquet on on July 17, 2004 at Camp Tonkawa.
2004 - Jack Harper, Chris Brooks
2005 - Judd Smith, Les Zimmerman
2006 - Michael Failor, Stephen McCarty, John Gressett, Renea Thomas
2010 - Philip Ramirez, Jarryd Thomas, Roy Curbo, Lon Hudson
2011 - Jaime Burns, Michael Bradle
2012 - Cody Cedergren, Ben Holmes
2013 - Nolan Miller
2014 - Michael Beverly, Braden Stanford
2015 - Chris McHann, John A. Walke
2017 - Mason Terrill, Lance Barnett

For nearly 100 years, the Order of the Arrow had purposefully recognized Scouts and Scouters who best exemplify the Scout Oath and Law in their daily lives. Therefore, our organization's centennial provided a unique opportunity to commemorate those among us who are exemplars of the "high ideals and purpose of the Order of the Arrow." The Centurion Award aimed to highlight "Hometown Heroes," or Arrowmen, who had meaningfully contributed to the forming, maturing and ongoing operational excellence of their local council's lodge, and who, in doing so, inspired others to follow in their footsteps. The following arrowmen were presented the award in 2015:

Service as a Youth:
Dr. Joe Bob Alexander
Cody Cedergren
Joey Ellis
Michael Failor
Jeremy Moon
Joe Ed Burnam
Service as an Adult:
Roy Curbo
Brad Dempsey
Vigils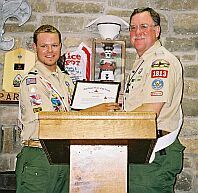 The Vigil Honor is the highest honor that the Order of the Arrow can bestow upon its members for service above self to the lodge and local council. The first person to receive the Vigil Honor in the Order of the Arrow was its founder E. Urner Goodman, who received this honor in 1915. Date shown is the year of the induction, not necessary the year of selection. The first induction was held June 26-27, 2004 at Camp Billy Gibbons. The second induction was held at Camp Tonkawa October 29-30, 2005. Pictured at left is Steve Ellis receiving his Vigil Certificate from Ben McAnally, Lodge Chief, at the July 2004 Lodge Banquet.
2004 - Christopher Brooks, Ray Easterling (A), Steve Ellis (A), Alex Huse, Chad Iley, Cole Leatherwood, Judd Smith and Les Zimmerman
2005 - Phillip Beard, Dustin Corley, Stephen Cox, Richard Iley (A), Larry O. Smith (A), Randy Smith (A), Hubert Swann (A) and Jarryd Thomas
2006 - Michael Beverly (A), Michael Failor, John Gressett, Stephen McCarty, Renea Thomas (A)
2007 - Sean Butler, Lon Hudson (A), Bobby Lee (A), Tanner Shaw, Dylan Thomas, Greg Thompson (A), Chris Wallace(A)
2008 - Stephen Key, Kevin Lewis, Tim Michaud, Michael Michaud(A), Doug Paxton(A) ,Phillip Ramirez, Zane Zimmerman(A)
2009 – Nicklas McCarty, Kerry Grisham(A), Terrell Shaw, Inge Easterling, Evan Johnson, James Edwards, Astin Fenner 2010 – Taylor Beverly, Michael Bradle(A), Blake McAnally, Chris Bell(A), Michael Hall
2011 – Leland Forbes(A), Cody Cedergren, Nolan Miller 2012 – Dutch Verschoor(A), David Bradle, Brice Stone
2013 – Braden Stanford, John Walke(A)
2014 – Ben Holmes, Chad Gifford, Tyler Cannon, Danny Holmes(A), Kenneth Gifford(A), Brad Dempsey(A)
2015 - Greg Cannon (A), Chris McHann, John Walke, Cindy Webb (A)
2016 - Nick Bailey (Y), Corky DeMent (A), Clayton DeMent (Y), Mark Miller (A)

Lodge Chiefs
2004 - Joey Ellis (To July)
2004 - 2005 - Ben McAnally
2005 -2006 - Michael Failor
2006 - 2007 - Michael Failor
2007 - 2008 - John Gressett
2008 - 2009 - Jarryd Thomas
2009 - 2010 -Evan Johnson
2010 - 2011 - Mike Hall
2011 - 2012 - Cody Cedergren
2012 - 2014 - Braden Stanford
2014 - 2015 - Nick Bailey
2015 - 2016 - Lorenzo Tibbets
2016 - 2017 Alex Aguerro
2017 - 2018 Clayton Dement

Lodge Adviser
2004 - 2009 -Aivars Jurkis
2010 - 2010 - Michael R. Bradle
2010 - 2012t - Chris Bell
2012 - 2014 - John Walke
2014 - 2018 - Corky Dement

Staff Adviser
2004 - 2007 - Les Zimmerman
2008 - 2009- Alan Eggleston
2010 - 2010 - Les Zimmerman
2010 - 2011 - Doug Paxton
2012 - 2014 - Doug Moore
2014 Leldon Clifton
2015 Mark Conrad
2016 - 2018 Jaime Limas
Lodge Conducts Scouting for Food Drive
In association with United Supermarkets and local food banks, the lodge conducts each year an annual good turn - Scouting for Food in November. They started this food drive in 2003. The annual food drive is designed to help the local food banks and pantries in the Texas Trails Council territory obtain some extra food for the holidays. The Arrowmen of the lodge organized the food collection and made arrangements with the food banks that warehouse and distribute the food to those in need. Local Packs, Troops. Posts and Crews collects over 26,000 pounds of food. All food collected throughout the area stayed within the community in which it was collected. This is the major service project of the lodge outside of their service to Camp Tonkawa and Camp Billy Gibbons. The drive has been continued each year since the new lodge was formed.
Lodge Newsletter
The first Lodge Newsletter, The Four Winds, was published in 2004. According to their web page, "The Four Winds is the official newsletter of Penateka Lodge, Texas Trails Council. It should be published roughly four times a year, about once a quarter, although issues may be missing due to publication difficulties. Due to the need to disseminate information, there may be more than four issues, or the publication interval may change."

---
We want to thank Dr. Roger Schustereit for providing us with the NOAC and Jamboree Lodge patch scans. And we want to thank Corky Dement for keeping our officers and Vigils updated.

Last Updated: December 11, 2017
Return to Home Page