Tatanka Lodge History
Order of the Arrow
Index:
.
Order of the Arrow Founded in 1915
The Order of the Arrow is a national brotherhood of honored campers of the Boy Scouts of America. The organization was founded during the summer of 1915 at Treasure Island, the summer camp of Philadelphia Area Council, by E. Urner Goodman and Carroll A. Edison. The OA is based on the lore and legends of the Lenni-Lenape or Delaware Indians. E. Urner Goodman was the camp director at the camp and Carroll A. Edison was serving as assistant director in charge of the commissary.
Founded in 1938 in Buffalo Trail Council
As the Order of the Arrow spread from word of mouth from one camp to another over the ensuing years, lodges were organized in those Boy Scout Councils. Tatanka Lodge 141 of the Buffalo Trail Council, Midland, Texas, was chartered in 1938. The following story appeared in the Sweetwater Reporter on February 9, 1940, by Charlie Taylor:

"In 1938 an organization not known to most Scouts of the council was introduced to the boys at summer camp, the Order of the Arrow.
"The Scouts who attended camp for the last two years elected from the group the boys whom they considered the best campers, and these were nominated for places in the Order of the Arrow.
"After having attended the Thanksgiving initiation, were they took the Scout oath anew and took for the first time the oath of the Order of the Arrow, they each returned home with a new desire for better service to others.
"Sweetwater Scouts who are members of the Order of the Arrow are DeWitt Conley (Troop 40), Billy White (Troop 41), Charles Ritter (Troop 40), Lingo Brown (Eagle Scout of Troop 48), Tom Paxton (Eagle Scout) and Charlie Taylor.
"Leaders who live in Sweetwater and are members, are Lee Langley, H. D. Reed, J.M..Pendergrass, Chars E. Paxton (Council President), S. P. Gaskin (Scout Executive) and Paul Brown.
"All leaders of the organization are members."

Another story on December 15, 1938 was published as follows:

Scout Organication To Hold Ceremony

"SWEETWATER, Dec. 15 - Investiture ceremonies for the Buffal Trail Council's chaper of the Order of the Arrow, national camping fraternity, will be held at 8 o'clock Saturday night, Dec. 17, at the Boy Scout cabin on Lake Sweetwater. The ceremoney will be a feature of an overnight cmping program for scouts and scouters, beginning at 1 p.m. Saturday and closing ata 8 a.m. Sunday.
"Order of the Arrow is an honor society, with membership composed of scouts and scouters. CAndidates for membership have been nominated by the camp staff of the Buffalo Trail Council and will be voted on by fellow members in camp. This is the only chapter to be organized in the council.
"Scouts nominated for membership include Fred G. Middleton, Midland; Richard Thomas, Big Spring; Christino Alvarado, Odessa; Goodrich Hejl, Midland; Dick Sheehan, Hermleigh; Craig Porter, Colorado; Jim Purceil, Midland;, Charles Ritter, Billy White, and DeWitt Conley, Sweetwater; Wolford Hardly, Big Spring; Bartlett Strayhorn, Rolan; Pat McMullen and Jimmy Pickering, Midland, and Aubrey Headstream, Roby.
"Scout leaders eligible for membership in the Order include H. D. Redd, Dan Roberts, Jr., J. W. Pendergrass, Jimmy Beall, Charles E. Paxton, and Lee Langley."

In a story that appeared in the Sweetwater Reporter on February 9, 1939, H. D. Reed, J. W. Pendergrass (Eagle Scout) and Henry Roberts, Jr. were listed as youth members from Sweetwater. Adults included were Charles Ritter, Billy White, Jimmie Beall, DeWitt Conley and Charles Paxton. All were elected the previous summer at Scout Summer Camp (1938) held at Camp Fawcett near Barksdale, TX.
Service Projects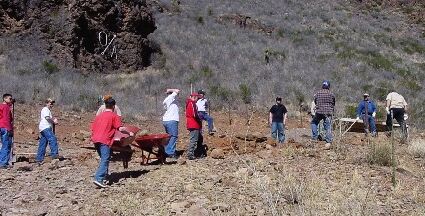 Currently the lodge has 616 Arrowmen and has been recognized by OA National as an Honor Lodge. For the past sixty-four years the lodge has served cheerfully throughout numerous projects at the Buffalo Trails Scout Ranch, Camp Ed Murphy, and Hughes Aquatic Base. They have, just in the last couple of years, finished a project at Buffalo Trail Scout Ranch called the "Great Wall" which extended the parade ground.

Also with help of an OA National matching grant, they were able to supply water to the back country of Buffalo Trails Scout Ranch which has helped greatly to facilitate their programs out that way. They are building a retaining wall at the corrals and have repaired Buffalo Hall after wind ripped off a large portion of the roof.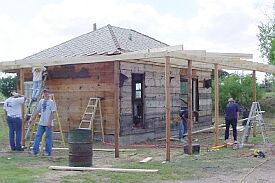 At Hughes Aquatic Base, located on Lake Colorado City, the lodge has been working on two massive projects that will take some time yet to complete. They are building pavilions at the campsites and have now completed two shelters so far. The other massive project has been the building of a Medic Hut. They moved a house from property donated to the council to the camp to serve as a new medic hut. The hut is now in place with a new metal roof, insulated and sheetrocked. The electrical has been run but they still need to finish out the sheetrock, paint and add a porch.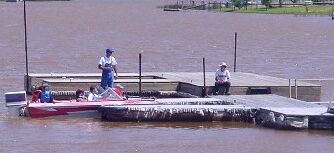 The lodge had accomplished many projects at the aquatic base. One of their projects was work on and then to float a new dock. The dock was built on land, floated out to the end of the old dock, and then decked.
.

Totem
"Tantanka" is translated as "Buffalo." The "white buffalo" has become the symbol of the Buffalo Trail Council and the totem of the Tatanka Lodge.
.

.First Patches of the Lodge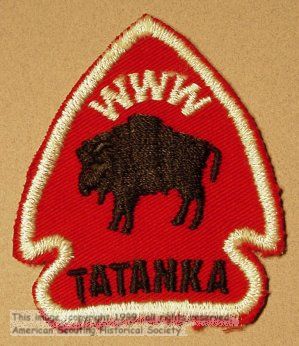 This was the first patch of the lodge and was probably worn on a neckerchief which was the popular thing to do in those days. Warren Wallace has one that is a black cloth neckerchief with the patch sewn on the back. However, it could have also been worn on the right pocket of the uniform. Date unknown as to when it was first issued but it was issued sometime prior to 1954.

| | |
| --- | --- |
| | |
| First pocket-flap - 1954 | Current trading pocket-flap |
This was first issued in 1954 and is the first pocket-flap of the lodge. Notice how the buffalo has changed shape from the patch above. According to the Blue Book, 3rd Edition. some 106 different patches have been issued in the lodge. Of course some of them are just different loom runs of the same patch with a few stitch variations in the run. The buffalo in the patch has evolved over the years from being all black to black and brown, to brown and white, black and white and finally in about 1987 to a white buffalo as shown on your right above.
.
Whispering Drum
The Whispering Drum is the official publication of the lodge and is mailed several times during the year to each Arrowman's household. It provides the membership with the latest information on the program of the lodge. Kevin Morris was editor of the publications from 1998 through 1999. His brother, Ryan Morris, became the editor in 2000 through 2002. Trevor Morris, another brother was the editor in 2003. Spenser Sith is the current youth editor. Starting in February 1 2000, The Whispering Drum, was posted on the Tatanka web site and could be read using Adobe Acrobat Reader. You can read their newsletters by going to http://www.tatanka141.org/drum.html
Tatanka Lodge Web Site
The original web site for the lodge was inspired by a Chaparral Chapter web site created by Matthew Jennings, who was then the Chapter Chief. Kevin Morris was good friends with him and his brother Brian Jennings. From this friendship, came the desire to created a lodge web site.

Kevin Morris, was webmaster of the web site from about 1997 to 2004. At the beginning the web site was nothing like it is today. The guestbook was added in 1999 but it was a much later addition to the original site. During his tenure, the web site for the Tatanka Lodge was created and made into a first class online site located at http://www.tatanka141.org/. In 2004, Matthew Ellsworth became the editor of the web site and Kein Morris became the adult adviser. At this time, the site was migrated to Microsoft Front Page. Kevin Morris, graduated from Texas Tech University, commissioned in the Air Force and is attending graduate school at the Air Force Institute of Technology in Dayton, Ohio.
.
Customs and Traditions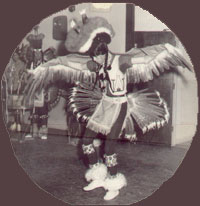 Photo at right is of Warren Wallace performing the Eagle Dance. The photo is part of a larger display that is hanging at Buffalo Trail Scout Ranch. Photo provided courteous of Kevin Morris, present Lodge Chief of the Tatanka Lodge 141.

Calling Out Ceremony -1972 - The following story was provided by Otis Medley, Lodge Chief in 1978-79

"My earliest memories of the Tatanka Lodge came when I arrived at BTSR in the Summer Camp of 1972. Our troop was small, and had just started the fall before. I was a brand new Tenderfoot, and excited about going to camp. Every where I went was evidence of the OA.; Totem poles, the Buffalos at the entrance, and OA Springs. It was all so mysterious, and no one would really tell me anything about it. Then Friday came, and all the families began to arrive. Supper was really quite good, and as the evening turned to dusk everyone began to gather at the chow hall. There were all these Scouts with Arrowmen sashes and their coup beads. Everyone grew quiet, and then these Scouts in authentic looking Indian costumes came in silence. I started to laugh but no one else even seem to think this was strange. We were instructed to to be silent as we were lead down a path lighted by smudge pots, and along the way more serious faced Indians were standing on the rocks above us. Our guide lead with a torch; the second guide brought up the rear, and also had a torch. We were lead in the gathering darkness to the council fire, where we were seated, and the Indians disappeared. The various members of camp staff gave awards and other instructions were given.

"And then the Indian dancers came and danced to the ancient songs. It was a show of brilliant colors and the hard work of months of research and practice. As a young Scout, though it was just fascinating. When the dancers were through, the lights slowly dimmed, and we became conscious of torches on the road above the council ring. Almost at the same time, high up on Forbidden Mountain, the WWWs were lit. The Tap Out team came down the road and came into the ring; one torch went to a stack of wood on the right, and the other went to the wood on the left, and at the same time the torches were tossed into the wood and the council fire leaped to life. One of the Indians called to another to check and see if the fire was properly set and cheerfully burning. And then the four chiefs began the Tap Out ceremony. As each name was called out in a loud voice, a runner was dispatched to retrieve the Scout. Suddenly, a name was called, a runner dispatched, and the Scout next to me was taken to the ring!

"It was at this time I realized it could be me someday. Each candidate was taken to the ring where one of the chiefs would take him by the shoulders and thrust him towards one of the others. In response, The chief placed his hands on the shoulders of the candidate, and with three swift taps to his shoulder, lowered his hands, and folded them at his chest. The candidate was then turned to the next chief, who took his coup beads off, and with his hands spread at shoulder's width, put his coup beads over the head of the candidate, and tapped both shoulders at the same time. The candidate was given a single eagle's claw, and then rushed off into the darkness up the dry creek bed. Later I found out that each was told not to speak until after breakfast and were to carve an arrow for their ordeal, which was usually held at the end of the summer camp. Ordeals were also held in late May, and late August. We called them Work Weekends, and they all usually had ordeal candidates on the trail."
"The Night We Shot Allowat"
Kyle Vernon, who served on the Buffalo Trail Scout Ranch summer camp staff from 1979 through 1986, wrote two true stories titled "The Night We Shot Allowat," and "The Night We Blew Up Allowat," after changing the names and dates, as he said, "to protect the innocent and/or guilty." You can read both of these humorous stories by clicking on their name. Enjoy!
Kyle Vernon now works as a school teacher, is a Scoutmaster, and the sponsor of two clubs.

The Beads of Tatanka Lodge
The lodge has a coup system. The coup is a necklace that has two (plastic) eagle claws in the center and beads signifying the accomplishments of an Arrowman. The claws are used to show an arrowman's rank and the chapter he belongs to. Ordeal members wear their claws pointing outward, brotherhood members turn their claws so that the face together, and Vigil members add a totem representative of their vigil name between their claws. The chapter color goes on the base of the claws. Brotherhood ranks such as Firebuilder, Runner, and Keeper of the Sacred Bundle are represented by painting yellow, sky blue, and white (respectively) bands on the tips of the claws. The bands are ¼ inch in width and are only added when that elevation has been achieved. See the diagrams below.


Chapter colors are:
Arrowhead - Purple
Chaparral - Sky Blue
Cibolo - Green
Comanche Trails - Orange with Silver Stripes
Lone Star - White

The beads are awarded by the lodge as follows:

Black Round - Eagle Scout (Only one set per Eagle Scout Arrowman)
Black Flat - Tap-Out Team (Speaking Parts ONLY)
Blue Flat - Vigil Weekend
Blue Round - Lodge Secretary and Treasurer
Blue Cylinder - Lodge Vice Chief
Blue Square - Lodge Chief
Brown Round - 5 O.A. Banquets (Trade 5 purple cylinders)
Brown Flat - Camp Staff
Clear Flat - Presented to Elangomat upon 50% of his clan completing Brotherhood.
Gold Square - Founder's Award
Green Square - Chapter Chief
Green Cylinder - Chapter Vice Chief
Green Round - Chapter Secretary
Green Flat - Brotherhood Ceremonial Team (Speaking Parts ONLY)
Orange Square w/ white stripe - Chapter Assistant Adviser
Orange Square - Chapter Adviser
Orange Round - Committee Chairman
Orange Cylinder - Section Conclave
Orange Flat - Membership Recruitment (SINGLE)
Pink Flat - Elangomat
Purple Cylinder w/ white stripe - Lodge Assistant Adviser
Purple Square - 5 Fellowship Weekends (Trade 5 yellow cylinders for set).
Purple Square w/ white stripe - Lodge Adviser
Purple Flat - Pre-Ordeal Ceremonial Team (Speaking Parts ONLY)
Purple Cylinder - Annual Banquet
Purple Round - Special Service (Only one set per Arrowman)
Red Square - 5 Years in the Order of the Arrow (Trade 5 red rounds for set)
Red Flat - Taskmaster
Red Round - 1 Year in the Order of the Arrow
Red Cylinder - Ordeal Master
Tan Flat - Unit Election Team
Tan Round - Chapter Participation
White Cylinder - Indian Dance Team
White Flat - Ordeal Ceremonial Team (Speaking Parts ONLY)
White Round - Annual Pow Wow
Wood Round - Member of an official delegation to National Order of the Arrow Event
Yellow Round - 1 Long Term Camp (Summer Camp / Winter Camp, one set per year)
Yellow Cylinder - Fellowship Weekend.
Yellow Flat - Ceremonial Service
Yellow Square - 5 Long Terms Camps (Trade 5 yellow rounds for set)

Information on the lodge bead program was taken from theTatanka Lodge Directory
Section Conclaves
Tatanka Lodge has served as hosts for several conclaves in the Council). The last was the SC-4 at the Circle 6 Retreat north
of Stanton/Big Spring in the late 80's. There was also another conclave hosted back in the early 80's at Odessa College. A Section Conclave was held at Tarleton State University in April 1990 with Tatanka Lodge serving as host.

Michael Ellsworth from Odessa, and a student at Texas A&M, has been selected as the Section Chief of SR2-3S for 2011. This was done since the former section Chief, Jonathan Hillis, had been selected National Chief of the OA. Michael Ellsworth served as lodge chief 205-2007 and is a Vigil member of the lodge.
.
Lodge Chiefs
The records of the lodge were destroyed in a flood at Scout camp in 1976 so there are no listing of lodge chiefs prior to 1950 at this time.
1950-1951 - Jimmy Johnson
1951-1952 - Charles O' Quinn, Jr.
1952-1953 - Robert Angel
1953-1954 - Glen House
1954-1955 - Jimmie Lowther
1955-1956 - Johnny Fuglaar
1956-1957 - Frank Tate, Jr.
1957-1958 - Johnny Hollingsworth
1958-1959 - Johnny Hollingsworth
1959-1960 - Dwayne Cochran
1960-1961 - Dwayne Cochran
1961-1962 - Stanley Martin
1962-1963 - Terry Martin
1963-1964 - Terry Martin
1964-1965 - Warren Wallace, III
1965-1966 - Ross Moore
1966-1967 - Steve Napper
1967-1968 - Steve Napper
1968-1969 - Doug Lunsford
1969-1970 - Marshall Horn
1970-1971 - Bill Britt
1971-1972 - Lance Crenshaw
1972-1973 - Dennis Anderegg
1973-1974 - MarkReynolds
1974-1975 - Rick Schmidt
1975-1976 - Joey Lemley
1976-1977 - Ric Warren
1977-1978 - Edward Phillips
1978-1979 - Otis Medley
1979-1980 - Edward Lamber, Jr.
1980-1981 - Mark Galvan
1981-1982 - Ed Leps
1982-1983 - John Gillian
1983-1984 - David Harwell
1984-1985 - Mike Wagoner
1985-1986 - Hershell Cavin
1986-1987 - Scott Thompson
1987-1988 - Tony Lucas
1988-1989 - Tony Lucas
1989-1990 - Rusty Thompson
1990-1991 - Paul Benevidez
1991-1992 - Colin Woodall
1992-1993 - Chris Tipton
1993-1994 - Scott Horton
1994-1995 - Fred Morris, III
1995-1996 - Fred Morris, III
1996-1997 - Matt Woodall
1997-1998 - Nicholas Cook
1998-1999 - Eric Harding
1999-2000 - Kevin Morris
2000-2001 - Wesley Stephens
2001-2002 - Kevin Morris
2002-2003 - Scott Downing
2003-2004 - Josh Gregg
2004-2005 - Josh Gregg
2005-2006 - Michael Ellsworth
2006-2007 - Michael Ellsworth
2007-2008 - Corey Houston
2008-2009 - Corey Houston
2009-2011 - Bruce Armstrong
Informaton on Lodge Chiefs was taken from the Tatanka Lodge Directory
.
Lodge Advisers
1955-1956 - Advisers are unknown prior to 1956
1956-1959 - Al Leeper
1959-1961 - Roger D. Hoestenbach
1961-1965 - Harold Wilson
1965-1966 - Warren Wallace, III
1966-1973 - Warren Wallace, Jr.
1973-1974 - M. Hanson
1974-1976 - Pinky Robertson
1976-1978 - Raymond Nicholas
1978-1980 - Dr. Bob "Doc" Shaw
1980-1982 -Sam Mannering
1982-1984 - Bill Waddell
1984-1986 - Dub Watley
1986-1988 - Jim Adams
1988-1989 - Joe Cavin
1989-1990 - Mark Russell
1990-1992 - Frank Woodall
1992-1994 - David Pearce
1994-1996 - Ron Wingo
1996-1998 - Carl Poitevint
1998-2000 - Ralph Harding
2000-2002 - Steve Dennis
2002-2004 - William J. Morris
2004-2006 - Don Orren
2006-2009 - Chip Chapman
2009-2010 - Ralph McCain
Information on Lodge Advisers was taken from the Tatanka Lodge Directory
.
Vigil Honor Members
"The Vigil Honor is a high mark of distinction and recognition reserved for those Arrowmen who, by reason of exceptional service, personal effort, and unselfish interest have made distinguished contributions beyond the immediate responsibilities of their position or office in the Lodge, the Order of the Arrow or Scouting."

1952 - Vigils are unknown prior to 1953.
1953 - Billy Reagan
1954 - None
1955 - Robert N. Eastus Jr., Alley Hedrick, Stuart G. Painter
1956 - Jimmy Stephen
1957 - Raymond Fletcher, Johnny Fuglaar, G.N. Hughes, Lloyd L. Longley Jr., Monty Stokes
1958 - Arlen Bryant, E.L. Harvill Sr., E.L. Harvill Jr., Robert Bruce Herring, Roger Hoestenback, Johnny Hollingsworth, Alan Leeper, Kenneth A. Schloemer Jr., Frank Tate Jr.
1959 - Joe Bohannon, K. D. Bryan, Dwayne Cochran, A.C. Doyal, J. Arthur Hawkinson, Gary Hendrick, Leo Lee, Charlie Leeper, William T. McRee, Ross Reagan, James Stevens, William Kirt von Osinski
1960 - Jerry Balkam, Terry Balkam, Larry Cochran, Steve Donaldson, Leroy R. Hackler, Harold Wilson, Tom Wright
1961 - William Jack Bawcom, Carl Lee Brasuell, Gary Corbin, Samuel I. Grant, Stanley Martin, Billy R. Miller, Marvin Stokes, Harold D. Wilson Jr. Raymond Tyra, Jimmy D. Wester
1962 - Don Alexander, Mike Bishop*, John Fanning, Pat A.Farris, R.E. "Dutch" Lunsford*, Garland Tiner Jr., John Underwood, William W . Wallace Jr., William "Warren" Wallace III, Frank N. Ward, R.T. Wilson
1963 - E. Don Campbell, Keith Campbell, O.R. Cockerell*, James Dublin, George Ellenger, Terry Martin, John Oden, Jeff Wallace
1964 - David Akers, Butch Lunsford, Ross Moore, Bill Sanders, Tom Smith*, Eugene Stoves, George Stowe, W.B. Stowe*
1965 - David Akers, B ill Alexander, Mark King Craig, Leon S. Ditzell Jr., James Dublin IV, John R. Gee, John Holt, Larry Mast, Edward Allen Mueller, John Timothy Wallace, Michael E. Williams
1966 - A. Eugene Ashley*, James W . Ashley, Raymond W. Baker, Robert C. Bone*, Kenneth Brame, Gene Corden, Raymond Holt, Samuel "Wade" Howell Sr., Richard Thomas Johnson, Father Raymond Klumbis, Eric L.Michaleson, Stepehn Moore, Steve Napper, Alvon E.Patterson*, John Lee W alker
1967 - William M. Bosworth, George Burns, Franklin Castleberry, Doug Lunsford, Roy Mast, John Pearcy, George L. Prothro*, Jimmy Spradley
1968 - Martin Bosworth, Ronald Corbin, Lee A. Criswell*, Wayne Criswell, Wayne Grable*, Rice W. Harrington, Glenn Harrison, Marshall Horn, Sammy Jones, Tim Patterson, Nord Sailors*, William Tevington, Gilbert O. Tiemann, John R. Tiemann
1969 - Bill Britt, Curtis Burns*, Larry Burns, Ariba Childress, Dick T. Clardy Jr., Clyde Chynoweth, John Chynoweth, Bobby Clayton, C.H. "Creny" Crenshaw, Jack Davis, Jerry Dillard, Harold Ervins, Gary Jones, Forest H. Muire Jr., Dan Peterson, Louis "Pinky" Robertson, Larry Sailors, Mark Steward, Henry Tiem ann, Dub Watley*
1970 - Ray Andergregg*, Randall W. Black, W aymon Childress, Lance Crenshaw, D.W. "Dub" Day, David "Austin" Ferguson*, Dr. Marvin Grice, Bernold "Morris" Hanson, Richard Hungerford Sr., Allen McCain, Darren Owens, Robert Monroe Simmons, Ray L. Swinford
1971 - Dennis Andergregg, Robert Bagley, Kevin Belknap, Curtis Brothers, Kirby Bryn, William Cleere, James Compton, Jack Day, Harod Ervin Jr., Gene Gibbens, Gary Gillihan, Tim Harrison, Richard Hungerford Jr., Carl Johansen, Wyett Lipscomb, Sam E. Mannering, James McCain, John "Buddy" O'Neal*, Harry A. Palmer, Harry E. Palmer, Cyril "Cy" Perusek*, Rex Reynolds, Thomas Savage, Tommy Simmons, Edmund Truex, Ray Ward, John White Jr.
1972 - Vernon Allman, Mark Anderegg, Michael R. Barlow, Greg Bass, Bruce Belknap, Lamar Casparis, Dennis Day, O.B. Draper, Eric Hanson, Billy Hopkins, F.L. Martin, Wayne McBee*, Leland McCain, Dewayne McGuirre, George L. Morris, John Muire, Dennis Neely, Mark Nichols, David Presley, Mark Reynolds, John Slavik, John Stickles, Jerry Tochterman, Christopher D. Truex, John A. White III, Eddie Young
1973 - Tony Anderegg, Jon K. Bagnall, A.L. Casparis, John Ellen, Preston Grissom, Marvin E. Harges, Boyd W. Hughes, Bill Mason*, Bueford R. McGuire, Edmund L. Mulkey, Richard Newbold, Paul Newton, Raymond Nicholas, Randy Sperry, John Stickels, Edgar N. Teutsch Jr., Bryan Wheeler, John White, Edward D. Young
1974 - There were no inductions during the 1974 calendar year because the Vigil Ceremony was moved from the fall of the year to the first weekend after New Year's Day. Therefore, each Vigil Class starting with 1975 was selected in the previous year, but performed their Vigil during the class year listed.
1975 - James Armstrong, Charles Bagley, Colin Belt, Charles Brown, Richard Crandall, Robert Paul Dowing, Bryan Hughes, Brian David Jones, Bryce King, John Mendenhall, Jack Pearce, Sam Savage, Rick Schmidt, Dr. Billy Shaw, Jeff Spears, Keith D. Van Horn
1976 - Randy Allman, Don Belt, Danny Burns, Ewell Burns, John Casimer, Leon Clark Jr., David Libson, David Newbold, Tom Newbold, Kurt Nicholas, Earl H. Shaw, Shane Sperry, Craig A. Van Horn, David Vickers
1977 - Phillip Bagley, Rodney Grable, Joey Lemley, Bryant Martin, Don Orren, Charles W. Ross*, George Slover, Rick Warren
1978 - John Blackman IV, David R. Johnson Sr., David R. Johnson Jr., Loren Lewis, Edward Phillips
1979 - Bruce Chadwick, Duawne Donaway, Bill Fidler, Nick Hahn*, Vern Humphrey, Ed Lambert, George Medley, Gerald "Rod" Stephenson, Pat Truex, L.B. W eathers
1980 - Warren Brown Jr., Frank E. Corbin, Cecil Garrett, Charles Han, O tis Medley, D r. Jerry D. Norton, Gerald Petty, Shawn W ilkins
1981 - Philip E. Corbin, Cecil Davis, Duane Ervin, William H. Foster, Bill Houston, Joel Miller, Dr. David Norton*, Mike G. Stephenson, W illiam "Bill" Waddell
1982 - John Fields, Mark Galvan, John T. Gillian, James Hahn, Lucian M. "Chub" Johnson, Kenneth Lantrip, Stephen Lewis, Mac Mannering, Steve Roen, Norman Yee
1983 - Jim W . Adams, Jimmy Charlton, Edward Leps Jr., Jerry tephens, David Stick els, James Waddell
1984 - Glenn Cochran, Jeffery Craig, Frank Crawford*, Monty O'Neal, Phil Rowe, Larry Whiteside, Dick Zimmer
1985 - Jerry Speight G rimes Jr., David Harwell, Nelson Mock, Mark A. Russell, Woodrow Wickman
1986 - Tommy Bizzell, C.A. Blount, Earnest C rawford, Marvin D. Eastman*, Keefer Fields, David Pearce, Mike Wagoner
1987 - Hershell Cavin, Joe Cavin, John Commander, George Crawford, Charlie Robinson, Brad Self, Mark Smith*
1988 - Cliff Barnes, Rusty Buckingham, Ron Harkrider Sr., Bryan Kemper, Tom O. Maxwell, Steve Smith, Paul Thompson, Scott Thompson
1989 - Ernie Davis, Ronnie W. Harkrider Jr., Tony Lucas, Russell Thompson, Gene Washam
1990 - James C. Busby, Tommy Smith, Jaime Subia, Jody Washam
1991 - Paul Benavidez, Blake Hensley, Chris Pearce, Josh Smith, Jody Sneed, Colin Woodall, James "Frank" Woodall Jr.
1992 - Brian Earles, M elvin Hensley, Scott M. Horton, Samuel W. Howell II, Jerry McNew, Nathan Telck, Derek W ingo, Ronald Wingo
1993 - Ottis L. "Bill" Bradford*, Patrick Earles, Bennett R. Poitevint, Carl R. Poitevint , Al Telck, Chris Tipton, Adam Wallace
1994 - Leon Earles, Glen Finley, George Friday, Chris W. Gilbreath, James "Jim" Harrison, Fred A. Morris III, John H. Poitevint
1995 - Gordon Jennings, Matthew Jennings, Dwayne King, Viswa Subbaraman, Timothy Telck, Charles Wade*
1996 - Steve A. Dennis, David Harrington, Benjamin A. Inman, Brian Jennings, Charles E. "Chuck" Smith, Matthew J. Smith, Peter Telck, Wilson R. Van Loon
1997 - James E. Caldwell, Eric L. Harding, Daniel F. Houy, Jeffrey Johnson, Patrick D. Jose, Ralph M. McCain, Ricky D. Sneed, Jeff Suggs, Matthew Woodall
1998 - Daniel R. Bergmann, Jerry M. Cook Sr., Nicholas Cook, Robert Culpepper, Hector Holguin Jr., Robert Martin, John F. McAhon*, Fred A. Morris Jr.
1999 - Baine A. Bean Jr., Debra A. Bean, Jay M. Callaway, Sheila L. Cook, Joe "Turtle" Garner, Ralph J. Harding III, Daniel Holguin, James "Luke" Jackson, Sam C. Martin, Kevin Morris
2000 - Scott M. Downing, Marcus M. Fernandez, Ginger M. Harding, Charles C. Henry, James "Jim" B. Jackson, Dr. Randall T. Kelly, Bill M orris, Benjamin Ormsby, Wesley J. Stephens, Jerred E. Tochterman, Chris M. Yount
2001 - Matt T. Bertrand, Benjamin E. Bias, H arris Clanton, Jerry Cook II, Dusty Culpepper, Gary M. Deutsch, James A. McPherson, Garrett M. Smith, Genebra Smith, Kenneth J. Sm ith Jr., Dennis W ilhite, James Wilhite
2002 - John D. Balden, Zachary G. Bias, Jonathan D. Carr, Steven F. H arry, Aaron A. Kerley, John R. Key, Ryan D. Kraus, Scott McKelvey, Ryan J. Morris, Trevor W . Morris, William R. Page Jr., Matthew Puckett, Karen Telck
2003 - Kristofer Gartenbein, Richard G. Gantenbein, Joshua Gregg, Kris Gregg, Mark Harding, Mark C. Hedges, Richard M. Key, Raymond Moseley, Kenneth C. Orren, John A. Puckett, Spenser T. Smith, Travis S. Smith, Dan D. Wagoner
2004 - Barney R. Barnes, Alvey Bass, Bryan Bass, James L. Bean, Nathan Burns, Roy E. Daniel*, Billey J. De Busk, Bob L. Harsler, Jr., Michael Prall, David Richardson, Brandon Templeman, Eunice Thizton
2005 - Clare Andergg, Derek Bass, Chip Chapman, Matthew Ellsworth, Ralph Foust, Kristian Gregg, Brandon Hayse, Sonny Heath, Sammy Hunnicutt, Colin Rust, Ken Rust, Jacob Smith
2006 - Casey Chapman, James Cooper, Louise Ellsworth, Michael Ellsworth, Logan Foust, Jared Kraus, Samuel McBride, Gerald Menasco, Charles Purcell, Jonathan Purcell, Justin Shanks, Kevin Yancey
2007 - Robert Anderegg, Bob L. Hensler, Sr., Ryan Lineberger, Frank McBride, Rick Smith, Brandon Sweatt, Charles Sweatt, Christopher Thomas
2008 - Kyle Farmer, Mike Miller, Marcus Perez, Becky Yancey

*Deceased
Iinformation on Vigil Honor is taken from the Tatanka Lodge Directory
.
Founder's Award
"For he who serves his fellows, is, of all his fellows, greatest!"

The Founder's Award was created to honor and recognizes those Arrowmen who have given outstanding service to the lodge. The award is reserved for an Arrowman who demonstrates to his fellow Arrowmen that he memorializes in his everyday life the spirit of achievement as described by founder E. Urner Goodman.
1982 - John Gillian, Dr. Bill Shaw
1983 - Jerry Grimes, Dub Watley*
1984 - Phil Rowe, Dr. David Norton*
1985 - David Harwell, Bill Waddell
1986 - Mike Wagoner, Nicky Hahn*
1987 - Hershell Cavin, Bill Alexander
1988 - James Busby, Mark Smith*
1989 - Tony Lucas, Dutch Lunsford*
1990 - Scott Thompson, Paul Thompson
1991 - Colin Woodall, David Pearce
1992 - Bennett Poitevint, Ron Wingo
1993 - Scott Horton, Frank Woodall
1994 - John Poitevint, Chris Pearce
1995 - Fred Morris, III, Carl Poitevint
1996 - Matt Woodall, Steve Dennis
1997 - Daniel Houy, Chuck Smith
1998 - Daniel Bergmann, Mark Russell
1999 - Eric Harding, Pinky Robertson
2000 - Kevin Morris, Charles Wade*
2001 - Ralph Harding, Wesley Stephens
2002 - Scott M. Downing, William J. Morris
2003 - Mark Harding, John Balden
2004 - Trevor Morris, Ray Mosely
2005 - Josh Greg, Ginger Harding
2006 - Don Orren, Kevin Yancey
2007 - Dr. Randall Kelly, Michael Ellsworth
*Deceased
Information on the Founder's Award was taken from the Tatanka Lodge Directory
.
James E. West Award
The James E. West Award was established by the Boy Scouts of America to recognize a special financial commitment to Scouting in the form of a $1,000 donation to the Council Endowment Fund. The award is named after the first Chief Scout Executive of the Boy Scouts of America. Tatanka Lodge honors these Arrowmen for their unselfish devotion to the welfare of others through their special service, special achievement and their long standing commitment to the Order of the Arrow by sponsoring a James E. West Award in their name.

2000 - Warren Wallace, III
2001 - Sam Mannering
2002 - Jim Harrison
2003 - Baine Bean
2004 - James Busby
2005 - Dennis Wilhite
2006 - John Puckett
2007 - Mark Hedges

Information for the James E. West Award was taken from the Tatanka Lodge Directory

"The Night We Shot Allowat"by Kyle Vernon
"The Night We Blew Up Allowat" by Kyle Vernon
---

We want to thank Kevin Morris for his help in providing us with the information for this page and for permission to use photos from the lodge web site and we want to thank Kyle Vernon for allowing us to use his story "The Night We Shot Allowat" and his new story titled "The Night We Blew Up Allowat." Both true stories are a must read.

Last Updated: January 19, 2010
Return to Tatanka Lodge #141 Home Page
Return to my OA page