OA AREA CONFERENCES
Each year the Area, which was made up of several lodges, would have a Conference where the arrowmen from the various lodges would gather together for a weekend. They would have training, sport events, fellowship and competition in ceremony and Indian dancing. This was the big activity of the year for most arrowmen.

1955

This photo was taken at the Area 9-D 1955 Conference hosted by Otena Lodge at Camp Billy Gibbons.

Left to Right: Dabney Kennedy, Otena Lodge Chief; Joe O. Galbraith, Scout Executive, Comanche Trail Council; Carl Lyda, Jr., Area Chief, Austin, TX; Marshall Monroe, Area Adviser, Austin, Texas.

Note: Marshall Monroe later became the Assistant Chief Scout Executive of the Boy Scouts of America.
Area 9-D was composed of Aina Topa Hutsi Lodge #60, Alamo Area Council, San Antonio; Karankawa Lodge #307, Gulf Coast Council, Corpus Christi; Kotso Lodge #330, Chisholm Trail Council, Abilene; Tonkawa Lodge #99, Capitol Area Council, Austin; Wahinkto Lodge #3199, Concho Valley Council, San Angelo; Wewanoma Lodge #272, Rio Grande Valley Council, Harlington; Otena Lodge #295, Comanche Trail Council, Brownwood, and Cuauhtli Lodge #446, American Society of Mexico, Mexico. The Section was formed in 1955 and Otena Lodge hosted their first Area Conference that same year.
The Otena Lodge has hosted several Area Conferences since 1955. Two of these were held at Camp Billy Gibbons, one at Howard Payne University in Brownwood and three at Tarleton State University in Stephenville. A lot of time and effort went into planning one of these events and usually resulted in a re-birth of enthusiasm among the members of the Lodge.
| | |
| --- | --- |
| | Area 9-D Conference held at Camp Billy Gibbons the weekend of August 4-6, 1961. |
During one of the Area 9-D Conferences at Camp Billy Gibbons, the Austin Arrowmen, not knowing about the dirt road to camp, came to the event in a big chartered Greyhound bus. Everything went well until they came to one of the narrower cattle guards. In attempting to pass through the guard the bus became stuck blocking all traffic to and from camp. The Arrowmen had to unload from the bus and be driven to camp in vehicles that were already there.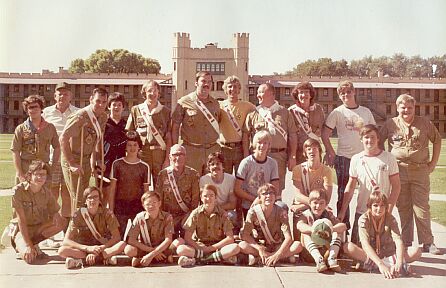 Delegation to the SC-4A Area Conference in Roswell, New Mexico in 1978
ARROWMEN SERVED ON CONFERENCE STAFF
Several of our Arrowmen have served on the Conference Staff over the years. Bryan Healer was elected as Area 9-D Vice-Chief in 1957, Ernie Meyer served on the Area 9-D Conference staff as a Deputy Chief from 1967 - 1970, Stanley W. Walker, Jr., served as Section SC 4-A Chief in 1974, and Frank Griffin served as Area SC-4A Vice-Chief in 1975. Most recently, Jeff Nix served as Vice-Chief in 1990 on the Area IV staff
Several Conferences have been hosted by Otena Lodge. Here is a list of those Conferences along with the name of the Conference Chiefs.

1955 - AREA 9-D CAMP BILLY GIBBONS
Carl B. Lyda, Jr. - Tonkawa Lodge
1961 - AREA 9-D CAMP BILLY GIBBONS
Lou Carter, Jr. - Karanakawa
1968 - AREA 9-D HOWARD PAYNE COLLEGE
Joe Bob Alexander - Kotso
1974 - SC-4A TARLETON STATE UNIVERSITY
1990 - SC-IV TARLETON STATE UNIVERSITY
1997 - SR-2 TARLETON STATE UNIVERSITY
AWARDS WON AT AREA AND SECTION CONFERENCES
Otena Lodge delegation showing off their ribbons at the Section II Conference at North Fort Hood, Texas the weekend of April 23-25, 1995.

Pictured with the group is Harold Watson, Area II Boy Scout Director (top row, far right)
The Otena Lodge won the Curtis B. Byer Trophy at the Area 9-D Conference in 1957. The trophy was given out at each for winning the most points in Indian dancing. Thirty arrowmen of the Lodge attended the Area Conference which was held at Camp Indian Creek, near Ingram, Texas. James Smith was in charge of the Indian Dances for the Lodge.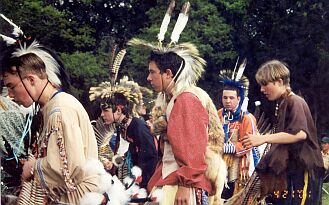 The Lodge won several awards during the Area 9-D Conference held at Indian Creek Scout Reservation on June 4-6, 1971, located near Ingram, Texas on the Guadalupe River. The Indian dance team took second place out of 16 entries. Charles Graham of Breckenridge, lodge chief, took a first place award for old style feather work, third in old style costuming and fourth in old style dancing.



Area 9-D Conference held at Camp Billy Gibbons the weekend of August 4-6, 1961.

Right to Left: Jan Wall, Deputy Chief of Training, Brownwood; Milvena Harrell, Assistant Area Conference Chief, San Antonio; Lou Carter, Area Conference Chief, Corpus Christi; J. Vern Herring, Area Adviser, Corpus Christi; Kent Ridley, Area Leader, Corpus Christi; Sterly Dossmann, Adviser for Training.
Thirty-two members of the Lodge traveled to Texas A&I University at Kingsville to participate in the Area IX-D Conference in 1972. Otena Lodge presented the Mountain Clan Dance with 100% Lodge participation. They won third place in the competition.
LODGE WINS BASKETBALL TOURNAMENT
On April 13-15, 1973, in Plainview, Texas, at Wayland Baptist College, twenty-eight members of the Lodge participated in the new Area SC-4A Conference. Otena won the basketball tournament as well as placing high in several other events.
LODGE HOSTED 1974 CONFERENCE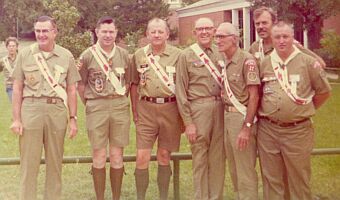 Left to Right: Eldon Sehnert, Lloyd McGrew , Jim Rominger, Lois Gee , Neal Pepper, Jay Bethany, Jimmie Wilkins at 1974 Conference
The Area SC-4A Conference was held at Tarleton State University, August 2-4, 1974, with over 354 Arrowmen in attendance. As host lodge, Otena had 53 Arrowmen present. Otena won the Display Award and placed third in Indian Dance Competition.
Rod Dippel won 2nd place and Chris Huse won 3rd place in Indian Dance Competition held at Camp Grayson in 1985.
VOLLEYBALL WINNERS FIVE YEARS IN A ROW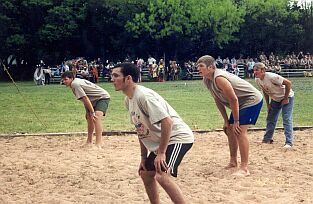 In recent years the Lodge has done well in Section IV Conference competition. They won first place in volleyball from 1990-94. In 1990 they won first place in Brotherhood ceremony and 2nd place the following year.





The gateway at the Otena Lodge campsite at Fort Bliss in 1991 won 1st Place. The group was camped on a football field which had nothing but dirt on it. A typical West Texas wind blew most of the weekend making the campsite very dusty.

One truck missed the turnoff and ended up in Mexico. They were pulling the trailer with all the gear on it. Fortunately, they were able to get back into the United States without any trouble and make it to Ft. Bliss.
They also won 2nd place in the Ordeal ceremony in 1991 and 3rd place in the Pre-Ordeal ceremony. In the 1992 Conference Fritz Quast won 2nd place in Senior Traditional Dancing in 1992.

Bradley Maples, Lampasas, and Michael Beach, Stephenville, participated in the Dance Competition at the 1994 Area II Conference at Fort Hood, Texas.

Both Arrowmen also competed at the 1994 National Order of the Arrow Conference. Michael Beach received a Red Ribbon in Indian Dancing at National.

1994 Area II Ceremonial Competition at Fort Hood, Texas. Left to Right: Timothy Price, Brownwood; Michael Denison, Brownwood; Jason Wakefield, Brownwood; James Hart, Eastland
AREA PATCHES
The host lodge designs the Area patch for their approval the year they host the Conference. Normally the patch will have their Lodge Totem on it somewhere and their name.
The original design for the 1968 Area IX-D Conference was submitted by Tommy Brashier, Vigil member of the lodge. The patch had the Teepee in the lower center of the patch with "OTENA" above it and a "W" on each side of the teepee. The Lodge number "295" was located in the center of the teepee along with the third "W".

1955 Conference
Camp Billy Gibbons

1961 Conference
Camp Billy Gibbons

1968 Conference
Howard Payne College
Designed by Tommy Brashier

1974 Conference
Tarleton State University
Totem designed in patch

1990 Conference
Tarleton State University
Lodge Number and totem in patch

1997 Conference
Tarleton State University
Lodge number in red feather
The camp name and the lodge Arrowhead totem was in the first patch of the Conference that Otena hosted. In the next three patches, the Lodge name was on the patch. The 1990 patch had only the Lodge number and totem designed into the patch. By the 1997 Conference, the Host Lodge number was in one of the feathers, outlined in red.


| Table of Contents | Next Page |