Adviser's Minute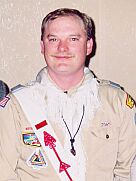 E. Urner Goodman and Carroll A. Edson founded the Order of the Arrow at Treasure Island Camp in 1915.
In 1948 the OA, recognized as the BSA's national brotherhood of honor campers, became an official part of the national camping program of the Boy Scouts of America.
Wimachtendienk, Wingolauchsik, Witahemui...
Brotherhood, Cheerfulness, Service...
These are the founding words of our organization.
Otena Lodge was chartered on May 24, 1945, as the 295th lodge to join the Order of the Arrow. In 1950, the first brotherhood members were elected into Otena Lodge. Onward and Upward was first published in February 1955. The first women were inducted into Otena lodge in 1991. The lodge was awarded the E. Urner Goodman Camping award in 1992. In 1995 Otena had a golden year because we celebrated our 50th anniversary.
Since 1945 there have only been 47 Lodge Chiefs, 19 Lodge Advisers, and 10 Staff Advisers. Only two people have served as both Lodge Chief and Lodge Adviser. Otena Lodge has hosted 6 section conclaves with two at Camp Billy Gibbons, one at Howard Payne University, and three at Tarleton State University.
In the last 58 years there have been over 1500 people inducted into Otena Lodge. Hundreds of people have sealed their membership in the Brotherhood, and there are 141 Vigil Honor members. Otena has had sixteen Founder Award Recipients.
Without Otena lodge there would be no Gee Lodge, Trading Post, ADA Restrooms, or Heath Lodge. Without the countless man hours to maintain and improve Camp Billy Gibbons there would be no Camp. We would never know the pleasure of walking Plum Hollow, Repelling the Cliff, and Fishing in Blue Hole or swimming in Brady Creek. We would have never been led to the north end of camp because it is the sign of the Scout. Or the words:
Awake, my friends. You now are starting on a long and toilsome journey. "Nutiket Guardian of the circle."
As we move into 2004 the purpose of the Order of the Arrow will not change. It will be the same as the last 58 years. To recognize those campers - Scouts and Scouters - who best exemplify the Scout Oath and Law in their daily lives and by such recognition cause other campers to conduct themselves in such manner as to warrant recognition.
To develop and maintain camping traditions and spirit.
To promote Scout camping, which reaches its greatest effectiveness as a part of the unit's camping program, both year-round and in the summer camp, as directed by the camping committee of the council.
To crystallize the Scout habit of helpfulness into a life purpose of leadership in cheerful service to others.
Without this purpose we have lost the vision that was set forth to us in 1915. Whatever the name we put on our uniform or the color of patch we wear on our shirt, Otena or Penateka, we are still the Brotherhood of Honor Campers. Without the lodge Camp Billy Gibbons cease to exist and troop camping programs will suffer.

Tomorrow's goals, today's actions will all become yesterday's traditions. So remember you are the future of the lodge and you will be remembered for generations to come for the decision you make today.

I would like you to ponder on these words for they are why we are here. Those who chose you need you.

Sam Mangrum
December 17, 2004