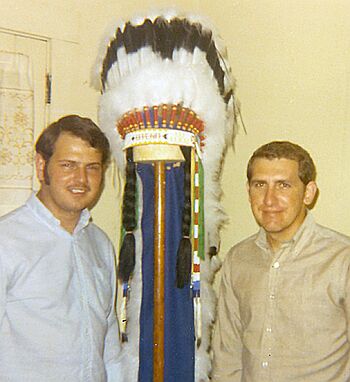 Finished 1970 Headdress. Don Walske on left and Jimmy Erwin on the right.
The Vigil Committee built an Indian headdress in 1970 for the lodge chief as part of the 25th Anniversary celebration. It was made of imitation eagle feathers, seed beads and bear fur. Don Walske was head of the Vigil group at the time and getting Vigil members to do so many feathers and other parts of the headdress was one of many of projects that they did. Don Walske did the beadwork on the brow and Jimmy Erwin did the beaded dangles.

The members took 250 volunteer service hours to build this special headdress. When finished a picture of it was published in the April 27, 1970, Brownwood Bulletin showing Jimmy Erwin holding up the headdress.

The Lodge Chief's headdress was refurbished in 1991 by Jeff Lee and Mike Barkley. The headdress, with new feathers, was first worn by Perry A. Wakefield, Jr. The headdress has been worn for over 35 years.

In early 2000, the headdress once again went under a major refurbishing job. It was worn by Allowat Sakima for Calling Out, Ordeal, Brotherhood and Vigil ceremonies.