OTHER KEY LODGE OFFICERS
The Lodge Vice-Chief, Secretary and Treasurer have all played a key role in the lodge. For the first eight years of the lodge there were only two elected officers - Lodge Chief and Secretary. The Treasurer's job was handled by the Scout office. In 1952 the Treasurer's job was added to the list of officers and in 1953 the Vice-Chief's job was added.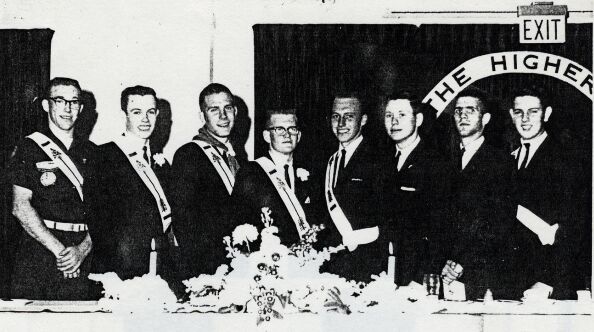 1964 Elected Lodge Officers (L to R): Bill Garner, Jimmy Woods, Morty Lehnis, Kenneth Journey,
Carl B. Sanders, Gary Orloff, Eddie Larner and Don Walske
By 1991 the lodge had expanded to have three Vice-Chiefs - one each for Indian Affairs, Camp Promotion and Activities. In 1999, Vice-Chief of Ceremonies was added. The job of Publications was dropped sometime prior to 1991.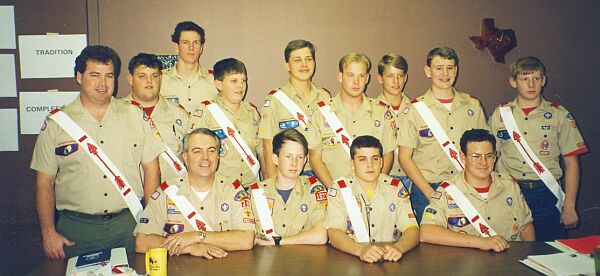 1995 Lodge and Chapter Officer's Training at 4-H Center on Lake Brownwood
Here is a list of those officers that we were able to find from several different sources:
Date
Vice Chief
Secretary
Treasurer
Publications
1945
None
Estes E. Halkias
None
None
1946
None
Bobby Blair
None
None
1947
None
Walter Hart
None
None
1948 -
None
None
None
1949 -
None
None
None
1950
None
None
None
1951
None
None
None
1952
None
Dabney Kennedy
Arlie Brown
None
1953
Dabney Kennedy
Bobby Jack Snow
Arlie Brown
None
1954
None
John Minear
Leo Buckmaster
None
1955
Bryan Healer
James Smith
None
None
1956
James Smith
Don Buckmaster
Allan Pritchard
None
1957
Don Buckmaster
Allan Pritchard
Tom C. Graves
None
1958 -
James Smith
Jan Wall
Gordon Byrd
None
1959 -
Richmond Wilkins
Jan Wall
Gordon Byrd
None
1960 -
Billy Bailey
Jimmy Wilson
Larry Spore
Jimmy Erwin
1961
Jerry Templeton
Jimmy Wilkins
L.V. Benningfield
Jimmy Erwin
1962
Jimmy Erwin
Lewis Smith
Chet Cedars
L.V. Benningfield
1963
Bob Self
Lewis Smith
Jimmy Woods
Rhett Stone
1964
Kenneth Journey
Don Walske
Jimmy Woods
Gary Orloff
1965
Phil Duren
John Stephens
Mike A. Shillingberg
Lewis Herr
1966
Mike Shillingberg
John W. Cunyus
Bob Rothe
John T. Yantis
1967
Thomas A. Brashier
Steve Lund
John Cunyus
Randy Boles
1968
Ernie Meyer
Eddie Leatherwood
Porter Bird
1969
Ronnie Huse
Carl L. Hall, III
Clive McClelland
1970
Gary Walske
Richard McKinney
Fred D. Spencer III
1971
Rickey Masters
Michael Davis,
Stanley Walker, Jr.
Larry Smith
1972
Charles Graham
Phil Watkins
Roy Hash
Frank Griffin
1973
Larry Smith
Scott Morelock
Mark Chastain
1974
James Reed
Matt Keith
Harold Mathias
1975
Pat Leatherwood
Larry Taylor
Mark Bethany
1976
John Allen
Chris Clement
David Martin
1977
Chris Clement
Hugh Keithly
1978
Ronald Shackelford
Jet Hays
Hugh Keithly
1979
Ricky Crenshaw
1980
Ricky Crenshaw
1981
Jet Hays
Charlie Trowbridge
Ricky Wilson
1982
Ricky Wilson
Glenn Deitker
Kevin Johnson
1983
Michael R. Bradle
Glenn Deitker
Dennis Petty
1984
1985
Zack Havens
Steve Gary
Chris Huse
1986
Chris Huse
Dale Herdman
John Hays
1987
Jim Knovicka
Louis Wall, Jr.
Willie Rodriguez
1988
Doug Cox
Gary Peaton
Cory Smith
None
1989
Jim Knovicka
William Higgins
Cory Smith
None
1990
Perry A. Wakefield, Jr.
David Hale, Jr.
Cory Smith
None
1991
Antonio Giustino
David L. Rives
Fritz Quast
Sam Mangrum
David Ford
None
1992
Antonio Guistino
Cody D. Smith
Fritz Quast
Cody Stephens
Domenico Guistino
None
1993
Rusty G. Arnold
Cody Stephens
Birk K. Billingsley
Jason Wakefield
Josh Hightower
None
1994
Kipp W. Koeppel
James H. Hart
Michael Denison
Jason Wakefield
Tracy P. Honea
None
1995
Michael H. Denison
Michael D. Fulton
Bradley J. Maples
Timothy K. Price
Joe M. McCollum
None
1996
James Hart
Aleck M. Griffin
Aaron Carpenter
Timothy K. Price
Trey Reno
None
1997
Aaron Carpenter
Timothy K. Price
Kirt Brown
Jason Carpenter
James "Jay" DeWitt
None
1998
Kirt Brown
Trey Reno
Lee Leatherwood
Jared Gist
Justin Moore
None
1999
Chad Firth
Kirt Brown
Aaron Carpenter
Daryl Phillips
Jared Gist
Jeremy Seifert
None
2000
Chad Firth
Chris Edwards
Kirt Brown
Neal Mann
Jeremy Seifert
None
2001
Charlie Collins
Zack Swann
Joey Ellis
Andrew Rollins
Chris Edwards
Adam Schluckebier
None
2002
Chris Harris
Kendal Teague
Andrew Rollins
Buck Paolino
Neal Mann
Adam Schluckebier
None
2003
Jared Blair
Jon Durand
Andrew Rollins
Chad Iley
Buck Paolino
Chris Harris
None


| Table of Contents | Next Page |