Dr. Power Brownwood's First Scoutmaster
Rev. John Power, LL.D., was Scoutmaster of the first Scout Troop in Brownwood. He received his certificate of commission by the Boy Scouts of America, dated February 7, 1914, No. 815. The certificate read "Having met the requirements prescribed by the National Council of the Boy Scouts of America is hereby appointed to serve as Scout Master #815, Troop #1, Brownwood, Brown, Co. Tex for the year ending September 30th, 1914."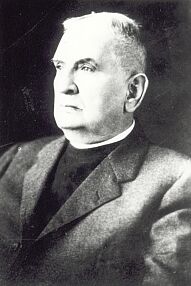 In 1933 he was awarded the first Silver Beaver, the highest recognition for service to boys, in recognition for his work in Brownwood. He was Brownwood's first Scoutmaster, organizing and directing the first troop there long before Scouting was generally established in America. The badge was given to him by T. C. Wilkinson, Jr., a member of the first Boy Scout troop. Other former members of the troop who were present at the ceremony were Bill Armstrong, Ed Hendey and Nat Lowe.
Dr. Power was born in Witerton, England, April 16, 1846. At the age of five, he and his parents moved to Yorkshire, where he received his education at St. John's College, York. For eighteen years he served in the public schools of England.
Dr. Power came to the United States in 1884, staying for a time in New York. For some twenty years, he was rector of various Episcopal churches in Nebraska, before coming to Brownwood, TX in 1904 to St. John's Episcopal Church on Main St. The church still stands there today. He retired as rector of St. John's in 1934 after thirty years of continuous service.
Around 1910 he started writing a "Column of Shreds and Patches" for the Brownwood Bulletin. He used the column as a means of expanding his influence for good in the area served by the newspaper. He became known locally simply as the "Parson."
With the late Rev. H. P. McCurdy, Dr. Power organized the first Ministerial Alliance in Brownwood and with the late Mayor J. R. Looney, originated the first charity organization. He also helped organized the first Commercial Club, now the Chamber of Commerce, and was a charter member of the Elks Lodge.
He was married to Miss Turner of Lacashire, England, on December 13, 1869. She died in the early 30's. They had one daughter, Agnes Power, who was a teacher in the public schools and founded the first Brownwood High student newspaper. Rev. Power died in Brownwood in 1937 at the age of 91.

---
Last Updated: January 9, 2003
Return to Brownwood First Scout Troop - 1911
Return to Home Page