1914 Sonora Scout Troop
Roy E. Aldwell, Sonora, Texas banker, organized the second Scout troop in the council in 1914. An account of this troop appeared in a letter written by Aldwell in the Devil River News some time in the Spring of 1915. The letter, titled "TO THE PUBLIC", was found by Mrs. Jo-Ann E. Palmer, Sonora, January 1990, while she was looking through a box of old photos given to the Sutton County Historical Society.

"Last September at the commencement of the Public School I started the Boy Scout Movement in Sonora, but it was October the 25th, 1914, before I had completed my arrangement of enlisting the boys with the Boy Scouts of America. Since that time I have devoted a great part of my spare time with these boys trying to instruct them in Scout Craft. At first I did not know whether the movement would last for any length of time, and would not permit the boys to buy uniforms for about a month after we had started.

A news story appearing in the Devil River News on November 14, 1914, commented on the new uniforms the Boy Scouts had worn to school. I wanted to see if they intended to stay with it, and profit by the instructions they were given. The public knows whether the boys have been benefited by the instructions they were given. Since the organization of this movement it has grown from 24 boys to 37, and only a few have dropped out."

Aldwell, in his letter, asked the public to financed the Boy Scout troop himself. He estimated that the provisions and equipment for the forty-five boys and men would cost between $200 and $300. A list was provided the public so that they could subscribe any amount that they felt like contributing to the cause. The $300 was raised in time for the camp.

Another story in the Devil River News, dated February 8, 1935, on the front page, gives a good account of their camp. The Scouts hiked a distance of about 25 miles East of Sonora to Camp Allison located near Fort Terret.

There was no particular planned program held during the week of Camp. They spent most of their time swimming and fishing. Mr. Aldwell related that Rufus Ward got a "dowagiac" in his leg but was able to go back into swimming after a few minutes. He also said that the mothers were horrified when they found out that some of the Scouts had eater canned corn the first night at camp before it had been heated. He told the parents that the boys were just too hungry to wait until their food was heated properly.

Jo-Ann Palmer, in checking with John F. Eaton, Sonora historian and Scoutmaster of the Sonora Troop form 1928-1935, said that Eaton remembered Tom Davis and Delma Smith telling stories of the camp on the Llano and how they walked all day to get there. He remembers that the Scouts carried 6-8 ft. long bamboo poles with them that they would lash together to form a tower and then climb it.
Joseph Vanderstucken
Remembers Camp on Llano River
Joseph VanderStucken, Sonora, remembers hiking to Camp Allison for summer camp. They took along a "hard rubber" tired truck that carried all the provisions and gear. The Scouts hiked for two days to reach the camp. On the second day, several of the other Scouts, including himself, received permission to hike ahead of the other boys as they knew where they were going. Upon reaching the Llano, they stripped and went swimming even when the knew that they weren't supposed to.

When Roy Aldwell arrived at camp and found out about it, he whipped each boy for going swimming without his permission! He remembered that provide funds for the troop to buy equipment for a one-week campout they would be having in June 1915 on the Llano River (Camp Allison). Up until that time, he had whipping some 75 years later when he told this story to the author on January 18, 1990.

VanderStucken, and his wife, had been benefactors of the Council for many years. In addition, they had been generous to the West Texas Boys Ranch and donated land to the El Camino Council, Girl Scouts, for Jo Jan Van Girl Scout Camp located near Vance, Texas. They were active members of the Sutton County Historical Society.
One Becomes President
Joe B. Ross, a member of Patrol No. 3 of the Troop, later became President of the Concho Valley Council, and served in that capacity from 1954 through 1955. He was one of the only three Presidents from outside San Angelo to serve in that position.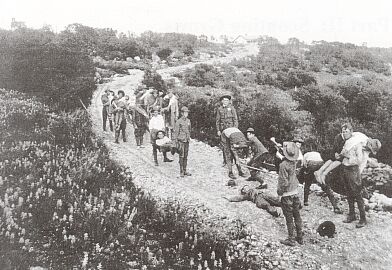 Here is a photo of the troop, taken in about 1915, showing the troop working on first aid on the road to the water works. Note the Scout with the bugle in the right hand corner.
The group met in the lower hall of the Masonic Lodge. At the start of World War I, the Scouts collected Spanish Walnuts for the army. These were burned and the charcoal from them were used in the manufacture of gas masks.
Aldwell told about the time he trained the boys how to use a whistle that each Scout carried with him. They were taught to assemble as quickly as they could when several whistle blasts were sounded. Everything went well until one of the youths sounded his whistle during a revival service one night and all the kids "went places." It seems that after that incident the troop "seemed to start the other way." He never did try to find out who the Scout was.
The troop continued on for two more school years and for one reason or another was dropped. Woodie Martin did his best to keep the troop going and an attempt was made by Jim Buchanan in 1917-1918 to revive the troop. Another attempt was made some two years later, but it too failed. Finally, in the early part of 1928, the troop was once again organized. There were only some six boys who attended and were called the "noble six", under the leadership of Scoutmaster Carroll Stephen. He kept the troop for a year and gave it up to serve on the Troop committee. The Scoutmasters to follow him were Reese Hill, A. C. Elliott, R. V. Davis and C. B. Foster. Finally, John Eaton was appointed as Scoutmaster and for the next several years the troop prospered and won 1st place in competition after competition.
Leadership and Scouts Listed
Here is a list of Leadership and Boy Scouts of Sonora, Troop No. 1, as listed in 1915 newspaper story:

Troop Committee -- Dr. J. F. Peck, School Superintendent; Dr. H. R. Wardlow, medical doctor; and R. H. Martin, sheriff.

Troop Leadership -- Roy E. Aldwell, Scoutmaster; Prof. I. B. Peck, math teacher and the superintendent's son; Prof. Seth Wagnon, history teacher; and Fred Simmons, partner in Sonora Motor Company; Assistant Scoutmasters; Herman Huebner, blacksmith and "troop leader"; Hiram V. Stokes, troop scribe.

Patrol No. 1 -- A. B. Stokes, patrol leader (second class); Wade Grimland, assistant patrol leader (second class); Harvey Moris, Collier Shurley, Joe Martin, Basil M. Halbert Jr., (second class), Alfred Cooper.

Patrol No. 2 -- Will Adams, patrol leader; Willie Miers, assistant patrol leader; Justice Adams, Ben Martin, George J. Trainer, Jr., Joseph VanderStucken, Ariel Wardlaw.

Patrol No. 3 -- Emmitt Archer, patrol leader; Joe B. Ross, assistant patrol leader; Durad Archer, Edmund Alley, J. V. Alley, Merrill Bodenheimer, Fordie Beard (second class), Earnest Parton.

Patrol No. 4 -- Delmar Smith, patrol leader (second class); Henry Decker, assistant leader; Wallace Davis (second class), Birdwell Davis, John Fields, Homer Parker, Tom Davis.

Patrol No. 5 -- Rufus Ward, patrol leader; Joe North, assistant patrol leader (second class); Jim Merck, Justice Pinkston, Millard Bryson, Miers Savell.

Several additional names were added to the troop in the 1935 newspaper story. They were: Harry Sharp, Fred Smith, Emile VanderStucken, Willie Adams, Jesse E. Martin, and Libb Wallace.

---
Last Updated: January 16, 2003
Return to Home Page