Eagle Scouts of
Comanche Trail Council

1929-31,1932-39,1940-44, 1945-49, 1950-54, 1955-61, 1962-66, 1967-72, 1973-78, 1979-86, 1987-93, 1994-99, 2000-2001, 2002
Eagle Scout Group Formed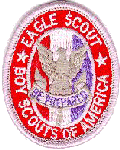 A call went out to all Eagle Scouts of the Comanche Trail Council in October 1929 to meet with the Scout Executive to form an Eagle Club. The purpose of the group was service and the Eagles were used to promote Scouts earning the higher ranks in Scouting and to serve as special instructors. The group named themselves the "Tah-Ko-Dahs" Eagle Scout Society and met regularly with the Scout Executive.
Another thing that the Eagle Scouts did as a group, in the 30's, were to have an Eagle Scout Camp every year after Christmas. The camp ran for three days and was held at Camp Billy Gibbons. They usually did service projects during the time they were there. They were responsible for building the memorial to Billy Gibbons after his death. Only Eagle Scouts could attend this special camp.
The Search for Eagles
All Eagle Applications in the council office were gathered up and placed in one file cabinet in the Scout office in 1994. Under the leadership of Hilda Griffin of Comanche, the basic information about each Eagle Scout was put in a computer program. Since that time, every source available to the council has been searched in an effort to add to that first list. This list includes new names found while searching microfilm stories for this book, from old individual record card files in the office, as well as in old unit charters .

As a results of this search, the former Comanche Trail Council was one of the few councils in America that had a fairly complete listing of all the Eagle Awards presented in a council. One could access the file by unit, town, year or name. The office even had the original copies of most Eagle Applications from 1928 forward. This office is now known as the Brownwood Branch Office of the Texas Trails Council. However, the office still has all the old Eagle records. They also have a CD-ROM disk from the National Eagle Service that has a listing of all Eagle Scouts through 2001 from the former Comanche Trail Council.
First Eagles
Carl Rotramel was the first youth Eagle Scout of the Oil Belt Council. He joined Troop 3 on April 7, 1927, at the age of 14. He became a First Class Scout by June 28, 1928. He received his Eagle on June 22, 1929 and completed his Bronze Palm in 1930. Rotramel was the first "Honor Camper" at Camp Martin.

Rotramel moved to Commerce, Texas in 1931 to attend school there and joined Troop 25 of that community. By September 1931, his family once again moved, this time to Cumby, Texas, where his father was superintendent of schools. He was to finish high school there and attend the University of Texas in the fall of 1932.

Thomas H. Foley, Assistant Scoutmaster of Troop 1, Cisco, and an adult, earned his Eagle rank on January 7, 1929, at the age of 21.

Charles Rutherford, Troop 15, Rising Star, who received his Eagle in 1930, had earned the Silver and Bronze combination pin on May 2, 1932, for having earned forty-one merit badges.

Oswald Daugherty was the first Eagle Scout of the Pecan Valley Council. Daugherty joined Troop 5 in October 1925. He became a First Class Scout in Troop 5 in January of 1926, two years before Pecan Valley Council was organized. His Eagle was approved on July 26, 1928, by Jack Brumberg, Scout Executive. He received his award during summer camp at Camp Ellis. He went on to get his Bronze, Gold and Silver Palms, earning the Silver on April 6, 1930. By October he received his fourth palm and had now earned 52 merit badges

We know that he was appointed Junior Assistant Scoutmaster in Troop 5 in November of 1927. During 1927 and 1928, he was "Editor-in-Chief" for a "Scouting In Brownwood" column in the Brownwood Bulletin. In the summer of 1929, Daugherty attended the World Jamboree at Barkenhead, Liverpool, England, a trip of eight weeks. Daugherty suggested the name "Comanche Trail" for the new council in 1932. He later became the Sea Scout Chairman of the Council and later moved to Dallas in 1937. The last time that anyone heard from him was in November 1982 when he visited the Council office in Brownwood. At that time he was living in Ithaca, NY.

Another Scout, Levie Olds, was the earliest known Eagle Scout living in this area. He earned his Eagle in the Alamo Council, San Antonio on November 6, 1926, and joined Troop 2 after moving to Brownwood. Olds was later to become a rancher, lawyer and District Judge giving distinguish service to Brownwood, Texas.

Here is a list of all the Eagle Scouts that we have a record of from 1928 through 2002. We have tried to place them in the unit in which they earned their award. In 2003, the Comanche Trail Council combined with the Chisholm Trail Council to form the Texas Trails Council.

Key to list: T-Troop X-Explorer Post S-Ship
LS-Lone Scout (A)-Earned as adult
SE- Scout Executive C - Crew