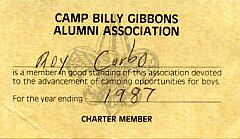 Interested Scouters of the Comanche Trail Council began the Camp Billy Gibbons Alumni Association in 1987 to provide an opportunity for those with a special interest in Camp Billy Gibbons to give a dedicated gift of $25 dues, each year, to Camp Billy Gibbons Maintenance and Program Enhancement. This money allowed the council to buy program supplies and to do maintenance on the camp over the years. The dues were paid each January and deposited in a designated fund until used for the camp.

There were 66 Charter members the first year of the Association. Each member received a special "Charter Member" membership card. This special "Charter Member" card was issued each year that the member paid their $25 dues. According to Roy Curbo, the first meeting, to organize the Association, was held in the OA Lodge at Camp Billy Gibbons.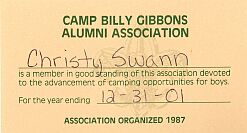 The following year, and thereafter, members who joined the Association received a different card from those who were the original Charter members. On you right is a sample of the card.
To become a Camp Billy Gibbons Alumni Lifetime Member a person made a onetime gift of $500 to the Trust Fund of the Council. There were eleven Lifetime Members and several others who were paying $100 a year toward their Lifetime Membership.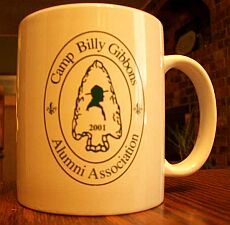 In 2001, Hubert Swan of Brownwood, had a coffee mug made, designed by Shirley Teaque, to give to all those who signed up in the Alumni Association for that year.
During the 12 years the Association existed, over $10,000 was used by the camp and some $5,000 given to the Trust Fund of the Council.
The group existed up until the Comanche Trail Council consolidated with Chisholm Trail Council to form the Texas Trails Council on January 1, 2003. At that time, the Alumni Association was disbanded by the new council as they did not want money given for a particular camp, but to the council to be used in all the camps owned by the Texas Trails Council. The last Chairman of the Alumni Association was Perry A. "Butch" Wakefield of Stephenville.