Here are more photos of Scout Troops taken while they were at summer camp at Camp Billy Gibbons. The troop setting, as you can see by these troop photos, was very informal. Scouts in the troop paid a fee for a copy of the photo which was normally delivered on the last day of camp.
We do not have the identify of some of these troop photos as to what troop they were. Some others we do not now what year they were taken as the envelope they were found in had no date. Any information on a given photo will be greatly appreciated and can be sent to the webmaster. His e-mail address is found at the bottom of the home page of this web site at HOME PAGE
Troop 101 Cisco (1940's)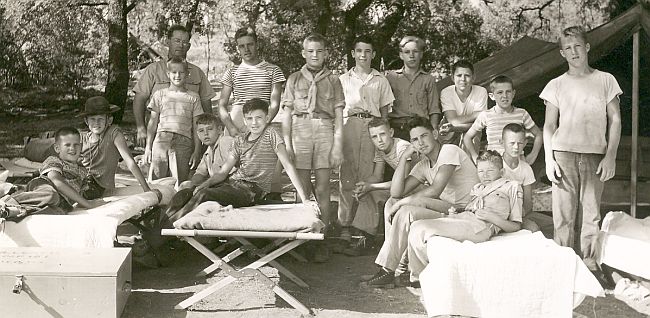 "Guy on the cot, leaning back on his elbow is Charles Prater."
"Going around, starting with Charles Prater, leaning back on pillow, after him, is Paul Woods, and fourth one, with dark hair sitting on the other cot is Franklin Leach and sitting on the next cot, with big black hat is Joe Christa. Standing in the back, the tall boy in the white shirt is Sutton Crofts, then Balford Balblum."
Note: Information provided by Barbara Clower.