Buffalo Trail Council's 1932
Summer Camp at Camp Fawcett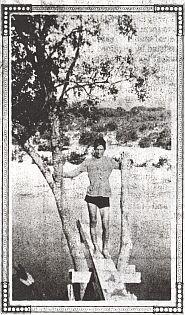 This photo was taken of Joe Pickle, Scout in Troop 5, Big Spring, at Camp Fawcett, also known as Camp Barksdale, in 1934. From stories in the Big Spring (Texas) Herald, February 8, 1985, we know that Joe Pickle, Troop 1, Big Spring, attended this camp and that Clyde Thomas, Jr., also of Troop 1, Big Spring, served as aquatic instructor at the camp that summer. We know that the council had camp there in 1932 do not know if they held summer camp there in 1933 and 1934. The caption under the photo to the left stated that "This historic photograph captures a youthful Joe Pickle at Camp Barksdale in 1934. He was a member of Troop 5."

The Buffalo Area Council, in its early days, utilized other council's camps for their summer camp. They would bring their own camp staff, or used some of the council's staff that they camped in, and then provided their own program. In the 30's the Council rented space from other councils. Camp Fawcett near Barksdale, TX in 1932; Camp Louis Farr outside of Mertzon, TX; Weed, NM; Balmorhea State Park at Balmorhea; Madera Canyon; Indian Lodge in the Davis Mountains; Camp Post at Post, TX; Big Springs State Park; Fort Stockton and Lake Sweetwater were other places the council held summer camp.

In 1941, just before World War II, the council went back to Camp Fawcett for another summer camp. It is said that this was the most successful camp they had up until that time. By 1948, the council had opened Buffalo Trail Scout Ranch and all their summer camps were held there.

Below are four photos reproduced from postcards, provided by Robert Frizzell of San Marcos, TX, of Scouts at Camp Fawcett (Camp Barksdale) in 1932. The Buffalo Trail Council utilized many different places to hold their summer camp in the 1930's. In 1932, their summer camp was held at Camp Fawcett, near Barksdale, TX, a camp of the then Southwest Texas Council. Barksdale is some 40 miles north of Uvalde, TX. The camp was opened in 1928.

In front of dining hall prior to screening placed around it.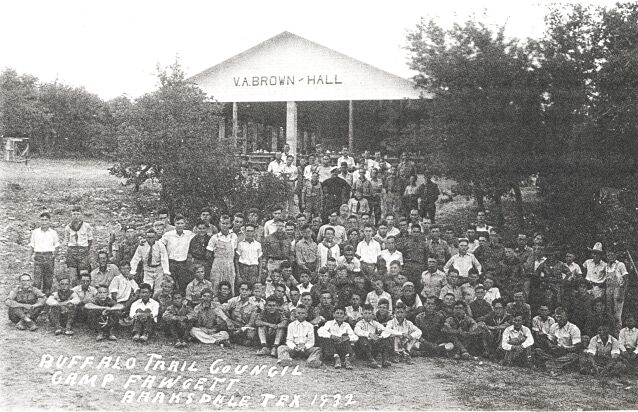 Photo in front of dining all which is still used at Camp Fawcett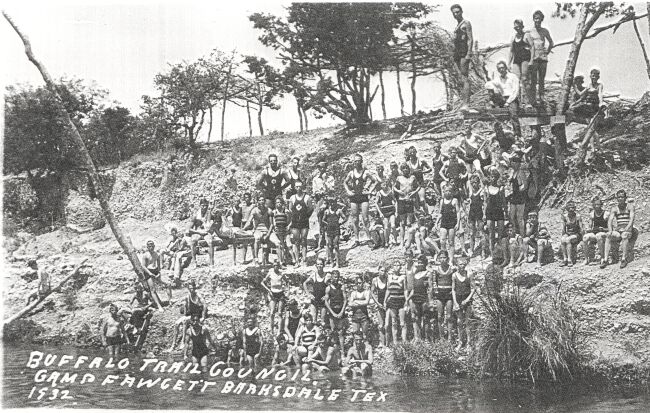 Taken at swimming area on Nueces River at Camp Fawcett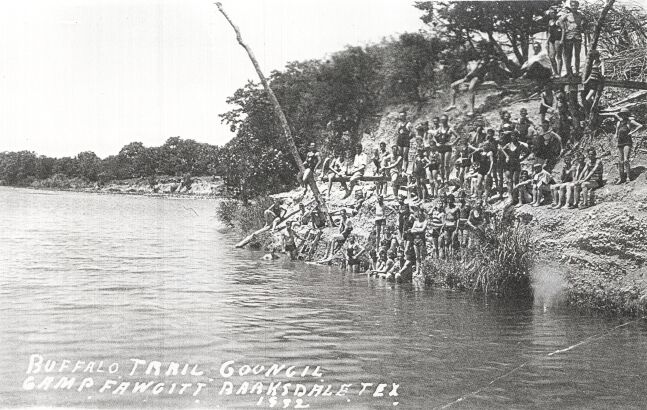 Lots of water to swim in the Nueces River at Camp Fawcett in 1932

---
Return to Other Buffalo Trail Council Camps
Return to Home Page