1950 Jamboree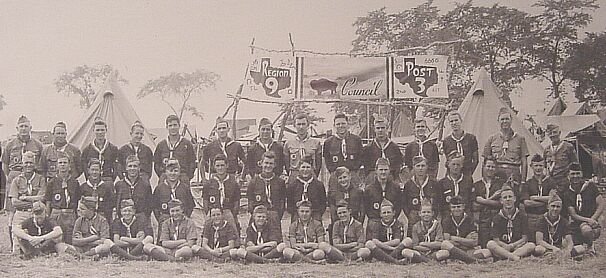 Photo of Post 3 Section 13 Region 9
Standing Left to Right: J. M. McDonald - Midland, Thomas B. "Dugan" Longbotham - Monahans (Advisor), Donald Webb - Midland, Lee Snead - Midland, Louis Eisenwine - Pecos, Jerry McDonald - Midland, Robert "Bob" Pine, Jr. - Midland, Jerald Fugit - Odessa, Tommy Longebotham - Monahans, Charles Shepherd - Midland, Hollis Long - Mondhans, Merchand McDougal - Pecos, W. R. Upham - Midland, Joe L. Atter - Pecos (Associate Advisor)
Second Row: Henry Norris - Big Spring (District Executive), Paul Snelson - Monahans, Leon Kingston - Kermit, Billy Wayne Patterson - Pecos (Quartermaster), Farrer Hedges (FEE) - Midland, Tommy Orr - Odessa, James "Wahoo" Hargraves - Pecos, George Friday - Midland, Robert Parker - Monahans, Jack Hopper - Pecos, Dick Blendon "Tex" - Andrews, Billy Joe Dulin - Pecos, Bennet Wight - Kermit, Fred Gist - Monahans, (Associate Advisor)
Front Row: Henry Burton - Andrews, Ronnie Nunley - Mondahans, Grantland Groves - Odessa, Morris Wiliamson - Snyder, Lanny Ice - Monahans, Harold Whitling - Kermit, James Rudy - Monahans, Parker Roe - Monahans, Joe Mac Banks - Monahans, Charles Stubblefield - Pecos, Joe Gib Hanson - Monahans, Jim Sam Camp - Pecos, Richard Clark - Monahans.
Source of Picture: George Friday and/or Fred Gist (roster). Memorial Arch (not seen) to the right rear looking South. Photo taken in the morning.
Three troops of Scouts participated in the 2nd National Jamboree, held in 1950, at Valley Forge, PA. They were camped in Section 13. The leaders of the three troops were:
Troop 3 (Post 3)
T. Y. Longbotham, Monahans, Scoutmaster
Clyde A. Johnson, Midland, Assistant Scoutmaster (Note: Photo above shows Neil Pointer, Pecos, to be the AS)
Joe L. Atter, Pecos, Assistant Scoutmaster
Troop 4
Roy Downey, Odessa, Scoutmaster
J. C. Bobo, Kermit, Assistant Scoutmaster
L. E. Harvill, Odessa, Assistant Scoutmaster
Troop 5
Sherman Hart, Colorado City, Scoutmaster
Phil Burns, Snyder, Assistant Scoutmaster
One of the Scouts, name unknown, wrote the following in his Jamboree Dairy about the 1950 trip to and from the Jamboree:
June 26, 1950, we got to St. Louis about 1:30 p.m. We laid over there for about two hours. We had dinner on the lawn of the courthouse. We saw the Mississippi River. The railroad track ran beside it for about 20 miles, it is the biggest river that I have ever seen. We bought souvenirs there, and we switched engines there too. It is just like I figured it would be, ferry-boats, plantations and other things. Missouri is a pretty state, St. Louis is not very pretty.
We all have to be in uniform when we get off the train. We are now on our way to Washington, D.C. This train sure gets you dirty, it is a coal burning engine, I don't like that a bit. We will get to Washington about 12 noon tomorrow, June 27th.
We got into Indianapolis at 9:15 A.M. We got to Washington, D. C. about 2:30 P.M. We went on a sight-seeing tour, we saw the Washington Monument, the White House and lots of famous places. We saw the Potomac River and went to Virginia and saw Mt. Vernon. We had a nice time there.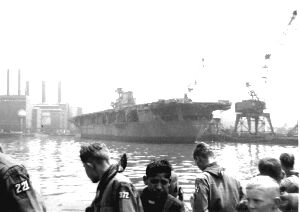 We left Washington about 2 AM. We got into New York at 6:30 AM. We ate breakfast at the railroad station, and then went on a sight-seeing tour. We visited Manhattan Island and part of New York. We saw the Empire State Building, Rockefeller Center and Times Square. We really had a nice time there to. We went on a cruise around Manhattan Island. In the New York Bay I saw some of the biggest ships I have ever seen.
We left New York at about 1 AM and got to Valley Forge at 6:45 AM. We have our tents set up, they are really a colorful sight. It rained most of the day.
We went to bed about 8:30 PM that first night, and got up at 6 AM, ate and cleaned up. At 8 AM we mobilized and hiked to the train, which was about one and a half miles. Then we went to Philadelphia, we had to walk on our tour, and we walked about 8 miles. We saw the Liberty Bell, Washington Square. We had a box lunch at 3 PM. When we got back, we rested awhile and then ate and cleaned up.
July 1, 1950, we got up at 6 AM, ate and cleaned up camp. At 11 AM we were turned loose for the day. We traded and visited other camps. That night one of the Post had a campfire and invited us over. We got to bed at 11 PM and got up at 6 AM That morning we went to church, it was a very nice service and lasted for quite awhile. We had Sunday evening off. At 6 PM we mobilized and went to the Grand Arena for a song service, it was very impressive.
---

Our thanks to Kevin Morris, Midland, for scanning and providing us this photo and to David O'Neil for sending up the list of participants in the photo.
Return to Jamboree Buffalo Trail Council
Return to Home Page