5TH NATIONAL JAMBOREE - 1960
Buffalo Trail Council
Troop 65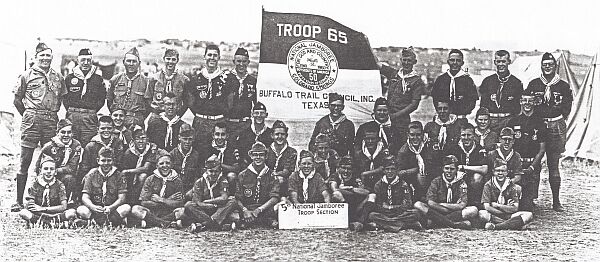 The 50th Anniversary of Scouting in the United States was climaxed at the 5th National Jamboree held at Colorado Springs, Colorado. The Jamboree formally ran from July 22 through July 28, 1960. 56.078 youngsters camped on the J-Diamond Ranch in the shadows of the 14.100 foot Pikes Peak.
Band music sifted across the camp ground, and aerial bombs exploded as 51 flags were raised high over the sprawling site of the National Jamboree of the Boy Scouts of America. The flags represented each of the 50 states, plus the red, white and blue flag of the Nation complete with 50 stars.
The Buffalo Trail Council from West Texas had 227 Scouts and Leaders at the Jamboree. The group flew from the Midland-Odessa Air Terminal to Colorado Springs, and after the Jamboree they returned to West Texas by plane.
The Scoutmasters of the Troops from the Council were; Harvey Hooser, Big Spring, Raymond Hoist, Loraine, Don Campbell, Odessa, Ross Shipman, Midland, and John Brack, Midland. The Assistant Scoutmasters were; A.E. Patterson, Midland, Carl Williams, Alpine, Garrett Patton, Big Springs, Robert Croft, Monahans, Frank Cabiness, Snyder, Bernard Bartels, Snyder, Bob Roberts, Odessa, John Gee, Odessa, James Stone, Midland, Leslie Plumb, Midland, James Dublin III, Midland and Joe Payne, Midland.
It took a lot of food to keep 56,000 Scouts going. In the week the Scouts were at the Jamboree, they consumed 21,000 leaves of bred a day, and 87,360 quarts of milk daily. In eating their meals, they used nine and a half million items of paper plates, cups and assorted other paper items. Cooking was done on charcoal fires, and 16,380 fires were going at one time. The weight of food and supplies transported to the Jamboree site and issued by the commissary department exceeded 2.800 tons, or 97 freight carloads.
A huge fireworks display was set off from the top of Pikes Peak to entertain the Scouts. Screaming through the air at speeds up to 1.200 miles per hour, four supersonic jets, manned by the Blue Angels -- the U.S. Navy's Flight Demonstration Team, treated the Scouts to the greatest precision techniques in naval aviation.
For tvventy wild minutes the Angels put their swept-wing FIIF-1 Tiger Jets through echelon rolls, diamond loops, barrel rolls, split S's, and the thrilling and intricate fleur-de-lis break-up. The Scouts also got to see a real live Wild West Rodeo, and most of them turned out for the show.
There were Scouts and their leaders at the Jamboree from all over the world. President Eisenhower made a motor tour through the jamboree area, and was cheered by thousands of Scouts. On the last night of the Jamboree, there was a giant "Birthday Party", portraying the history of Scouting.
Go HERE for a another story on the 1960 Jamboree as told by Leon Broughton.

---
Information for this page and quotations were taken from West-Texas, Cubs, Scouts and Explorers, by Olan B. Draper.
Last Updated: January 7, 2003

Return to Jamboree Home Page
Return to Home Page