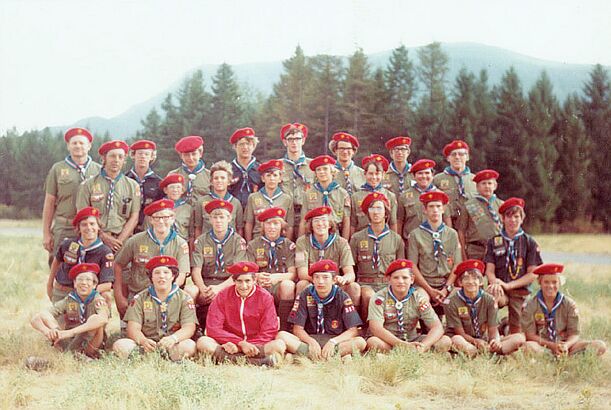 Troop 567-2 West
Area Youth, Leaders Attend Two National Scout Jamborees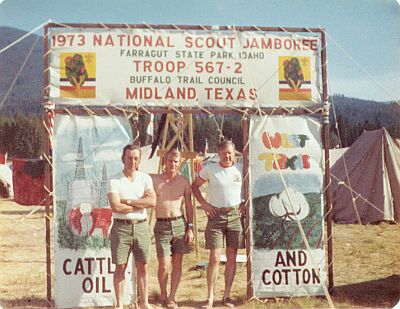 More than 100 boys and 14 adult scout leaders of the Buffalo Trail Council will attend the National Boy Scout Jamboree during the next three weeks at one of two sites, either Jamboree East ar Moraine State Par k in Pennsylvania or Jamboree West at Farragut State Park in Idaho.
The Jamboree East contingent left Midland Wednesday for Pennsylvania by chartered bus. On the way they will take in sights such as the Cowboy Hall of Fame, Abraham Lincoln's home, Valley Forge and Niagara Falls.
Attending the Jamboree East fest from Midland are Alex Wallace, Ted Kerr, Richard Schmidt, Rick Warren, Thomas Marshall, Rick Don Parsley and adult leader Alford Havens.
Those in the contingent from Odessa include Charles Stephens, Robert McKinney, Keith Spence, Ted Spence, Mark Cooper, Charles Cooper, Earl Shaw. Billy Shaw, Thomas Schrader, Donald Mitchell, Dennis Neely and Mason Shurley.
Also, Duane Donaway, Craig Smith, Pat Truex, John Hudson Price, Michael Chandler, and two adult leaders, R. G. Hungerford and Hubert Donaway.
The Jamboree West contingent, which leaves Midland Friday for Idaho, will see the U.S. Air Force Academy, Yellowstone National Park, the Great Salt Lake, the Grand Canyon, the Petrified Forest and the Painted Desert.
Attending from Midland will be John Ruwwe, Jerry Edgerton, Rich Gaines, Stephen Stovall, Scott Brown, Kurt Nicholas, Timothy Kinney, David R. Buck, Bryan and Kelly Eng, Steve Burleson and Tom Frenzel1.
Also, Charles Lively, Mark Lively, Date Land. Eddy Henry, Joe M. Primera, Trey Boyd and two adult leaders, Jimmy R. Stovall and Bob Gaines.
Attending from Odessa will be Bill Herbert and adult leader Harold L. Drummonds.
Andrews boys making the trip will be Bryce King, David Vickers, and Ricky Kyker.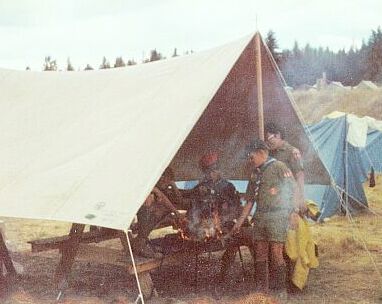 A Tarzan youth. Mark W. Tate, will also attend.
Other troops in the Buffalo Trail Council will attend the Jamboree West, though not by chartered bus.
Those going from Odessa include Kith Galt, Randy Buckner, Noe Franco. Robert Fries, Jaime L. Hernandez, John Humphrey and Mike Melot.
Also, Kelly Startz, Richard Torrence, Robert James, Colin Belt, Charles Atchley, Charles Gibbs, Steven Chappel, Chad Cotton, Dirk Cotton, Justin Davis, and Robert Duncan.
In addition, David Jordan, Bobby Corkle, Allen Pitt, Joel M. Rees, Luther B. Weathers, and four adult 1eaders, Jack Jordan, William R. Ford, Elmer Startz and Robert James.
Attending from Big Spring will be Craig Chiavetta, Tim Hunnicut, Sam Hunnicut, Mark A. Jones, Mark A. McBride, George H. Sheldon, Mark Taylor, and Raymond Torp.
Also, Larry R. Wheat, John G. Wrinkle, Rob Rackle, Jackie Young, Brian Jones, Dane Green, George Gillespie, Randy K. Hull and two adult leaders, Otis Bradford and Curtis N. Strong.
Those attending from Andrews will be Charles J. Adams, Joseph N. Kantor, Tye Frisby, and one adult leader, Jim Adams.
While at the two jamboree sites, the scouts will participate in all phases of scouting activities. They will camp out throughout the three-week stay.
Scouts from Jamboree East will return to Midland Aug. Those from Jamboree West will return Aug. 12.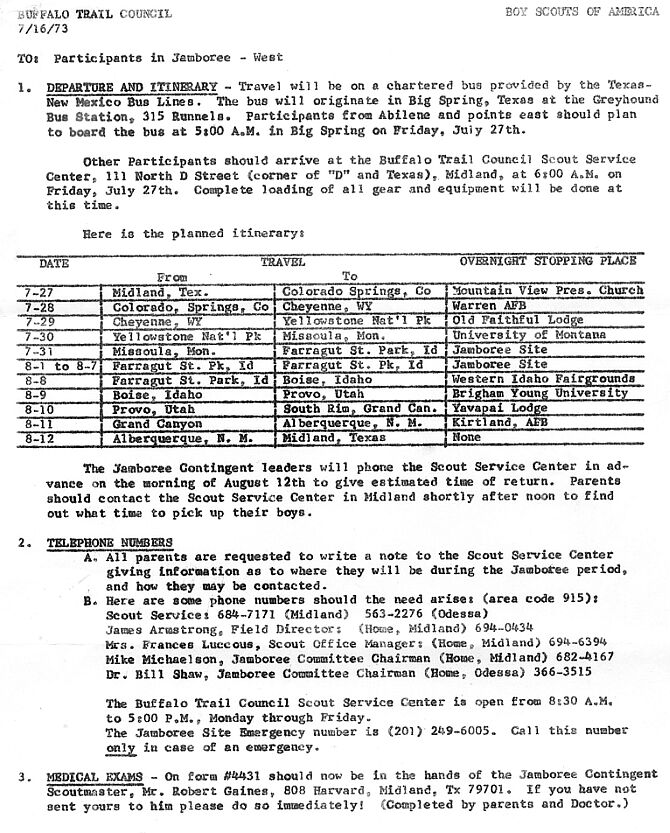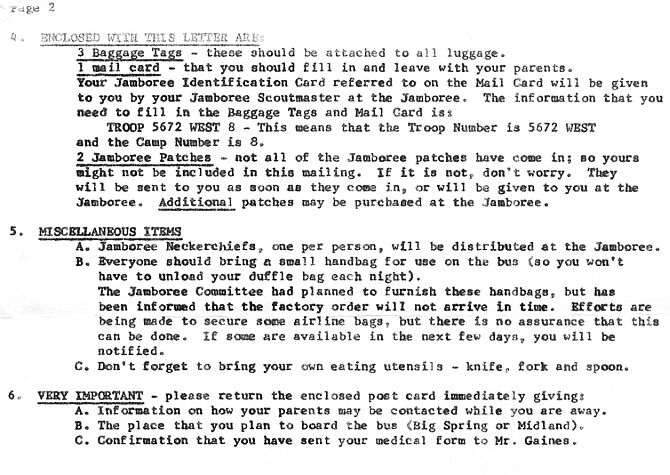 ---

We want to thank Mark W. Tate, formerly of Tarzan, TX, now of Ithaca, NY, for providing us with the photos of Troop 567-2, the newspaper story from the Midland Reporter-Telegram, of the group going to the Jamborees. Also, the itinerary and map of the Jamboree West. Tate is the second from the right on the front row of the photo.

Return to Buffalo Trail Jamborees
Return to Jamborees
Return to Home Page