On a hot and clear June day, the Scouts assembled
at the Pegasus Scout Camp, in South Midland County,
to perform their Jamboree Shakedown.
Tom Florer gives instructions to some of the other members of Troop 788 during the Shakedown.

Scouts practice their troop parade marching skills at
the Shakedown.
Troop 788 practicing their camp flag ceremony at the Shakedown.
(L-R) John O'Grady, Tim Florer, James Busby, Tom Florer and Mike Koen seem pretty awake for their 5:30AM troop meeting before getting on their American Airlines 7:00AM flight to Washington D.C. on July 17, 1985.
A Local News Crew interviews a few of our Troop Leaders during our Washington D.C. tours.

Troop 788 taking it easy after visiting the National Zoo.

Troop 788 waiting to take our tour of the Capitol Building.

We visited the office of our U.S. Representative, Larry Combest. Representative Combest wasn't in His office at the time, but we caught up with him on the steps of the Capitol.
We asked the Congressman's Staff if we could sit in his chair and put our feet up on his desk. They said, sure, but Tim Florer was still a bit nervous about doing it.

(L-R) Colt Rogers and James Busby seemed a little more comfortable with the idea.
Our next stop was the office of Senator Phil Gramm. Here
the members of Troop 788 are greeted by the Senator in
his reception room.

We told the Senator about our exploits in Congressman Combest's office...and the Senator said we were welcome to put our feet up his desk too. Here James Busby takes him up on his offer.
(L-R) Tim Florer, Armando Subia, Tommy Hill, Jr. and Nick Tynes wait their turns to sit at the Senator's desk. Yes, Tim put his feet up on the Senator's Desk.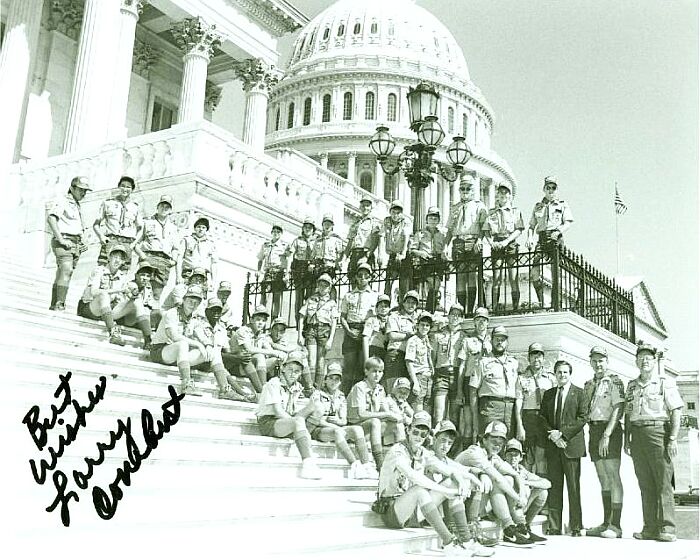 Congressman Combest may not have met us in his office, but he did meet us on Capitol Hill and sent each Jamboree participant this nice signed photograph taken on the steps of the Capitol.
Troop 788 members mill around outside the White House
after our tour.
Here the X-15 hangs in the Air and Space Museum. Several of us burned a couple of rolls of film here.
Here the Honor Guard at the Tomb of the Unknowns prepares for a wreath laying by a Turkey delegation.
The delegation from Turkey is escorted to the Memorial Amphitheatre.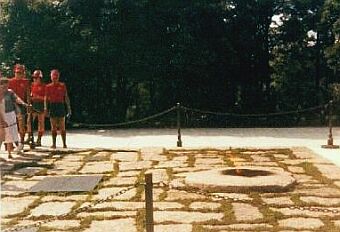 Troop 788 members view the Eternal Flame at John F. Kennedy's grave site.
Troop 788 visited many other sites in Washington D.C. which did not allow cameras, or pictures were not taken. These included:

The National Archives
The FBI Building
Inside the White House
The Smithsonian Museum of Natural History
The Library of Congress

At the National Archives, a couple of our scouts didn't heed the "no flash photography" and were whisked away by security. Many of us thought they were going to be arrested. They weren't arrested, but they did get a real firm talking to and had their cameras confiscated. Our unit leaders had to retrieve their cameras after our tour was over.

For many of us West Texas Boys, being in Washington D.C. was our first opportunity to ride a subway. The D.C. Metro system was pretty awesome.

The only snag we had during our Washington D.C. tour was at our hotel. The Harrington Hotel played host to several jamboree contingents and eating in the Harrington cafeteria was included in our room rate. Well, the cafeteria had some major equipment problems during our stay and had to be shut down. Imagine hundred of scouts flooding the nearby fast-food restaurants on the few dollars the hotel refunded us!
| | |
| --- | --- |
| After Washington D.C., we went to Philadelphia. Here Mike Koen is taking a picture of Independence Hall while we wait outside the Liberty Bell Pavilion. | |
| | This is the Liberty Bell. While admiring the Liberty Bell, James Busby asked the Guide if he could take a picture of the clapper. The guide said they couldn't see why not…... |
| Here is a view *inside* of the Liberty Bell. | |
| | Inside Independence Hall where the our founding documents were drafted. |
While in Philadelphia the Troop also visited:

The Portrait Gallery Second Bank of the United States
Franklin Court (Franklin Museum and Postal Museum)
Ben Franklin's Grave Site
Christ Church

The Troop left Philadelphia to tour the U.S. Naval Academy and the Maryland Statehouse in Annapolis, Maryland. After Annapolis the Troop spent the night in Washington D.C. The morning we went to Jamboree we first stopped Mount Vernon and took the tour of George Washington's home.
Here was the gateway for Subcamp 16. The thing that
brought us here everyday was FOOD.
A picture of the Sea of Tents in an around our Troop Campsite.

The Adult leaders of Troop 788 just passing the time.

All of the Subcamp 16 Scouts attending the South Central Region Show.

James Busby takes a break from his cooking duties.

The Apache Helicopter which was to be on static display for the day flew over our camp every morning and night. It was a very popular site.
On set-up day at the Jamboree each patrol in every troop was instructed to dig a liquid waste sump for things like our dishwater. Well, we happened to be camped next to a Troop from the Quachita Area Council in Louisiana. This troop had a rather large scout who was intent on digging a sump as deep as the handles of a post-hole digger.

He started the sump out fast and after a few feet he hits something hard. Not to be deterred by this obstacle, he raises the post-hole diggers way above his head, and heaves them into the hole with all of his might. As he bends over to retrieve the post-hole digger, he is blown back by a large stream of water. Everyone in our camp who had been watching this spectacle realized he had just broken a four (4) inch water line! It would have been funnier if he had just flooded his own camp, but soon our whole troop was digging a ditch to keep our camp dry!

Little did we know that this Scout had done us a BIG FAVOR. For in a few short days, Hurricane Bob would drench the Jamboree and at least we had a drainage ditch around our campsite.



Our campsite looked OK after Hurricane Bob. We had a few wet sleeping bags, but all of our tents survived. The Army issued blankets to those who needed them and local laundries and the military got all of our sleeping bags dried by the next day.

Mark Burdett and James Busby stand next to Sam Howell's famous sign.

Fort A.P. Hill:
Hurricane Bob Disaster Area.

Dear Mom,
788 OK
Dear Lord Baden,
We are Prepared "Kinda"
Dear Lord,
Why

This sign by our gateway was picked up by the AP and published in several newspapers around the nation.

The files below are in Adobe Acrobat
For a schedule of Troop 788 trip go HERE
To view Scoutmaster's PreJamboree letter go HERE
---

Our thanks to Kevin Morris, Midland, for scanning and providing us the group photo from the Buffalo Trail Council office. And to James Busby, Jesse Smelser and Tom Florer for providing us with the names of participants. Also to James Busby who provided us with all the photos of the trip and captions under the photos.

Return to Jamboree Buffalo Trail
Return to Home Page