Participants in the 2001 National Jamboree
Buffalo Trail Council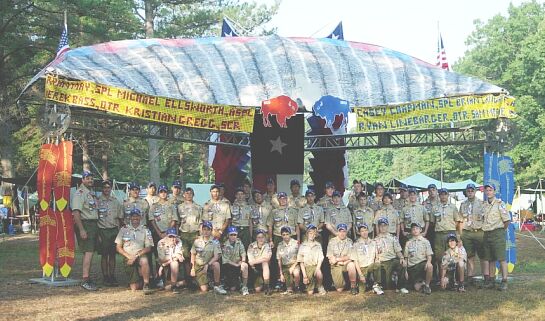 Troop 1818
Leaders
Scoutmaster - Chip Chapman Midland
1st Asst. SM - John Balden Midland
2nd Asst. SM - Mike Turner Odessa
3rd Asst. SM - Mark Harding Odessa
Senior Patrol Leader - CaseyChapman Midland
Assistant SPL - Brian Langhoff Midland
Quartermaster - Ryan Linebarger Midland
Scribe - Sam McBride Midland
OA Representative - Grant Garrison Odessa
Historian - Donovan Owens Odessa
Chaplain's Aide - Marcus Perez Midland
Water Buffaloes Patrol
Patrol Leader - James Barrett Midland
Asst. Patrol Leader - Justin Perez Midland
Zane Cox Midland
Logan Foust Odessa
Marcus Perez Midland
Preston Thetford Midland
Brandon Turner Odessa
Jim Wyche Midland

Vikings Patrol
Patrol Leader - Jonithan Subia Midland
Asst. Patrol Leader -Morgan Farmer Midland
Andrew Kennedy Odessa
Kevin Speed Odessa
Christopher Cliver Midland
CP Findlay Midland
Kyle Farmer Midland
Patrick Truitt Midland


Chiefs Patrol
Patrol Leader - Brandon Sweatt Odessa
Assistant Patrol Leader - Christopher Walton Odessa
Matt Langhoff Midland
Jason Brown Midland
Michael Pena Midland
Bradley Williams Midland
Joshua Harrell Midland
Joseph Barge Kuwait City, Kuwait

Moose Patrol
Patrol Leader - Justin Shanks Midland
Assistant Patrol Leader - Ryan Scott Midland
Grant Garrison Odessa
Wesley Appleton Midland
Kyle Balden Midland
Donovan Owens Odessa
Tyler Shanks Midland
Bryce Nail Midland
---
Troop 1825
Leaders
Scoutmaster - Jay May Midland
1st Asst. SM - Kris Gregg Odessa
2nd Asst SM - Alvey Bass Odessa
3rd Asst. SM - Josh Gregg Odessa
Senior Patrol Leader - Ryan May Midland
Assistant SPL - Michael Ellsworth Odessa
Quartermaster - Derek Bass Odessa
Scribe - Kristian Gregg Odessa
OA Representative - Matthew Ellsworth Odessa
Historian - JC Cooper Odessa
Chaplain's Aide - Kevin Yancey Odessa
Patriots Patrol
Patrol Leader - Alexander May Midland
Asst. Patrol Leader - Joey Kucirek Midland
Brance Armstrong Odessa
Daniel Budke Big Spring
Lonnie Crow Odessa
Nathan Duzan Andrews
Mathew Ellsworth Odessa
Chad Cowdrey Odessa

Pine Trees Patrol
Patrol Leader - Luke Russell Odessa
Asst. Patrol Leader -Adrian Pena Odessa
JC Cooper Odessa
Shane Reed Midland
Marty Stock Odessa
Kevin Yancey Odessa
Brent Yater Big Spring
Tomilee Loyd Andrews

Eagles Patrol
Patrol Leader - Josh Farrow Andrews
Asst. Patrol Leader - Corey Houston Odessa
Hunter Cunningham Odessa
Chaz Hendricks Odessa
Ryan Kelly Odessa
Adam Page Odessa
Richard Savery Alpine
Travis Yarbrough Andrews

Roadrunners Patrol
Patrol Leader - Robert Palmer Odessa
Asst. Patrol Leader - Clayton Loyd Andrews
Cody Dean Odessa
Mathew Gregg Odessa
Vicente Holguin Alpine
Colin Hunnicutt Big Spring
Cole Pool Andrews
CJ Sherrick Odessa

Both Troops in front of National Cathedral
---
Itinerary for Washington DC and National Jamboree.
Troop 1818 departed Midland at approximately 8:15 am Wednesday July 20, 2005, arriving in Baltimore at 3:35 pm.
Troop 1825 departed Midland at approximately 6:25 am Wednesday July 20, 2005, arriving in Baltimore at 1:20 pm.
We tayed at Quality Hotel and Suites in Arlington, VA used the used New World Tours Busline
Both Troops took a private bus to the motel in Virginia where we checked into the motel and got settled. From there we departed from the motel and took the metro for a Baseball game between the Washington Nationals and the Baltimore Orioles at RFK Stadium. We ate at the stadium.
Thursday July 21, 2005 - We had breakfast at the hotel. We toured the White House, the Bureau of Engraving and the Holocaust Museum. The afternoon we had some free time to explore other of the Smithsonians as well as the monuments. That evening attended the Marine Corp parade at the Arlington National Cemetary.
Friday July 22, 2005 - We took Capitol Tour and also got our pictures taken on the Capitol steps. We met with Congressman
Mike Conaway at this same time. Friday afternoon we had free time.
Saturday July 23, 2005 - we eat breakfast in the hotel, then departed by bus for a tour of the embassies. Our final departure that morning was the Udvar-Huzy branch of the National Air & Space Museum where we saw things like the Enola Gay, a SR-71 Blackhawk,the space shuttle, and many other historic birds of flight. There was theIMAX theater in the museum and flight simulators. We departed the museum at approximately back to the hotel. We left for the waterfront at about 5:30 pm for a special dinner that evening.
Sunday July 24, 2005 - That morning we ate breakfast at the museum, then we departed by Metro to the National Cathedral where we had church services, a tour of the Cathedral, and then attended the National Zoo that afternoon. We ate lunch at the Zoo. We hadhaving pizza at the hotel that evening, swimming at the pool, and laundered clothes.
Monday July 25, 2005 - We departed for the Jamboree at approximately 7:30 am by private bus.
July 25 - August 3, 2005 - National Jamboree!
Wednesday August 3, 2005 - We returned from the Jamboree arriving in Midland about 5:55 pm, a tired but a very happy group of Scouts and Scouters.
Page of photos of trip to Jamboree
Link to 2010 National Jamboree Website: http://www.bsajamboree.org/
---

We want to thank Clifford Chapman, Jr., for providing us with the photos use on this page.
Last updated: August 23, 2005

Return to Jamboree Buffalo Trail
Return to Home Page