World Jamborees
Buffalo Trail Council
1971 World Jamboree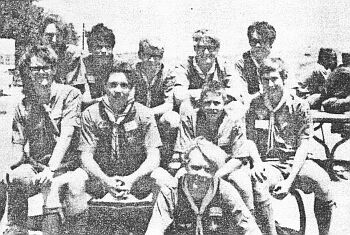 ..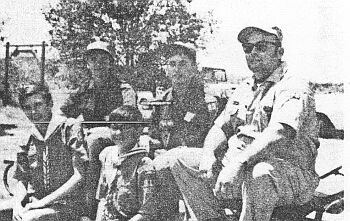 More than 23,758 participants from 87 countries gathered at Asagiri Heights, Japan, August 2-10, 1971 for the 13th World Jamboree. It was the largest gathering of International brotherhood since the 12th World Jamboree in Idaho in 1967 The theme for the Jamboree was "For Understanding." Perfect weather was at the beginning and ending of the Jamboree, but this Jamboree is remembered for the typhoon that hit the Jamboree in the middle. Some sub-camps were flooded and some 16,000 Scouts had to be evacuated for 48 hours.
The Buffalo Trail Council was represented by a delegation of fifteen Scouts under the leadership of Bruno Hanson, Forrest Muire, Jr. of Midland and Ray H. Anderegg of Odessa. Those who attended the Jamboree were Marvin F. Shurley, Charles House, Tom Rahlfs, Dennis Anderegg, Tim Harrison, Randy Yount, Richard Jeffrey Spears, Mark H. Nicholas, Eric Hanson, John Muire and Barcus Hunter.
1983 World Jamboree
The 15th World Jamboree was held in Kananaskis Country, Alberta, Canada using the theme "The Spirit Lives On." 14,752 Scouts gathered near the great Rocky Mountains near Calgary. The Jamboree marked the end of the celebration for the 75th Anniversary of the World Scout Movement. This was also the 125th birthday of its Founder, Lord Baden-Powell.
Seventeen contingent troops from the South Central Region went to this World Jamboree. Those attending this Jamboree from the Buffalo Trail Council were Jerry R. Stephens, Odessa, 3rd ASM, Troop 515; Tommy W. Hill, Odessa, Troop 514; James M. Waddell, Odessa, Troop 514; Michael Steele, Snyder; Kyle W. Vernon, Midland; Steven O. Wilhelm, Odessa, Troop 514; Wade C. Wiesepape, Midland; and Tracy L. Baldwin, Odessa.

---
Updated: April 28, 2004
Return to World Jamborees
Return to Home Page