Photo in Jamboree Journal
"Little Dribble' of Water Too Much For W. Texas Boy"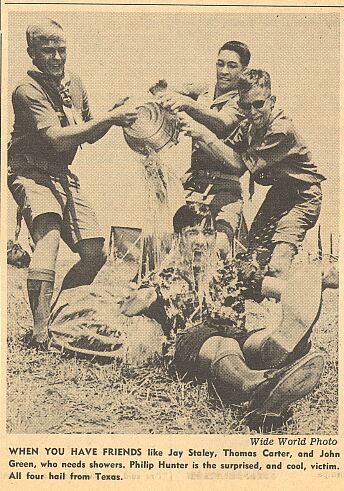 VALLEY FORGE, Pa. (AP)
Fourteen-year-old Phillip Hunter of Uvalde, Texas was obliging.
Sure, he said, why not pose for pictures and maybe get into the hometown newspaper, showing him at the 6th National Jamboree at historic Valley Forge with his fellow boy scouts from Texas.
Phil slicked back his black hair and lay down on the duffle bag. Behind him, clutching a bucket full of water, stood Johnny Green, 14, Ballinger; Jay Stanley, 17, San Angelo, and Thomas S. Carterm 16, Mertzon. "Hey, what are they gonna do?" asked Hunter.
"We're just gonna dribble a little water on your head, like we're scaring you," said Stanley.
The photographer said "smile, I'm ready" and that's when the bucket turned over completely, drenching Hunter from head to toe.
"Just wait until tonight," young Hunter said, laughing, and smoothing down his dripping uniform. "I'll get you guys."
His buddies in Jamboree Troop 71 of the Concho Valley Council laughed too --- and that night they sat together in the swapping tent trying to pick up a few prize trinkets to bring home to Texas.
All is not horseplay at the jamboree. It is full of scouting work, and scouting lore.
Joseph A. Brunton, Jr., chief scout executive, said the jamboree's purpose is "to give the youth of America a feeling of belonging to a great free world youth organization."
Mealtime at the jamboree is something really big. The 52,000 scouts use 40 tons of charcoal daily, and at one time are 16.380 fires going as patrols cook meals for their eight boys and a leader.
Bobb Carl Kibler, a 15-year-old from Big Spring, says "our cooks' mission is simple enough --- to prepare the food without ruining the condition."
Proudly he boasts "for the most part we handle the cooking job like master chefs and eat like kings," but he admits:
"We're too honest o deny that a few eggs and miscellaneous other things slip out of our skillets and disappear forever in the charcoal fire. And ever so often, unexpected black smoke curls out from under the pot lids."
the boys form Concho Valley brought loads of trading material --- and at every free opportunity have been circulating in one of the big Army tents where swapping is concentrated.
Sipper Netherly, 15, of Junction, brought deer hides and Mexican knives. And he's hoping to sell both items for a profit. "I want $10 for the deer hides and $5 for the knives," Skipper said.
Carter said "I didn't bring anything to swap. I just camp to have a good time."
Bill Young, 14 of Leakey, is still talking about the visit of the West Texas boys to the New York World's Fair before they flew to the giant jamboree.
"The fair was okay, but not what I thought it would be," said Youny. "I thought it'd be more crowded with more exhibits."
Hunter, coming back after changing his wet uniform, said he liked the fair.
"I went to the Texas pavilion." Hunter said. "It wasn't as good as some of them, but they had the prettiest girls."

---

We believe this story appeared in The Philadelphia Inquirer but are not sure. It was found in the scrapbook kept by Tommy Bright, Scout in Jamboree Troop 70, of his experiences at the 1964 National Jamboree. The photo did appeared in the Monday, July 20, 1964 Jamboree Journal on page 4!

Return to 1964 National Jamboree
Return to Home Page