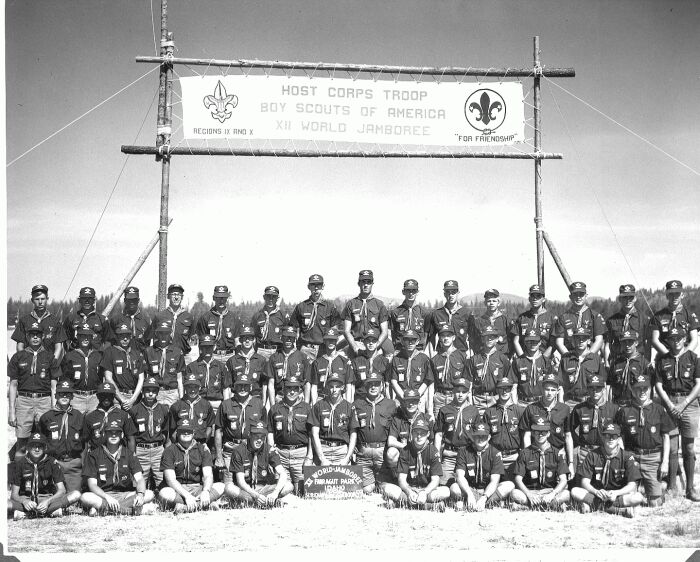 This is a group photo of the entire troop in Idaho. Clint McNabb was Senior Patrol Leader and is directly behind the sign at the bottom. Lon Sailers is to the left and Dr. T. C. Graves is to the left of him. Bill Johnson is to the right of Cling McNabb ... and Ed Palmer is to the upper-right of Johnson. Host Corps Troops were assigned to other foreign troops as ambassadors and Troop 59 was assigned to a group from Sussex, England. It seems there was a troop from France nearby that was either also assigned to us or we interacted with them often.
---
1975 World Jamboree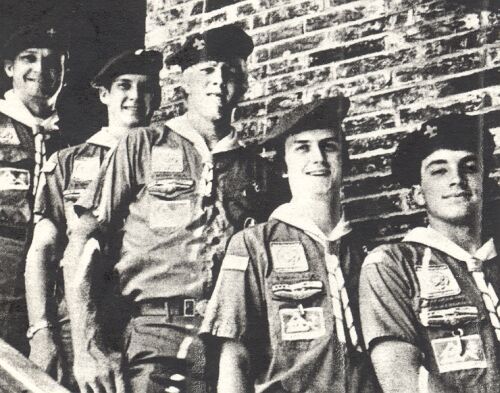 Uvalde County was well represented at the fourteenth World Jamboree in Lillehammer, Norway during the summer of 1975. Accompanied by Assistant Scoutmaster, Dr. J. Howard Carr on the left, are Eagle Scouts Paul Carr, Paul Gorman, Robert Carr and Edward Cowsar.
The United was allotment was only 2,500 of which 2,100 were scouts and the other 400 were their adult leaders. The total attendance at the Jamboree was 15,000.
---
1983 World Jamboree
A contingent of 13 Scouts and leaders left June 29, 1983 from the Council to participate in the 15th World Jamboree near Calgary, Canada. On the way to the Jamboree they toured the Air Force Academy, Salt Lake City and Yellowstone National Park. They arrived at the Jamboree on July 4th. There they participated in numerous international events for twelve days, returning to San Angelo on July 15th.

Walter S. Campbell of Fort Stockton served on the headquarters staff at the Jamboree. Robert Fierro, Jr. of Sonora served as 3rd Assistant Scoutmaster of Jamboree Troop 509.

The following Scouts from the Council were a member of Troop 506: Jeffrey A. Dice, Phillip H. Harris, Paul J. Hendricks, Jeff C. Johnson, Brian A. McCallister, Kevin J. Tyra and David R. Young, San Angelo; Terry D. Duren and Kurt Kauffman, Sonora; Gary L. Milam, Del Rio; and Eric E. Heupel, Laughlin Air Force Base.
---
1987 World Jamboree
Three Scouts from the Council attended the XVI World Jamboree held December 30, 1987 to January 10, 1988 near Sidney, Australia. Thomas R. Davis and Loyd B Harris of San Angelo and Robert D. Shandley of Leakey were among the some 13,000 Scouts and leaders from all over the world that camped together under the theme of "Bringing the World Together."
---
2007 World Jamboree
Two Scouts from the Council attended the 21st World Jamboree held in Hylands Park, Chelmsford, U.K., which celebrated the 100th Anniversary of Scouting. Cal Hengst, III, an Eagle Scout of Troop 363, San Angelo and Mathew Smart, Troop 222 of Del Rio. They were in World Jamboree Troop 207 with Scouts from San Antonio, Austin and the Rio Grande Valley. Hengst served as Assistant Senior Patrol Leader of the Troop. They, along with 40,000 Scouts and leaders from all over the world, spent 12 days in activities, under the Jamboree theme "One World, One Promise." The opening ceremony was held on July 28, 2007 and the closing ceremony was held on August 7, 2007.

The jamboree program consisted of seven different modules: Global Development Village, World Villages, Starburst, Gilwell Adventure, Splash, Scouting's Sunrise, and Choice Time. Choice Time let the Scout choose what they wanted to do, i.e., taking part in the numerous activities around the site, shopping in the central plaza, or talking to new friends over a cup of tea. There were several key program areas designed for use in Choice Time that included Village U.K., Energize and Faith and Beliefs.
---
We want to thank Kent Brooks for providing us with the photos of the 1937 World Jamboree Passenger List and Menu.
Last Updated: February 14, 2011
Return to World Jamboree Page
Return to Jamboree Page
Return to Home Page