FINAL FALL FELLOWSHIP
OF OTENA LODGE
The final Fall Fellowship of Otena Lodge was held on October 24 – 26, 2003, at Camp Billy Gibbons.There were approximately 125 members in attendance including members from other Lodges there to help celebrate this final fellowship weekend. Twenty-one candidates were inducted into the Ordeal Honor. Eight Ordeal members sealed their membership into the Order by taking the Brotherhood Honor.
Sets of flaps which include Ordeal, Brotherhood, and Vigil were sold for $10.00 a set. A special "Death Flap" was also sold on preorder. This patch was a black flap of the F1 flap.
Here are some pictures of the weekend.

| | |
| --- | --- |
| Hubert Swann and Bob Reynolds screening items for everyone. Hundreds of items were screen printed with a copy of first flap. | Frank Griffin and Leroy Frobes cooking something good. |
| Standing in line for supper. | Brotherhood Candidates patiently waiting for supper. |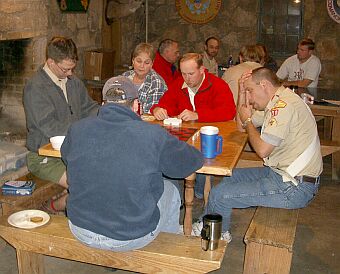 Late night domino game. And I do mean late!
| | |
| --- | --- |
| Enjoying a fire on a cold morning. | Hubert Swann leads Chapel Service Sunday morning. |

The last fellowship weekend held at Camp Billy Gibbons was well attended in the fall of 2003. Yes, it was cold!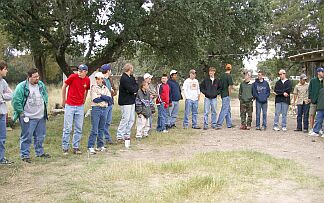 Forming the circle Sunday morning to sing the OA Song


| Table of Contents | Next Page |