LODGE NECKERCHIEFS OF OTENA LODGE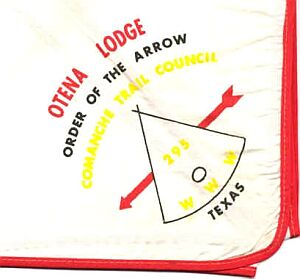 During 1960 the first official neckerchief for the Lodge was made available. The neckerchief was in five colors and had red binding. All members of the Lodge were urged to purchase the neckerchief to wear the following summer when the lodge hosted their second Area 9-D meeting. The neckerchief, which sold for $1.00, "was not to be traded, sold or given away to any member of another lodge."






SECOND LODGE NECKERCHIEF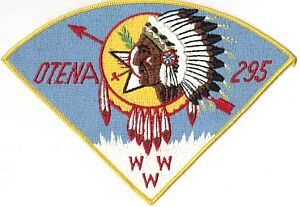 The second Lodge neckerchief was designed by Jimmy Erwin and made available to the members of Otena in the Spring of 1967. A fully embroidered patch, for $2.25, was designed to be sewn on the back of a white satin neckerchief with fringe. Each member was urged to buy the patch and make their own neckerchief. Later, the neckerchief with patch sewn on was made available by the Lodge. When all the patches were gone, each member made and wore just the neckerchief with fringe. Today that is the official neckerchief of the Lodge.



THIRD LODGE NECKERCHIEF DESIGNED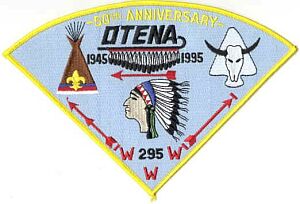 In recognition of the 50th Anniversary of the Lodge a new neckerchief patch was designed by the Lodge and issued in the Fall of 1994. This design featured all the previous emblems of various flaps. It had the tepee, Indian head and Arrowhead plus Ordeal, Brotherhood and Vigil sashes.



FOUR WINDS DESIGN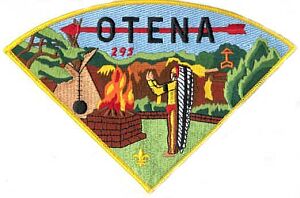 In 1996, a new neckerchief patch was designed to feature the Four Winds Ceremony at Camp Billy Gibbons. The patch is fully embroidered with a gold border.






OTHER NECKERCHIEFS OF OTNEA LODGE
Over 50 percent sewn on Offical Lodge approved
white silk Neckerchief with 4 inch Fringe;
Made at Lodge Activities

2002
1st order sold out Spring Conference 100 Made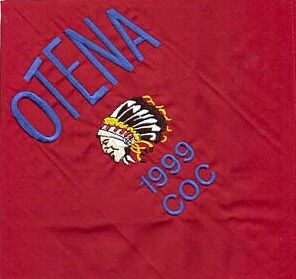 1999 COC Lodge Board Members (25 Made)
COC stands for "Council of Chiefs"


| Table of Contents | Next Page |