MEANING OF LODGE NAME AND TOTEM

The name "Otena" is translated as "place of abode," "place of the tepee" or "lodging". Thus, the totem of the Lodge was a tepee and was used for many years on their patches and neckerchiefs. The Indian headdress replaced the tepee as the totem of the Lodge.


FIRST ANNUAL MEETING HELD IN EASTLAND
That fall, on November 13, 1945, the Lodge held its First Annual Meeting in Eastland, Texas. The meeting was chaired by Guy T. Smith, Assistant Scout Executive and Adviser to the Lodge. They had a barbecue with all the trimmings. During the meeting the election of new officers was held followed by a campfire program. Bill Jessop and Homer Tudar were chairmen of the campfire.
They opened the campfire with the "Four Winds Ceremony," done by John Jackson, followed by all Arrowmen making a grand entrance Indian dance. John Manoghan did a Hoop Dance, Joe Neal Poe and Gene Garner performed a Deer Dance and John Manoghan, Eddie Hart, Charles Lucas and Bobby Blair did an Antler Dance. The Eagle Dance was performed by Charles Lucas, Neal Hurt, Bobby Blair and Billy Brashier. Buck Pickens served as Host Chairman with Guy T. Smith serving as Presiding Chairman. There were 72 Scouts and 41 adults listed as members of the Otena Lodge in November 1945, all former members of the Kunieh Society.

FIRST CANDIDATES CALLED OUT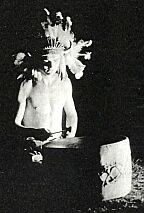 In 1946, the Lodge held its first campfire to call out new candidates. Some 48 new members were inducted at the old Camp Billy Gibbons. The new Lodge played a major role in moving the camp equipment to the new Camp Billy Gibbons later that year as its first service project.
By the end of their first full year as a lodge they had 132 members registered having inducted 48 new members during the year. That same year the first two Brotherhood members were inducted in ceremonies at another lodge.