Here is a listing of all the known professional Scouters who have worked in the Buffalo Trail Council. We are indebted to David O'Neill for taking on the task to get as many names as possible. The names will be listed in alphabetical order with an attempt to list them in the district they presided over, or their job title in the Council. We will include the dates when they served in the Council where that information was available.

To start this page, here is an earlier staff photo. At this time we only have the name of two of the professionals.
.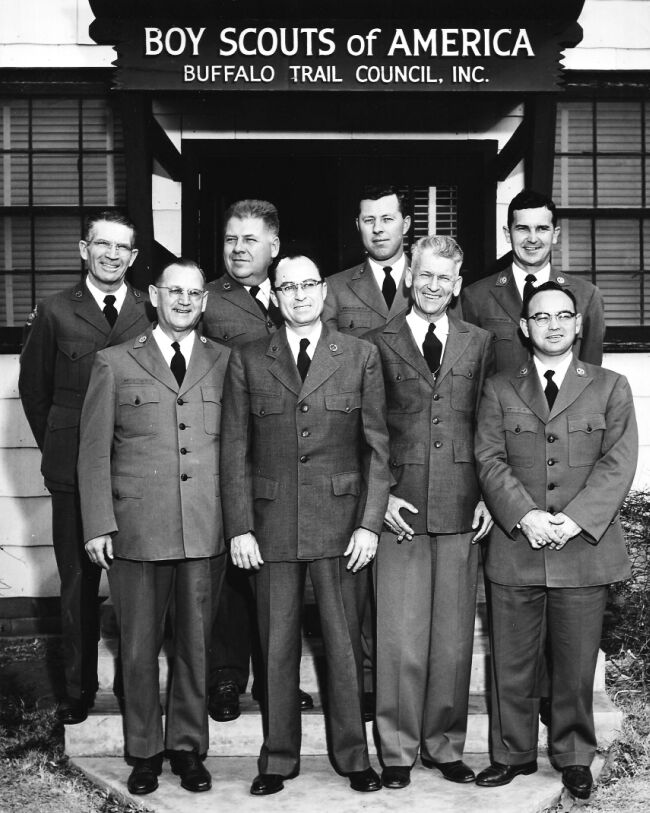 Unknown year, but is definitely before the council's current office, so it must be early 50's. Only two persons
are identified. One is Bill McRee, District Executive, Lone Star District. He is located on the top row, far
left. Stuart Painter is second from the left in the top row. He was the District Executive for the Black and Gold District in Odessa during the 1950's according to Jim Mayo, Ph.D.
Here is a known list of other professions in the council:
| | | | | |
| --- | --- | --- | --- | --- |
| Last, First | Position(s) | District(s) | Start | End |
| Acosta, Paul | DE | Comanche Trails | 7/1/2001 | 6/15/2002 |
| Acosta, Valerie | FiD | Finance Director. New title is Development Dir | 4/1/2010 | Present |
| Anderson, Christopher | SDE | Chaparral | 6/16/2009 | 4/15/2010 |
| Bascus, Celestina | DE | Chaparral | 9/24/2007 | 8/1/2009 |
| Bennett, Todd | CD & FD | Camping Director | 5/1/2010 | Present |
| Boroski, Karl | DD | Chaparral | 9/15/2010 | Present |
| Britton, Scott | DE, SDE, DD | Chaparral, Comanche Trails, Sand Hills, Big Bend | 5/1/2005 | Present |
| Collette, Nicole | DE | Chaparral, Comanche Trails | 9/1/2007 | 5/15/2010 |
| Connell, Brad | DE, SDE, DD, FD | Chaparral | 2/1/2000 | 4/30/2007 |
| Cook, Nicolas | DE, SDE | Chaparral, Comanche Trails | 7/16/2004 | 10/5/2007 |
| Garcia, Adrian | DE | Chaparral | 10/1/2009 | 8/11/2011 |
| Hartman, Greg | DE | Lone Star | 11/1/2008 | 11/15/2009 |
| Houston, Bill | CD | Camping Director | | |
| Kennedy, Bob | SDE, DD | Comanche Trails | 5/15/1998 | 1/31/2003 |
| Koneschik, Travis | DE | Chaparral | | |
| Kulbeth, Deanna | DE | Lone Star | 11/1/2009 | 11/30/2010 |
| Loris, Roy | SDE, DD, FD | Chaparral, Sand Hills, Big Bend, Comanche Trails | 2/15/1997 | 7/31/2003 |
| Martinez, Nicky | DD | Comanche Trails | 12/1/2007 | 6/15/2009 |
| McKinney, Chase | DE | Comanche Trails | 9/1/2010 | Present |
| O'Neill, David | DE, SDE, DD, FD | Chaparral, Lone Star, Sand Hills | 9/1/2001 | Present |
| Sweeney, Brian | DE | Lone Star | 1/1/2011 | Present |
| Thomas, Tiffanye | DE | Comanche Trails | 10/1/2003 | 3/31/2005 |
| Wallace, Warren | DE, SDE, PD | Lone Star, Sand Hills, Big Bend | 8/1/1990 | 8/31/2008 |
| White Jim | DE | Big Bend / Sand Hills | 12/16/2003 | 7/15/2004 |
| Wilemon, Guy | SDE, FD | Served Chaparral, promoted to FD | 4/22/1996 | 7/31/2001 |
---
Last Updated: October 6, 2011
Return to Scout Executives
Return to Home Page