W. H. (Uncle Billy) Gibbons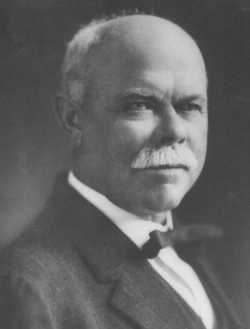 Billy Gibbons was born in Athlone, Ireland. He arrived in Boston during the 1860's when he was about 13 years old. He traveled to New York and Fredricksburg. Later, he made his way to Missouri and joined up with Bringham Young as he headed out to what is now Salt Lake City. Gibbons went with them to Utah and helped build the Mormon Temple.
From there he went to San Antonio, working as he traveled. He spent time at each place until he felt the need to move on. In 1870, he left San Antonio with 1,000 head of Spanish Marino sheep. After eighteen months, Gibbons arrived at a small tract of land of one hundred and forty acres facing Brady Creek. That was the beginning of the Gibbons Ranch.
He sheared all the goats by hand during the first few years. To sell his wool, he had to haul it to Austin by ox-wagon. It took from twelve to thirty days to go there depending on the weather and the rivers.
He married Miss Mollie Taylor in 1880. She was a member of one of the pioneer families in Richland Springs. They had 13 children, of which 12 of them were twins. Only one set of twins survived childhood plus the single child.
The first Boy Scout summer camp was held on his ranch in the summer of 1931 by the Pecan Valley Council. Uncle Billy Gibbons, as he was affectionately known to the Scouts, visited the camp several times while they were in session. Gibbons was so impressed by what he saw during that week of camp that he told them they could have a free 99 year lease for that spot for a summer camp. He also gave the Scouts permission to explore the rest of his land. Unfortunately the lease was never signed by Gibbons before his untimely death. However, thanks to his son, John Gibbons, the Scouts are still camping on the Gibbon's Ranch on a 300 acre camp some three miles up Brady Creek from the old Camp Billy Gibbons..
Billy Gibbons was quite successful in his ranching business and owned over 36,000 acres at the time of his death in the spring of 1932. At the time of his death, he owned a hotel in El Paso, TX, a farm in Post, TX, and a bank in Richland Springs, TX. His wife, Mollie, passed away in 1930 just a couple of years prior to his death.
Historical Plaque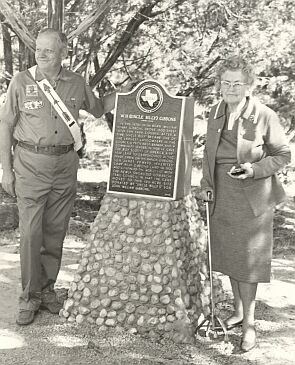 A historical plaque is located in front of the dining hall at Camp Billy Gibbons in memory of Billy Gibbons. It was formally dedicated on Saturday, November 3, 1979, during a Fall Fellowship of the Order of the Arrow. Shown in photo above are James C. Rominger, Breckenridge, Council President, and Mrs. John W. Gibbons, wife of the son of Billy Gibbons. It reads:

W. H. (UNCLE BILLY) GIBBONS
(1865-1932)
.

IN THE 1870's IRISH-BORN WILLIAM HENRY GIBBONS DROVE 1500 SHEEP INTO SAN SABA COUNTY. AFTER A TIME "UNCLE BILLY" BECAME ONE OF THE LARGEST LANDOWNERS IN THE COUNTY. A PROMINENT BANKER, AND A COMMUNITY LEADER. IN 1930 HE GAVE THE BOY SCOUTS OF AMERICA A 99-YEAR LEASE TO CAMPGROUNDS ALONG BRADY CREEK ON HIS RANCH. GIBBONS'S SON JAMES EDWARD INHERITED CAMP BILLY GIBBON'S LAND IN 1932 AND CONTINUED THE AGREEMENT WITH THE NEWLY ORGANIZED COMANCHE TRAIL COUNCIL. IN 1947 THE CAMP MOVED TO THIS 103-ACRE SITE DONATED BY "UNCLE BILLY'S" SON JOHN WILLIAM GIBBONS.

1979

Note: The 99-year lease was never signed by W. H. Gibbons. He passed away before they could get his signature on the document. In 1938, a 25-year lease was signed by John W. Gibbons for use of the 25 acres of land, known as the "old" Camp Billy Gibbons. Go HERE to see copy of the lease.
---
Information for this story came from the Livestock Weekly, September 2, 1999, and from Ninety Years of Service, A History of Comanche Trail Council, BSA, 1910 - 1999, by Frank T. Hilton, 1999.