Camp Tres Ritos
Tres Ritos is the High Adventure base for the South Plains Council established in 1959. The council had camped at several other locations in prior years but could not find adequate water at those camps. They were able to find it at Tres Ritos. The camp is located in the New Mexico's Carson National Forest near Vadito, and only 75 miles southwest of Philmont Scout Ranch, at 9,000 feet elevation. The camp itself is only on 17.5 acres with 10 campsites, but they have the whole Pecos Wilderness Area to roam around in. The camp has 10 campsites located around a mountain meadow. They are located just inside the tree line of fir and spruce trees in the forest.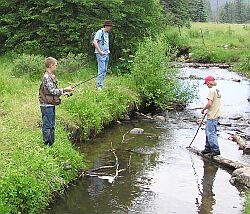 Wildlife at the camp includes black bear, rocky mountain big horn sheep, cougars, mule deer, elk and numerous types of small game and fowl. there are plenty of opportunity to fish and earn the Fishing Merit Badge. However, the State of New Mexico fishing licenses must be purchased before a scout can participate in fishing. 12 and older requires a license to fish. Cost is $30 for a 5 Day license. They do not sell licenses at the camp!
The camp runs for two weeks in the summer, and there are several different high adventure programs offered at the camp. Many troops use the camp as a starting point for backpacking trips into the mountains. The Pecos Wilderness Area is heavily forested with elevations from 8,857 to 13,132 feet and many areas above treeline, and is considered by some to be equal to or even more challenging than Philmont. Troops are able to backpack in this area. The Backpacking Merit Badge, earning the "50 Miler Patch," is a challenge for Scouts and adults.. Additional merit badges, such as Hiking, Weather and Wilderness Survival can be taught on the trail off camp.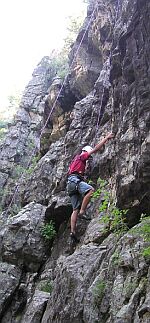 All cooking is done by patrols, with food provided by the camp, and troops bring their own tents as the physical facilities are limited. Before winter they "roll up" the water lines and store them due to the very cold weather and snow. This camp is the most popular camp of the council.
Camp Tres Ritos has access through the Carson National Forest to unlimited climbing and rappelling opportunities. The camp has certified instructors and gear that give scouts the experience of climbing natural rock on bolted sport routes.
Traditional merit badges are offered to those Scouts and troops that remain in camp. These include merit badge instructions in handicraft, archery, rifle, Scout outdoor skills, nature, and Indian Lore.

Trail to First Class (TFC): The primary focus of the Matador Patrol is to introduce the first year camper to all that Scouting has to offer. Each scout receives more personal support from the staff, as he pursues requirements for Tenderfoot, Second Class, and First Class ranks. Also, each Scout earns his Tot'en Chip, Fire'n Chit, and First Aid Merit badge. The class meets once a day for either the morning session or afternoon session. A Patrol Guide introduces them to basic scouting skills. The Patrol Method is emphasized. The Tres Ritos TFC program lasts the entire week and include a variety of games, activities and lessons. .

Pecos Packer:
consist of two days of climbing and five days of backpacking. This is a unique program of the camp in which Troops can make a one-week trek through the Pecos Wilderness area. The terrain is similar to Philmont Scout Ranch but it has mountains, water, and higher altitude. Crews travel ten miles per day or less, depending on their goals. There is also the opportunity to earn the 50 Miler patch in this program.
Shiverhawg: is an informal annual OA work weekend at Camp Tres Ritos in New Mexico. Usually held Memorial weekend, this weekend provides a chance for the Lodge to be prepare the camp for the Summer Camp season. Typical work includes clearing campsites of fallen trees, working on damaged water lines, and building repairs. Also, since there is generally less physical work to do to prepare Camp Tres Ritos than Camp Post, the Shiverhawg weekend is a chance to enjoy relaxed fellowship in a beautiful outdoor setting with fellow Arrowmen. After the work is done, Arrowmen spend time hiking, fishing, and having a good time in the Pecos Wilderness. This event provides a chance to serve, and have a great time doing it.
Winter Camp: Winter Camp provided a fun camping experience where scouts could work on programs and activities not normally offered at summer camp or on a typical weekend camping trip. All programs and activities were instructed by adults that had volunteered their time. . Evening programs and other special events completed the Winter Camp experience. It was a three day camp held in February. The 2012 camp was scheduled to be held February 18-20. All troops were expected to bring and be responsible for their own meals, bring their own tents and camping equipment and at least 15 gallons of water to be used in campwide purposes. Water was available in the common areas for Coffee, Hot Chocolate, and Group Cooking purposes. Program included a Winter Sled Relay race, Cobbler cook-off, Wilderness Survival, and a Snowman Building contest.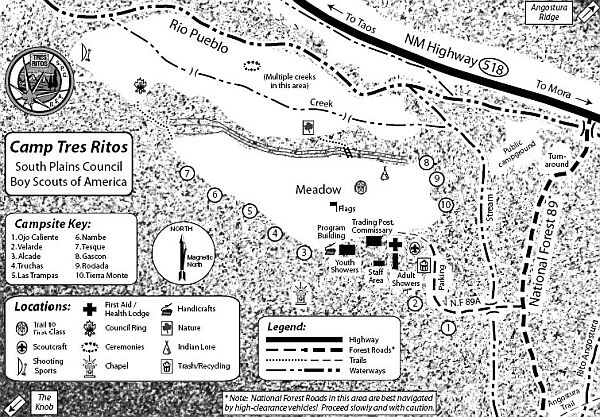 .
Click Here for photo of 1982 Tres Ritos Camp Staff
---
The camp map and photos are from South Plains Council's 2009 Summer Camp Leader's Guide.