Several different training courses were held at Camp Tom Wooten over the years. Some of the courses were National Camp Schools by the Boy Scouts of America, Scoutmaster's Outdoor Training and Junior Leader Training Courses.
Men taking Camp Directors Course under George A. Bullock (Left, 2nd row), June 6-9, 1943.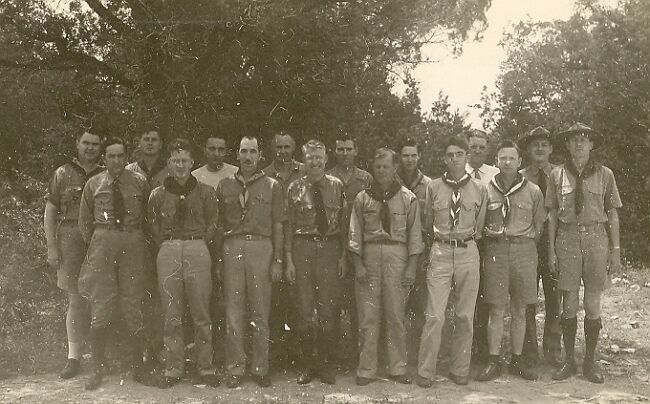 1st Row, L to R: A. H. Bird, Chester Born, R. H. Post, Leroy Crawford, Robert F. Cobb,, C. F. White, Ken Woodward, Joe Galbraith
2nd Row, L to R: George A Bullock, Unknown, Unknown, Lee Harbottle, Unknown, Harold Harris, O. L. Morgan,
E. B. Parnell
Combined groups – Regional Aquatic School, Camp Director's Course, Troop Camping Course,
Camp Tom Wooten, June 6-13, 1943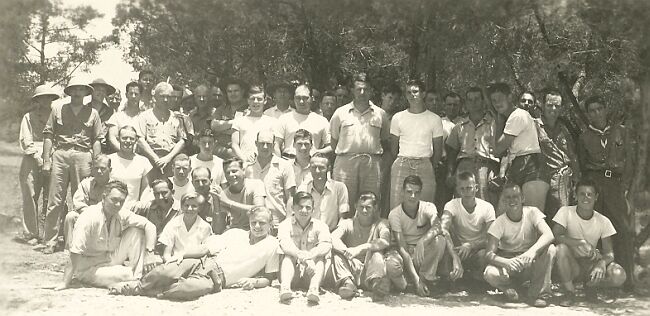 Scoutmaster's Training Course Group at Outdoor Session at Camp Tom Wooten, July, 1944.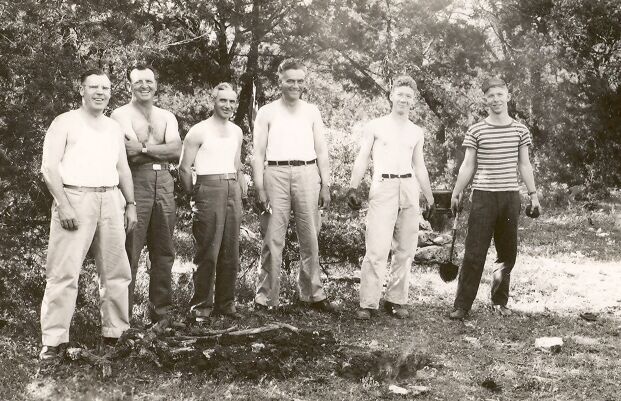 L to R: Unknown; Mr. Ireland of Troop 5; Unknown; Unknown; Mathis Blackstock; Victor Scott
Cooking evening meal on outdoor session of the Scoutmaster's Training Course
at Camp Tom Wooten.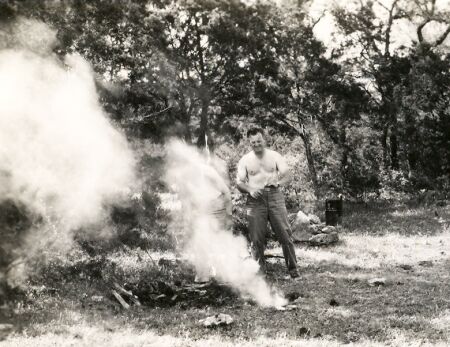 Mr. Ireland at right. July, 1944
The first Junior Leader Instructor Training Camp was held at Camp Tom Wooten the week of July 15 to August 1, 1964. This was a one week intense training course for boy leaders in Scout Troops and was attended by 33 Scouts from across the Capitol Area Council.
Back Row Staff L to R: K Pratt, Jack Swenson, C. Joy, Richard Givens (G. Nibouar and B. Schenk not in picture.)
Fourth Row Owls L to R: R. Miller, C. Sanders, R. Edgar, G. Nauert, J. Chandler, J. Sutton, R. Lee, F. Bradley
Third Row Bob Whites L to R.: J. Wilson, R. Walker, P. Deason, D. Wilson, R. Hulme, F. James, M. Hughes, M. Johnson
Second Row Stud Eagles L to R: D. Mitchell, P. Breeden, W. Rice, R. Lilly, K. Maguire, S. Grace, W. A. Wilhoite, S. Neely, J. Eskew
First Row Fearless Foxes L to R: T. Seymore, H. Ridout, J. McFarling, M. Liesman, B. Pollard, L. Mason, D. Chastain, J. Scruggs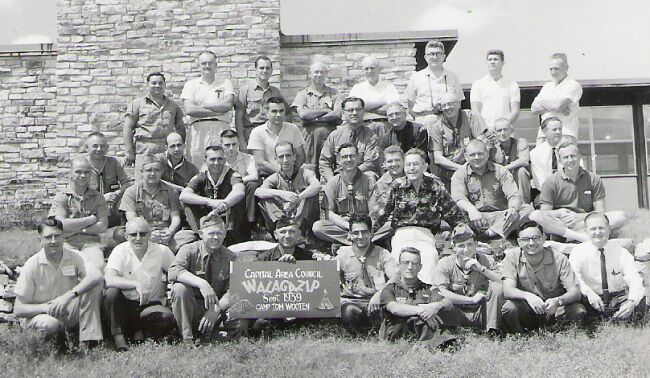 1959 Walagazip training at Camp Tom Wooten. Paul Beizenherz, Scout Executive, is seated in 2nd row from front, fourth over from your left. Frank Hilton, Camp Director, is seated on first row, second from your right. Jack Swenson, District Executive of the North Star District, is standing to your left on the back row.
| Home | Aquatics | Program | Facilities | Other Photos | Other Photos Yet | Patches | Staff | Promotion | OA |
| APO | Maps | Lone Star Trail | Pack & Paddle | Remembrances | Provisional Troop |
| Professional Staff |

---
We want to thank Roger Scarborough, formerly a member of Troop 20, Austin, for providing us with the first four photos of past training courses at Camp Tom Wooten. The photos were given to him by Glenn Lee Corrigan, one of the legendary scoutmasters of Troop 20 of Austin. The bottom photo was provided by Te Starr.