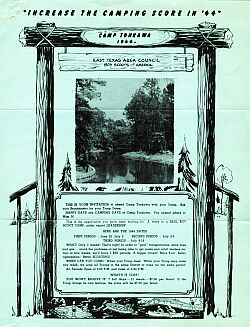 To look at the pages of these
two brochures in greater detail, just click on the brochure.
Brochures
Brochures were always a popular way to promote Camp Tonkawa to the Scout Troops and Scouts and Leaders.
They took many forms. The first ones were typed up in the office, photos and cuts added, and printed in the office as shown by the 1944 brochure on your left.
By 1950, they were able to print nice brochures on quality slick paper and have it underwritten by Joe Weisman & Company of Marshall, TX, an official Boy Scout Distributor as shown on your right.
In addtion, slide shows were produced to show at Troop meetings and Court of Honor to get parents and Scouts interesed in coming to camp.